We haven't opened the doors to the 18 Stripes Film Room in a while and with actual football (we can call it this, right?) being played inside Notre Dame Stadium recently I thought it was a good time to take a look at 7 plays that caught my eye early on in the spring game. Note, some of these plays aren't particularly highlight worthy from a macro-perspective it's just that something small could've popped out to me and is worth discussing.
Here we go…
#1 Defense Came to Play
This is the 3rd play from scrimmage in the Blue-Gold game following a crossing route completion to Alize Mack (Wimbush probably would've been hit or had his pass severely altered if he was live) and a nice run up the middle by Tony Jones. This set up a very manageable second down where the offense will try to run to the boundary for some more yards.
Quick side note: I thought the offensive line looked really rough early on upon repeated viewings. Eventually they did settle in but when it was the starters against starters the defense was winning more of the battles. 
On this snap, it's 7 on 7 for blockers/defenders so a nice spot to run the ball on 2nd and medium.
The first thing to notice is how quick both Jerry Tillery (#99) and Kurt Hinish (#41) fire off the ball. The right guard Tommy Kraemer (#78) gets rather embarrassed by Hinish and is rendered useless while Tillery uses his ability to get skinny to fire through a tiny hole through center Sam Mustipher (#53) and left guard Alex Bars (#71).
My favorite part is how quickly Asmar Bilal (#22) recognizes the play and speeds past right tackle Robert Hainsey (#72) for a clean shot on the ball carrier Tony Jones (#6). This is exactly the type of play the defense would love to see from the Rover position in 2018.
If you're a skeptic you could say the defense knows Wimbush isn't running and therefore isn't honoring his bootleg very much. That's fair, although I do think this play highlights that the offensive line isn't as athletic as last year and will struggle running the ball with these type of plays.
#2 Jeremiah, Oh My
This is the first play from scrimmage from the offense operated by Ian Book and at first glance it's a rather innocuous snap. They line up with both Dexter Williams (#2) and Avery Davis (#3) in the backfield with Book (cool!) otherwise I'm sure many folks tuned this play out knowing Book wasn't live and wasn't really a running threat.
However, please focus on Jeremiah Owusu-Koramoah (#30) at Rover, he starts the snap in the middle of the field about half way from the line of scrimmage and the flexed out tight end Brock Wright (#89).
At the play-action mesh point it already looks like Davis is going to be open for an easy pass into the flat for quality yards. However, JOK is so twitchy and athletic that he both disrupts Davis' route then gets in the way of Book's run.
This isn't eye-popping for a spring game but JOK blew this play up because of his athleticism, and didn't even get credit for the tackle!
#3 Good Wimbush
This is the first play from scrimmage after Book's long touchdown pass to Chase Claypool. Book went deep and Wimbush answers with his own strike down field!
There's not much to dislike from this play, including nice protection from the line on a slower developing play-action pass. Although, I will say Liam Eichenberg (#74) does an admirable job at left tackle but Khalid Kareem (#53) moves a heck of a lot more like a weak-side rush end instead of a 270-pound strong-side end.
Wimbush does a nice job with his fundamentals on this play. His play-action freezes the defenders enough for Miles Boykin (#81) to find a seam down the sideline. Wimbush hops onto his back foot, pump fakes, then re-sets his feet to deliver an accurate ball in a spot that is easily caught by receiver.
From a defensive perspective, I'd like a better effort from safety Jalen Elliott (#21) on this over the top but it's well executed and sold by the offense. Further, if you're looking for some frustration on the very next snap Tranquill blows past Mustipher and would've crushed Wimbush during a real game. They blew the play dead just as Wimbush was throwing due to this and it was a incomplete sideline fade to a completely covered Boykin.
#4 But Seriously, Jeremiah!
Here's a 2nd and long play that's going to be an important area for improvement for the passing game in 2018 and I don't hate the idea of a screen in this situation. However, this is an example of how I think the defense is far ahead of the offense in most areas.
Up front, Tillery (#99) is pretty close to an offside call and I do like the way Daelin Hayes (#9) walks back Hainsey (#72)–a 5% better job there would've disrupted Jones' (#6) route and maybe killed this play right away.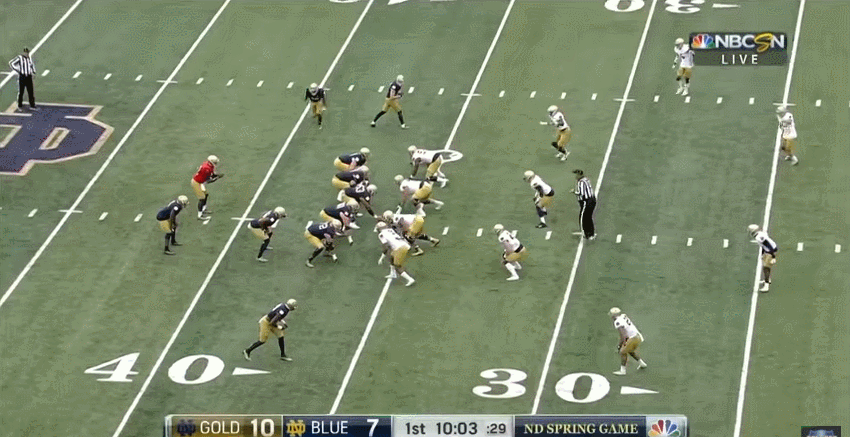 I have to highlight Kareem (#53) and especially Hinish (#41) for disrupting this play. Hinish reads this play so well, doesn't allow himself to get out-muscled, and knifes through Bars (#71) and Eichenberg (#74) to make first contact on the running back.
Now, watch Owusu-Koramoa (#30). He's sliding over from the field side at the snap due to the jet sweep action fake to Michael Young (#87) and at first looks like he's going to get sucked into the middle of the field near Coney (#4). You could forgive JOK from getting a bit lost on this play and getting swallowed up by a block from the moving offensive linemen. Instead, he plants hit foot hard, gets a slight amount of the depth, reads the play well, and ends up making a beautiful tackle for loss.
Owusu-Koramoah's fluidity and ease of movement is so exciting to watch. Notice how Chris Finke (#10)–no slouch with his quickness–is surprised by JOK's burst. Ditto for Mustipher (#53) who can do no more than make a swipe at the passing JOK on his way to the ball carrier. I'd also point out this is still really early in the game and Owusu-Koramoah is already on the field with the first-team defense getting important reps.
#5 Bad Wimbush
Here's a snap that reminded me a lot of how and why Brandon Wimbush struggled in 2017 and why he's still far from a polished quarterback.
This is crucial to me because the offense was very good in the red zone last year and if Wimbush can't hit more throws I'm not sure the run game is going to be there to the degree it was last year, which likely means more passing after a play like this on the upcoming third down. For what it's worth, the offense tried to run to the boundary again on third down and got nowhere.
The offensive line holds up pretty well, here. The exception to that is on the edge where Kareem (#53) (does he not look uber athletic?) is able to beat Eichenberg (#74) pretty good and in a real game likely makes a big play in this situation. However, the pocket isn't great but offered Wimbush the opportunity to slide forward another 4-5 feet, get his feet set, and deliver an accurate ball. If he does that the result is, at worse, 3rd and inches and a vastly more likely opportunity to continue this drive.
Instead, Wimbush slides back 4-5 feet right into the coming path of Kareem and delivers an off-balance throw that's too high even for a very tall receiver.
Also, hello there Owusu-Koramoah (#30) again! As Wimbush is winding to throw JOK has left the screen as he passes off tight end Cole Kmet(#84) in coverage. From what we had heard about him you could forgive JOK for being slow to pick up Boykin's (#81) crossing route. Nope, instead he reads it and is able to make a play. I wish this ball was more accurate and out in front of Boykin to see if Owusu-Koramoah could've broken the pass up. Wimbush did his job for him, though.
#6 A Good Position Change
Although it's not totally fair to compare with Diaco's 3-4 scheme I couldn't stand how large and heavy the Irish linebackers were forced to be several years ago. There were a few plays from the spring game where recently converted safety Jordan Genmark Heath (#2) looked really good and at just under 6'1″ and 211 pounds there was a time when his tweener-size would've relegated him to a practice player who could never find a spot on the defense.
Again, the Book-led offense goes with two running backs this time true freshman Jahmir Smith (#34) is on the field with Avery Davis (#3). If you freeze the frame on Davis' first step after receiving the hand-off I'd agree with anyone who thought this was going to be a 15-yard gain quite easily. The defense was flowing away from the ball and Javon McKinley's (#88) drag route was clearing out the boundary as Nick Watkins (#7) and Nicco Fertitta (#28) shuffle toward the middle of the field.
Yet, Genmark Heath has a terrific individual effort and solo tackle. Granted, he takes on walk-on center Colin Grunhard (#61) who is under-sized but it's still a very instinctive play and shows to me that JGH is going to have a solid future at linebacker.
#7 The Comfortable Wimbush
You could argue this was the best throw from Wimbush during the Blue-Gold game because it showed a nice combination of zip, touch, and accuracy into a pretty small window along the sideline. I watched this play live and thought this is the type of quarterback play the Irish will need this upcoming season.
After further scrutiny, I have some mixed feelings.
The one thing that jumped out to me is the personnel on defense. The back 7 are still the starters but the line up front consists of (from the bottom to top) Kofi Wardlow (#47), walk-on Lincoln Feist (#54), Darnell Ewell (#94), and Ade Ogundeji (#91). I can't help but think Wimbush knew his protection was going to be very comfortable on this 3rd down snap, particularly on the interior where the tackles go absolutely nowhere against the best offensive linemen on the team. Also, the linebackers curiously stand around until a too-late charge from Tranquill (#23) so it's 7 blockers against 4 pass rushers.
Be that as it may, Wimbush actually takes advantage of this comfort, climbs up the pocket, and delivers an accurate ball perfectly on time to keep the chains moving. He does stare down Finker (#10) the whole way which isn't great but that wasn't a big deal given it's a receiver on a safety in single coverage with no help. He knew Finke was getting open.
Final Thoughts
A few months ago I wasn't too high on the offense being really good in 2018. As I mentioned in my game recap there was a lot to like from the Blue-Gold Game from some emerging playmakers (Armstrong, Kmet, Claypool) and that is certainly good news. However, after re-watching a bunch of plays I'm back to thinking the offensive line is going to be a lot worse than last year. That was to be expected, and I always believed so, but had thought a relatively positive spring might've changed my mind. There are a bunch of snaps where the O-line just does not look comfortable, agile, or overly physical.
I do worry about the trickle down effect on Wimbush's confidence and what Notre Dame could be asking him to do with his arm. It's tough to say because Wimbush has 1,000-yard running ability but it wouldn't surprise me if this offense drops down to ~165 rushing yards per game in 2018. I said this a long time ago but the offensive line doesn't have a star on it at the moment and I don't think they are close to being a gelled unit, and maybe more concerning, the defense is winning a lot of one-on-one battles from this game. One could argue with 3 position changes and a full fall camp to still practice this is to be expected. True, I still think the bar is going to be lowered by a not insignificant amount this fall.
Conversely, I came away very impressed with the defense. They have so many fewer question marks and from an athletic standpoint it's far easier to project the likes of Okwara, Owusu-Koramoah, Hinish, Kareem, and Genmark Heath as future major impact players. I'm seeing a lot of evidence that this will be a better defense than last year and the second-best of the Kelly era.