Two seasons ago Notre Dame and Michigan State combined to go 7-17 in hugely disappointing seasons for both programs. Last year both rebounded for combined 20-6 records each with their own double-digit win season and satisfying bowl victories. The Irish win in East Lansing this past September avenged what was a fairly pathetic effort against the Spartans in 2016, but perhaps more importantly, showcased a different side to last year's offense featuring an effort from Brandon Wimbush that was never witnessed consistently. In particular, the opening drive inside Spartan Stadium flashed perhaps Wimbush's highest ceiling on the season and could portend what the future in 2018 will look like this fall.
A narrative developed that Notre Dame's offense was beautifully on track all season and running the ball heavily–particularly early in games–until Brian Kelly and his crony offensive coordinator devised a plan to throw the ball all over the field beginning with the 9th game against Wake Forest. Of course, this line of thinking doesn't stand up to much scrutiny.
When we look at the Irish specifically early in games they threw the ball on the first play from scrimmage in 8 of 13 games. The offense came out slinging it on the first 5 snaps of today's film review and overall ran the ball only 53.8% of the time during the first 7 snaps in each game, a 7.6% reduction on the overall season splits. In fact, prior to the Stanford game the Irish were running the ball only 49.3% of the time during the first 7 snaps, it was only during the Stanford game in a supposed "Air Kelly" scheme that a game was opened with 7 straight runs.
Notre Dame definitely ran the ball much more in the 1st quarter (62.9%) of 2017 than at any time in the Kelly era but the first couple series of many games were tilted more heavily in favor of balanced attack, and at times a pass-heavy opening gameplan. Here's a look at one of those pass-heavy opening series:
Play #1 Pass to Claypool for 10 Yards
For years under Mark Dantonio the Spartan defense has relied on putting numbers in the box and being very aggressive with their secondary who are often left on islands and a lot of 1-on-1 situations. This game in 2017 would be no different. Notre Dame opens up with 3 wideouts and a tight end deployed as a H-back behind the left tackle. Michigan State will counter with 7 in the box and a blitz off the edge by outside linebacker Andrew Dowell.
Notice how Michigan State is playing tight on Equanimeous St. Brown at the bottom of the screen, to this point the only proven Irish wideout? On the top neither Cam Smith in the slot or Chase Claypool outside are given that press coverage.
Wimbush quickly reads the linebacker blitz and delivers an accurate ball across the field to Claypool who ran a little 5-yard curl with no pressure in his face.
It's important to note that this was *not* the type of throw Wimbush excelled at throughout large portions of the season. However, in this instance his fundamentals are sound and he throws an accurate ball.
Also, a quick note on Chase Claypool:
Wimbush being able to make these "easy" throws for basically 5 free yards is crucial to the offense. But Claypool will be quickly surrounded three defenders and you wouldn't think there's much more to this play. Instead, Claypool uses some sneaky athleticism to pick up a first down. He's such a good athlete.
Play #2 Incomplete Pass to Adams
The second snap sets up almost exactly like the first except the Irish attempt an inside screen to running back Josh Adams. It's blocked well and looks like it will work perfectly except Adams is grabbed by defensive tackle Mike Panasiuk just as he's about to catch the ball and it falls incomplete.
Play #3 Pass to Claypool for 10 Yards
It's the third play and Michigan State is keeping things the same. They are still set up to stop the run and giving Notre Dame's receivers ample room to work against the Spartans secondary.
Unbelievably, the Irish stack Cam Smith and Claypool to the field side and Michigan State's like, "We're good we'll use one corner with safety help 12 yards down field."
It's entirely possible that Michigan State didn't believe in Wimbush as a passer (he was 51.0% through 3 games to this point) or trust the Irish wideouts were good enough to be beat them. Even if true, this is easy pickings for any offense that can execute reasonably well.
Claypool takes the pass, uses the block from Smith to cut inside, takes a big hit from a linebacker, but picks up another 10 yards and  a first down.
Play #4 Pass to St. Brown for 2 Yards
We're on to our 4th snap of the game and still Michigan State is daring Notre Dame to throw the ball. The Spartans are in great position if the Irish run the ball to the field side where they outnumber blockers in a big way. Anything to the boundary side and things are a little dicey for Michigan State's defense.
Just before the snap, the Spartans walk down a safety towards Notre Dame's 3 receivers while their outside linebacker scoots inside while taking 3 steps towards the line once the ball is in Wimbush's hands.
Surely, Notre Dame will finally run the ball, right?
Wimbush is going to fire another quick pass, this time to St. Brown circled in blue. I thought the execution here was interesting because St. Brown's decision making stands in stark contrast to Claypool on the latter's two receptions.
Cam Smith will set up a quality block driving the defender toward the sideline. St. Brown could cut inside that block–and yes likely could've taken a big hit–but passes up 5+ yards to sneak toward the sideline for only 2 yards.
Snap #5 Pass to St. Brown for 40 Yards
So far, this game of cat and mouse has worked pretty well for Notre Dame. The Spartans have lined up to stop the run and have been giving up some yards through the air but nothing too devastating.
On the 5th snap they are set up similarly with an outside linebacker shaded away from the slot receiver and a corner pressing St. Brown. Notre Dame executes a beautiful play-action pass and the tight end picks up the corner blitz who was covering St. Brown which led to the following:
Three receivers with half a football field to work with in one-on-one situations makes an offensive coordinator very happy. Wimbush floats the ball down field with decent accuracy and finds St. Brown for a big 40-yard gain into Michigan State's red zone.
Play #6 Rush by Wimbush for No Gain
The Irish were very comfortable running the ball in the red zone in 2017 as we saw the run/pass split spike up to 68.8% from 54.7%  the prior year and they moved quickly to the ground after the big pass play.
Michigan State still won't budge from their set up and are finally in position to make a stop if Notre Dame runs the ball. The outside linebacker yet again shades toward the slot receiver but doesn't hesitate to sprint toward the line of scrimmage at the snap of the ball.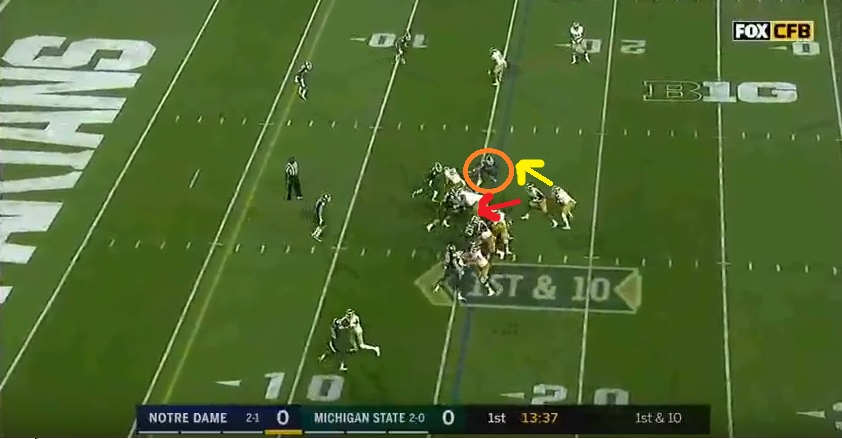 That outside linebacker is quickly picked up by Durham Smythe (although he gets pancaked!) as Notre Dame attempts to option off the defensive end. As we pointed out several times in the Power Success Rate film post from a few weeks back, Wimbush struggled making the right reads in these spots.
A keep to Josh Adams is probably a successful play for at least 5 yards. Instead, Wimbush keeps the football and can't juke his way around the free defender.
Play #7 Rush by Wimbush for 16 Yards
It's the 7th play of the opening series and as of yet neither side has changed much to their approach. On the final snap of this drive Notre Dame flexes out tight end Durham Smythe and changes to a 4-receiver set while facing 2nd and long in the red zone.
Finally, the Spartan linebackers get out of their run-stopping mode and preoccupy themselves with covering receivers as I'm sure the scouting in this scenario told them this was a sure-fire passing down for Notre Dame.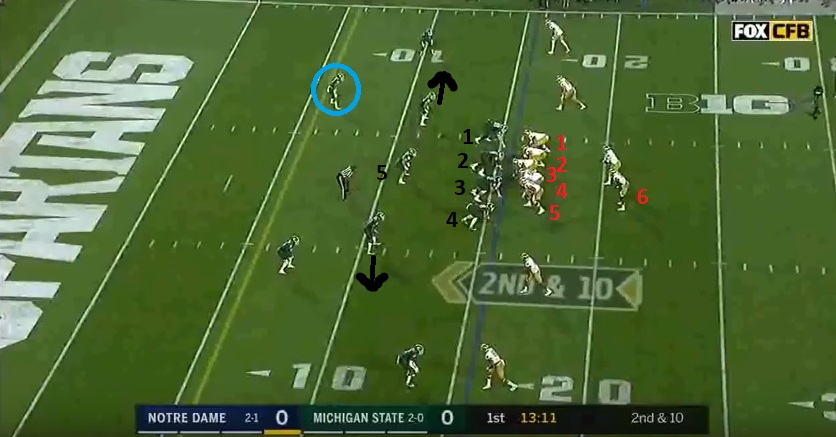 As both linebackers move towards the sideline it opens up what would be one of the best running situations for the Irish in the game. It leaves only 5 defenders in the box for the Notre Dame offensive line and off the quarterback draw it frees up running back Josh Adams to even get a piece of the safety who will be too late coming over for a touchdown-saving tackle.
FULL DRIVE VIDEO
Final Thoughts
It's difficult to say that this is the type of offense we'll see in 2018 when the running back didn't even touch the ball on 7 snaps. However, I think this kind of series is something we'll see a little more of this upcoming fall.
Firstly, the offense moved at a scorching pace ripping off 7 plays in 1:49 of game time and around 2:30 minutes of real elapsed time. This is about as fast as we've ever seen an extended touchdown drive by Notre Dame in the Brian Kelly era.
Consistently not giving running backs carries would be absurd but the tailbacks got rushes on 39.6% of all snaps last year, an increase from 33.2% in 2016. I expect this percentage to fall from 2017 especially as we saw a Kelly-era low 24 receptions from the running backs last fall.
I feel like it's a complete lock to see more reliance on Wimbush hitting these short throws (which is obviously super scary with his accuracy issues) mixed in with some vertical shots downfield which largely comprised this touchdown drive against Michigan State. Let's hope it works out.