Just about a year ago I wrote an article that recapped Notre Dame's run success rate through the recent seasons and wondered what was right and what was wrong. In short, I noticed the Irish lack of long running plays was a glaring weakness and, as luck would have it, Notre Dame proceeded to have a historic season with explosive running plays in 2017!
Also, a year ago I noticed Notre Dame's raw short-yardage running success was nearly identical to Alabama's (now 4 years running) and during this off-season I wanted to look at this relationship even closer.
Quick disclaimer: I really don't want to assign too much importance to power success rate (we won't be reviewing 2nd & short or any goal line snaps from 1st or 2nd down which are typically "power" snaps) if only because it's one thing your average football fan clings to as something that's far more crucial than it probably is in reality. As you'll see below, Georgia had their best team in many years with not-great power success. In addition, half of the teams below lost a combined 27 games in 2017.
Short-yardage success may be important, but so are dozens of other aspects to a football team. Notre Dame ran 912 plays from scrimmage last year from which maybe a dozen were really important in some fashion in short-yardage. Fans tend to take the lowest common denominator and extrapolate biases and opinions from really small sample sizes.
Top 10 Power 5 Rushing Teams by Per Game Yardage (2017)
| TEAM | POWER | STANDARD | STUFF | S&P | 30+ |
| --- | --- | --- | --- | --- | --- |
| Arizona | 17 | 18 | 8 | 39 | 1 |
| Georgia Tech | 6 | 21 | 16 | 11 | 8 |
| Notre Dame | 38 | 11 | 22 | 23 | 1 |
| Georgia | 47 | 26 | 39 | 6 | 4 |
| Miss State | 2 | 7 | 7 | 20 | 26 |
| Oregon | 51 | 8 | 22 | 43 | 43 |
| Alabama | 16 | 3 | 4 | 5 | 24 |
| Louisville | 72 | 4 | 6 | 3 | 6 |
| Ohio State | 21 | 5 | 2 | 2 | 8 |
| Wisconsin | 37 | 24 | 30 | 13 | 35 |
Numbers displayed are national rankings.
(Power) Power Success Rate: 3rd or 4th down carries with 2 or fewer yards that result in a 1st down or touchdown.
(Standard) Standard Downs Line Yard Per Carry: Raw rushing yardage on standard downs.
(Stuff) Stuff Rate: Carries that are stopped at or before the line of scrimmage.
(S&P) S&P+ Rushing Ranking
(30+) Carries of 30 yards or more
Just for some frame of reference I wanted to look at the top Power 5 rushing offenses by per game yardage last year and bring up some of their other stats in relation to Notre Dame.
From these 10 teams Notre Dame is 7th in power success, 6th in standard yardage, tied for 7th in stuff rate, deemed the 8th best running attack of the group by S&P, while being tied for the most long runs. For some more information, I pulled up each of these offenses short-yardage resumes from 2017, too.
3rd & Short (3 or Fewer Yards) Run Success
| TEAM | RUSHES | RUSH PERCENT | RUSH SUCCESS |
| --- | --- | --- | --- |
| Miss State | 48 | 78.6% | 79.1% |
| Georgia | 38 | 69.0% | 71.0% |
| Georgia Tech | 54 | 94.7% | 68.5% |
| Ohio State | 53 | 77.9% | 67.9% |
| Oregon | 48 | 80.0% | 66.6% |
| Arizona | 39 | 79.5% | 64.1% |
| Notre Dame | 39 | 78.0% | 63.1% |
| Alabama | 43 | 74.1% | 60.4% |
| Louisville | 36 | 76.5% | 58.3% |
| Wisconsin | 42 | 67.7% | 57.1% |
This makes Georgia look much better, the Dawgs must have had a few successful 3rd & 3 plays that weren't factored into Football Outsiders' power success rate above which only measures 2 yards or fewer. According to my research, Miss State's mark was 2nd best nationally behind Auburn's 82.3% which makes me think Dan Mullen surrounded by legit SEC talent isn't going to have a problem turning around Florida if he gets competent quarterback play.
Some might be a little surprised to see Notre Dame running the ball this much in these situations. The 8-year Kelly average is actually 67.6% but the offense has been at 76.1% and 78.0% over the last 2 seasons.
To get an even better look (and finally bring some film room work into this article) I logged all of Notre Dame's 3rd/4th Down snaps from 3 yards or fewer.
From the 12 passing attempts in these situations Wimbush was 3 of 7 for 21 yards and 3 first downs, while Book was 5 of 5 for 36 yards and 5 first downs. Wimbush's misses came against Temple, Georgia, Boston College, and Navy. Over his last 9 games (he missed UNC due to injury) Wimbush only attempted 2 passes on 3rd/4th and short. Either he didn't trust himself much, the staff didn't trust him much, the staff thought the run game was perfectly fine, or all of the above.
Among the ball carriers, Josh Adams was successful on 18 of 26 attempts for 146 rushing yards. He started the season converting 15 of his first 17 while limping to the finish and failing on 6 of his final 9 carries.
Elsewhere, Tony Jones was 3 of 5 for 37 yards (32-yard long), Deon McIntosh 3 of 4 for 12 yards, Dexter Williams 2 of 2 for 12 yards, Chase Claypool 0 of 1 for -1 yard, Ian Book 0 of 1 for -1 yard, and Brandon Wimbush 9 of 11 for 32 yards.
Add it all up, and on 3rd or 4th down & short the Irish failed to gain a first down or touchdown on 15 snaps for the 2017 season.
Three of the failed attempts came in Football Outsiders' defined garbage time, 8 came in comfortable victories, while the Irish went a perfect 13 for 13 in successful attempts against Boston College, Michigan State, Miami (OH), USC, and Navy.
Here are all 15 missed attempts:
#1 Temple (GIF HERE)
The Irish are in a heavy set with 2 tight ends and Brock Wright deployed as a fullback. Temple responds with 10 defenders in the box against 8 blockers for Notre Dame. A linebacker aggressively blitzes up the middle, while the defensive end is quick enough to come across the weak-side to the ball carrier. A lack of quality blocking from all of the tight ends, especially Alize Mack, doesn't help things. You can't be -2 blockers and get lackluster effort from 3 more players.
#2 Temple (GIF HERE)
Down at the goal line, the Irish deploy 3 tight ends with Wright again at fullback. With -2 blockers they decide to run to the weak-side and while watching live and reviewing this 20 times it still seems like Adams is going to barrel into the end zone–it's a nice defensive effort from Temple.
Surprisingly, an Owl gets underneath Quenton Nelson which forces a quick adjustment from Adams upon receiving the ball. I love Nic Weishar putting a defender on roller skates but Wright's lead blocking leaves a whole lot to be desired. Adams would punch it in on the next play, by the way.
#3 Georgia
This was the major missed short-yardage opportunity on the season. The 4th quarter is half over with Notre Dame nursing a 2-point lead and a long drive–even without points–could've done wonders in this tight game. The Irish stick with 3 wideouts and Georgia responds with +1 defenders in the box.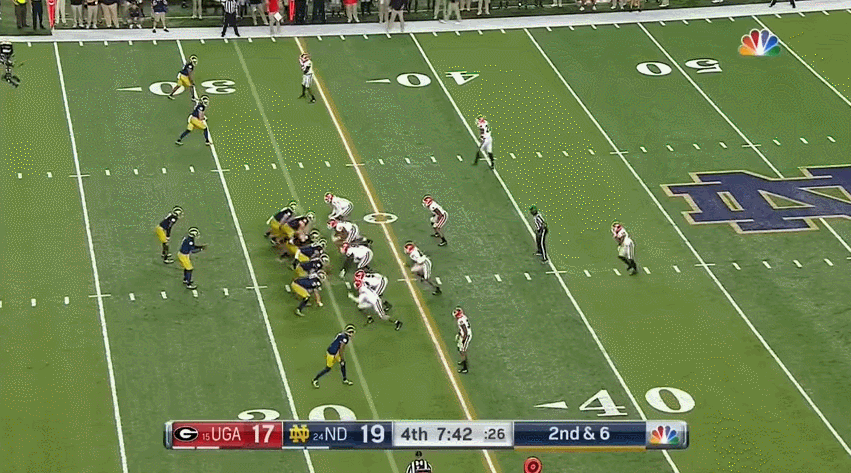 With a RPO call, this looked set up for success. McGlinchey and Smythe double-team the tackle before the latter moves to the second-level to block the linebacker. Wimbush reads the outside linbacker Lorenzo Carter perfectly optioning off the +1 defender. If Wimbush lowers his head he likely picks up this first down, plus he also had a chance at the screen pass to Cam Smith, as well.
#4 North Carolina (GIF HERE)
The Irish opened the UNC game missing their first 3 power success attempts before finishing the game with 7 straight successful attempts (including a pair of Book completions). The first effort sees the offense with 3 wideouts and -1 blockers in the box. The middle gets mucked up pretty good but it's Weishar getting pushed back which forces Adams to lose his momentum and get swallowed up.
#5 North Carolina (GIF HERE)
Any time you run a quarterback sneak on 4th and nearly 6 feet to go while losing yardage you have to say this might just be the worst play-call on the season.
#6 North Carolina (GIF HERE)
A rare power rush opportunity where there were even numbers in the box which highlights how this should've been an easy conversion. Mack is deployed as a H-back and flares out into the flat for what could've been an easy first down, assuming he catches the ball. Mustipher basically whiffs on a second-level block but Jones had ample room to his right for the first down. A little more patience and vision was needed here by the running back.
#7 NC State (GIF HERE)
This is pretty old-school football with 4 tight ends (actually receiver Chase Claypool lined up more as a wingback), 9 blockers up against all 11 defenders in the box. Tight end Cole Kmet opts for the double-team before moving to the second level which opens up a free blocker who just barely trips up Adams before the first down. A game of inches!
#8 Wake Forest (GIF HERE)
This looked like a broken play. Jones at running back doesn't mesh with Wimbush and then whiffs on a block leading to a tackle for loss.
#9 Wake Forest (GIF HERE)
With a comfortable lead late in the 3rd quarter the Irish choose to go for it on 4th down lining up in a two-tight end set with Wright back at fullback. Wake creeps both safeties near the box but they eventually stay back to create an even blocking situation and favorable outlook for Notre Dame. Instead, Mustipher doesn't quite get to his second-level block which then disrupts Wright's blocking as a fullback leaving a free defender to take down Deon McIntosh.
#10 Miami
At the time, I loathed this play-call. Upon reflecting on an entire season of power success it makes a little more sense. I think it was getting to the point later in the season where defenses weren't worried about Wimbush's arm and began keying hard on stopping the running back as the ball-carrier.
With hindsight, I'm okay giving the ball to Claypool as through the entire season no receivers beyond this play were given the ball in 3rd/4th & short and in theory Miami should've been surprised on this snap. Running it to the boundary was a mistake, though. Claypool has to stop his feet immediately upon receiving the ball and maybe with more room to the field side he could have run to the edge for a first down.
#11 Miami (GIF HERE)
A Miami linebacker is floating near the outside of the box but this was a 5 vs. 5 blocking situation where the Irish should've won the battle up front. Quenton Nelson serves up a pancake but it's a poor job by Mustipher working up to the middle linebacker who gets underneath him for a tackle. That penetration from the linebacker also slows the ball carrier down which allows the optioned edge defender and blitzing corner to assist on the tackle.
#12 Stanford
If there was any doubt that opponents began to realize the success of crashing the running back in power situations the Stanford game obliterated that notion. The Irish had a trio of power running attempts in the first half and in each instance Stanford linebacker Bobby Okereke make a far-too-easy tackle.
There is zero hesitation from Okereke on this snap. Notre Dame is already -2 blockers in the box and uses tight end Nic Weishar in a passing route across the the face of Wimbush. With no fear of Wimbush keeping the ball or pulling it for a quick pass it makes this child's play for most defenses.
#13 Stanford
A little later in the game and decision-making continues to be a problem for Notre Dame. The offense is -1 blockers in the box–and with a 2 running back set–really needs to use the ability to option off a defender to their benefit.
Wimbush could've thrown the screen to Stepherson–at this point in the season everyone knew this wouldn't happen–for a decent chance of a playmaker in space with lots of room to work. The play is executed perfectly for Wimbush to keep the ball on the option as Tony Jones comes across Wimbush's face for a key block. That's an easy 8 yards towards the sideline.
Instead, Wimbush is content to give and Okereke has an unimpeded route directly to Adams.
#14 Stanford (GIF HERE)
This is 5 vs. 5 in the box and should've been a favorable snap for Notre Dame. The blocking by the offensive line is all disjointed and once again you'll see Okereke covering a flexed out tight end Smythe but completely dedicate himself to the running back.
#15 LSU
Same song, different game. It's the very first series in the bowl game with Notre Dame already in LSU territory. The edge player actually stay home on Wimbush to deny the keep here, although had the quarterback pulled and ran to his right it's probably a touchdown.
Just like the Stanford game, the linebacker for LSU couldn't have an easier play on a ball carrier. It looks like either Mustipher or Nelson (who get taken out low by the Tiger tackle) aren't able to work up and get a body on the run blitzing linebacker.
Improvements
Moving toward 2018 I see a handful of areas for improvement with power success:
1. Better blocking from tight ends
2. Better passing from Wimbush
3. Better reads from Wimbush
4. More weapons outside the QB/RB
It would seem counter-intuitive to need so much improvement from Wimbush but with a likely weaker offensive line and no more Josh Adams to lean on it's an inevitable situation. For the fall, Wimbush simply needs to make his arm a bigger weapon and put his teammates in better positions to succeed with smarter reads.
Additionally, Wimbush is too good of a runner to have his decision making slow down this part of his game. Of the 9 power run success plays coming from his feet 2 came on quarterback sneaks, 3 came on quarterback power, 2 came on scrambles, and 2 came on read option. I'd imagine Wimbush's feet are going to be even more important for power success in 2018 and being more dangerous with the read option will be crucial to opening things up for himself and other runners within the offense.
Georgia on My Mind
Getting back to the small sample size again there were only 3 short-yardage 3rd/4th down plays for Notre Dame against Georgia while they were successful running once, failed once on the ground, and Wimbush threw an incompletion. Out of all the power success plays from 2017 the missed Wimbush run above was really the big one that had a major impact on the season.
Even with that painful missed 3rd down it's the production on first down–where the Irish ran 32 plays against the Bulldogs–which had a far greater impact on this early-season loss.
Against Georgia, the Irish ran the ball on first down 14 times for 39 yards and a 35.7% success rate. Notre Dame passed the ball 18 times, completing 7 of them for 68 yards and a total 22.2% success rate through the air. Wimbush finished the 1-point loss going 2 of his last 8 passes for 0 yards on first down.
The comparison to the National Title Game is instructive. Alabama ran the ball 16 times on first down against Georgia for 91 yards (4 carries went for 72 yards) for a 43.7% success rate. A decent bit better than Notre Dame but hardly by much. Through the air, the Tide tossed 16 passes on first down, completing 11 of them for 114 yards and a 62.5% success rate. A difference of 40.3% with Notre Dame's passing is astronomical–you can imagine what could've happened had the Irish benefited from 6 or 7 more successful first down passes versus Georgia.
But surely, Alabama's power success rate was better against Georgia? If you look at the table above you'd guess that wouldn't be the case. In fact, it was 33.3% just like Notre Dame's–the Tide failed on their first 4 attempts (rush for -1 yard, incompletion, 1-yard pass, rush for -1 yard) before quarterback Tua Tagovailoa threw a 4-yard touchdown and ran for 4 yards to finish. Even at Alabama, smart quarterback play makes a world of difference.