With the recent internet rumor of a suspension for Dexter Williams the Fighting Irish could be facing Michigan on September 1st without 4 out of its top 5 running backs from last year's roster. The lone man standing in the backfield is Tony Jones, Jr. a rising redshirt sophomore who finished 2017 with the 4th most carries on the team.
It's been a curious 9 months or so for Jones who went from the presumed favored backup to Josh Adams to eventually getting lost in the shuffle with Adams becoming a Heisman candidate for a while, Brandon Wimbush breaking school rushing records for a quarterback, Dexter averaging over 9 yards per carry, and Deon McIntosh coming out of nowhere as a dependable backup.
Last season, Jones rushed for 232 yards at 5.27 per rush with a 52.2% success rate for solid overall numbers. However, he did pick up 32 yards on a fake punt so as a running back from scrimmage he averaged 200 yards on 43 carries for a 4.65 average. That's a lot less solid, especially since 34 of Jones' carries came in 6 games against unranked teams.
We're here today to discuss Jones' strengths and weaknesses in the event he ascends to the No. 1 running back role by kickoff time against Michigan.
Strengths
Like many young running backs, Jones needs to work on his vision which will come with more playing time. For example, see Play #6 from my power run success rate film post from this same featured North Carolina game below. However, one of Jones' strengths is his patience which I think has a lot to do with playing behind an elite offensive line in high school and among the best units in college. With 3 more years of eligibility remaining he's already half a decade deep into learning how to set up blocks.
#1
I liked this play because Jones is able to squirt through a small hole for an easy first down. He has really good short-space agility and footwork for his size which pairs well with quality blocking up front. I would have liked to see him run towards the North Carolina logo for more yardage–but as we'll see below–Jones often seeks out contact which can sometimes be good and sometimes makes him less effective.
While reviewing all of Jones' carries it was obvious that Notre Dame likes to give him the ball out of Pistol or Ace sets and that's where the vast majority of his best carries came from in 2017. This makes sense as it takes advantage of Jones' power running style and ability to get down-hill with a head of steam.
#2
Without a doubt the USC game was the best of 2017 for Jones and was the only contest on the season where he was featured quite a bit with success against a good team.
This was an important carry to me because it shows with good blocking Jones can be an effective runner outside the edges. He sets up his blocks well, picks a seam, and as usual seeks out contact to finish off the run. Also, a reminder that Notre Dame absolutely rag-dolled USC all game long on the ground.
#3
Notre Dame couldn't have drawn up this next play any better. The line opens up a nice hole, USC bites too hard on the sweep action to Chase Claypool, and Jones fires through the hole for 7 yards until he runs over a safety.
This is the exact type of play that had so many excited about Jones as a recruit. He spends no energy trying to kick this outside and is completely committed to running hard straight up the middle. You can visibly see once he's across the line of scrimmage there is only one thing on his mind.
#4
A Pistol formation again and pulling linemen, are we sensing a theme? One of Jones' strengths is that if the play is blocked well he's usually not going to mess it up with a bad read or trying to hit a home run. He's direct and to the point.
It doesn't take much to understand why the coaching staff liked Jones so much during last fall camp, and we're not even discussing his pass protection and receiving skills. As a pure runner he's pretty no non-sense and there's some comfort in knowing what you're doing to get from him each game.
Weaknesses
Weighing 220 pounds it's only normal that Jones will have some limitations. For his size, he can move well but he hasn't shown himself to be an upper-level athlete in space or in the open field.
#1
Our first play here actually isn't a bad job by Tony Jones. He has a free defensive lineman backed up by a safety meeting him directly in the hole and he does an admirable job to not get labeled with a helmet into this chest.
However, this does highlight that with more explosiveness this snap is a potential touchdown. The thought process is perfect for Jones but he's not a 195-pound back whose cut-back is going to leave these defenders in the dust as he scampers into the end zone barely touched.
#2
In the grand scheme, Jones' lack of speed isn't going to be as detrimental on a relatively smaller number of carries where he breaks into the open field as it will be on the many more carries that are stopped for more modest gains.
On this snap, Mustipher is walked back by a Tar Heel lineman which takes Jones slightly off his route. The back is able to cut up-field 3 yards behind the line of scrimmage but instead of striding fully through the gap he's anticipating contact and is chased down by the field-side defensive end.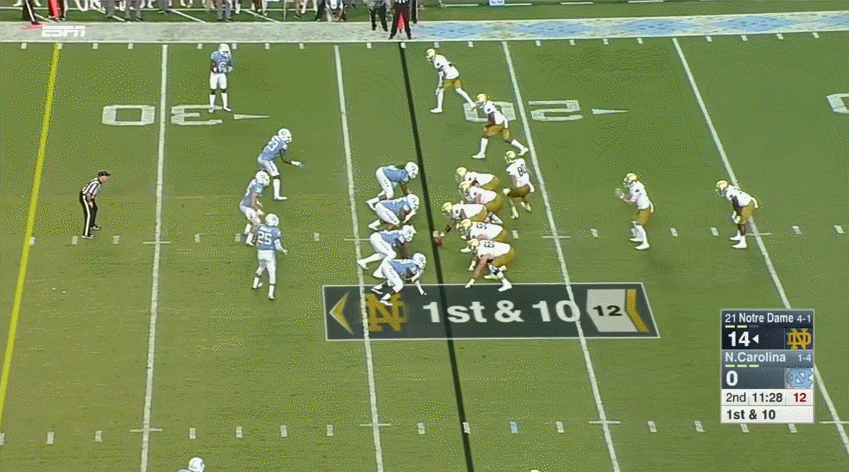 Some might think this play isn't Jones' fault, plus he does gain 4 yards on first down which is technically a successful snap. It's just, the difference between Jones and Josh Adams is that the latter is running past an arm tackle and is putting pressure on the safeties on a 10+ yard gain.
#3
The next play is eerily similar to the one above and from just a couple minutes later in the same North Carolina game. The offensive line does a good job cornering the Tar Heels towards the sideline and with one seam a big play is possible for the running back to break into the second level of the defense.
As above, the trailing defensive end is able to chase Jones down and ultimately stop the play for a modest gain. It'll be important for Jones to hit these runs quicker, and more importantly, with confidence. At times, he's content to welcome contact and will have to improve on getting past the first wave of defenders before being touched.
#4
One thing we've yet to see from Tony Jones is a lot of wiggle and the ability to make something out of nothing. I noticed a lot of runs like the one below. Watching the game at live speed it's a completely unmemorable snap.
It's a 4-yard gain with not a lot of room to work with and most would simply move on to 3rd down.
At a young age Jones has proven he's a hard-nosed back. But to take his game to the next level he'll have to display a better ability to avoid being tackled. That's often the double-edged sword with any bigger backs–you like their ability to lower their head and take the extra 2 yards but at the same time always doing that can leave a lot of yards on the field.
Final Thoughts
The good news is that upon reviewing Tony Jones' debut season with the Irish I was a little more impressed than his relatively modest stats would suggest. I thought I'd see more unsuccessful rushing attempts that were not purely the result of poor blocking. If he was stopped for a loss or only gained a couple yards it was largely due to being surrounded by tacklers.
When we factor in Jones' (according to the staff) understanding of the play-book and receiving skills there's a lot to like for a 1B option in the backfield.
Yes, a 1B option and actually I believe in a really strong year at the position Jones would be more suited primarily to a 3rd down back role. I see a lot of similarities to Darius Walker except a more power-running version. Walker was a modest career 4.7 YPC rusher, made a big impact as a receiver (99 receptions his last 2 years) and in comparison we'll really need to see Tony Jones increase his receptions from his first season.
Used appropriately, Jones could be very effective. I do have a lot of concerns about him being the unquestioned number one back who could receive 15+ carries per game. I fear a weaker offensive line exacerbating his weaknesses mentioned above and eventually I can envision the offense turning away from the running game due to its ineffectiveness and lack of trusted options behind Jones.