Every 4 years the world convenes for its biggest sporting event, the FIFA World Cup. How big, you ask? An estimated 3.2 billion people watched the 2014 World Cup with 1.013 billion people tuning in for the July 13, 2014 final between Germany and Argentina. It's so big of an event we thought we'd provide our 18 Stripes community a preview of the 21st World Cup beginning later this week.
When: June 14, 2018 through July 15, 2018
If you follow soccer closely you'll know there is basically no off-season. The bulk of world club football teams have finished their seasons barely a month before the World Cup (the Champions League Final came less than 3 weeks ago) and less than 2 weeks after the World Cup many of the participating players will be traveling all over the world in a collection of international cup friendlies while beginning league games by mid-August.
Therefore, fitness and momentum play a huge part in the World Cup. It's a short tournament played by athletes running hundred of miles all year round with very few vacations or overall rest.
Where: Russia
Just over 4 years since hosting the Winter Olympics we get to see Russia hosting the world's largest soccer tournament–the first time the tournament will be held in Eastern Europe. Russia won this bid over Portugal/Spain and Belgium/Netherlands. As per usual, accusations of bribery have run rampant as is always the case with the machinations of the FIFA organization and world soccer in general, while news stories over the past couple years have documented how Russian President Vladimir Putin has illegally dished out tens of millions to political allies and friends during the building and construction of their country's new soccer stadiums.
Russia will allow 11 cities and stadiums to host matches during the tournament with the rebuilt Luzhniki Stadium in Moscow hosting the final in a little over a month.
Qatar controversially won the 2022 World Cup bid and that tournament looks like it's headed for disaster for numerous reasons–namely among them over 1,200 laborers have already lost their lives and it's expected at least 4,000 will die building the stadiums needed to host the event in 4 more years.
For our purposes today it's important to point out that the United States came in second for the 2022 tournament and a joint U.S./Canada/Mexico bid aka the "United Bid" is in contention with Morocco for the 2026 World Cup. New U.S. Soccer president Carlos Cordeiro has made this his top priority after being elected this February. The vote will be held soon on June 13th and things have been trending Morocco's direction in recent months which isn't great for North American soccer fans who really need an injection of good news these days.
Television: Fox
Fox spent $200 million to out-bid ESPN for the U.S. English-language broadcast rights only to see the home country fail to qualify. While their coverage has been frequently maligned–many of the games will include announcers doing the work remotely from the studio instead of in Russia at the stadium which isn't unusual–they will be televising every game in the United States, 38 games on Fox and 26 games on Fox Sports 1.
FULL WORLD CUP TV SCHEDULE CLICK HERE
Unfortunately for Americans, the start times for the games in Mother Russia will not be ideal. For those in the Eastern time zone the group stage games will be kicking off at 7 AM, 10 AM, and 1 PM. Prayers to anyone on the West Coast of the United States. It will be a good idea to follow @FoxSports and @FoxSoccer on Twitter or @foxsports on Instagram. Twitter is paying handsomely to have goals and highlights posted throughout the World Cup.
If you're really serious (or truly hate Fox) you can watch all of the games on Spanish-language Telemundo, as well. Additionally, Fox Sports will be broadcasting a morning show FIFA World Cup Live every day at 6 AM live from Red Square in Moscow. They'll also be broadcasting FIFA World Cup Today and FIFA World Cup Tonight in the afternoons and evenings, respectively.
Who's (Not) Here
Certainly from an American perspective this World Cup will be known as much for who isn't here. For a tournament of 32 teams the following FIFA world ranked teams failed to qualify:
Chile (9th)
Netherlands (17th)
Wales (18th)
Italy (19th)
United States (25th)
Austria (26th)
Slovakia (28th)
Northern Ireland (29th)
Ireland (31st)
Paraguay (32nd)
For the American side, they mostly slept walked through the qualification process, firing head coach Jürgen Klinsmann in the process, and lost a disastrous game at Trinidad & Tobago in the final game to miss the World Cup. The U.S. is currently in a bit of a rebuilding mode trying to balance the slow regeneration of young new talent (led by Christian Pulisic [Borussia Dortmund] who is still just 19 years old and won't hit his prime until the 2026 World Cup) with the growing popularity of the game within the country and a domestic MLS league increasing its status in the world but struggling to break through that ceiling in its 23rd season of competition.
Chile was showing all of the signs of being a force to be reckoned with in the tournament as the two-time defending Copa America champions. Led by Alexis Sanchez (Manchester United) and Arturo Vidal (Bayern Munich) they were a classic overachieving South American side that collapsed in 2017 with 4 World Cup qualifying losses bombing out before this week's competition began.
The 4-time World Cup champion Italian side has been in a bit of a disarray. Their stars are largely aging and their national system is currently in shambles. After winning the 2006 tournament they've failed to get out of the group stages in the last two World Cups before missing qualification for 2018.
Netherlands is in a weird spot having made it to the 2010 final and 2014 semi-finals but are lacking high-end talent suddenly within their program. Holland–who missed out on the European Championship last summer which was enough of an ego bruise–were so poor in qualification that they missed out on World Cup qualification way back in early October.
The Groups
Group A
Group Winners: Russia, Uruguay
As you'd expect for the host nation who automatically qualified for the tournament this is a very weak group with Uruguay the heavy favorite. If there aren't some shenanigans pushing Russia through to the knock-out stage I'll be shocked. The recent history of host nations winning their group is good news for Putin's men, too. Although, Egypt's ultra-defensive system causing havoc could be a bargain bet at +600.
Group B
Group Winners: Spain, Portugal
Morocco and Iran actually aren't as terrible as you'd think but they're still massively huge underdogs to move on against two European giants. The Spain-Portgual matchup will be the 3rd game of the tournament and first from this group so we may know quickly which side will be moving on. The Portuguese as small +175 underdogs to win the group is about as safe of a bet as you can make for the defending Euro Cup champions.
Group C
Group Winners: France, Denmark
There may be no more hype-worthy team than France (-335) with their waves and waves of talent across the entire pitch. You can probably ignore Australia, however, the battle between Denmark and Peru for the knock-out stages could be one of the more entertaining of the tournament. Both were scorching hot coming down the stretch in qualification. In 2017, Denmark grabbed 17 of 24 points with no losses and Peru hauled in 16 of 24 points with no losses.
Group D
Group Winners: Argentina, Nigeria
Plenty of people will be throwing money on Euro Cup darlings Iceland (+1000) as the 4th best odds in this group. Croatia stumbled a lot in qualifying during 2017 and at +200 are a stay away for me. I like Nigeria as the surprise team to get through and all 3 teams should make Argentina sweat heavily to win the group. La Albiceleste faltering in the group stages would be a massive story but not super surprising given the strength of these teams.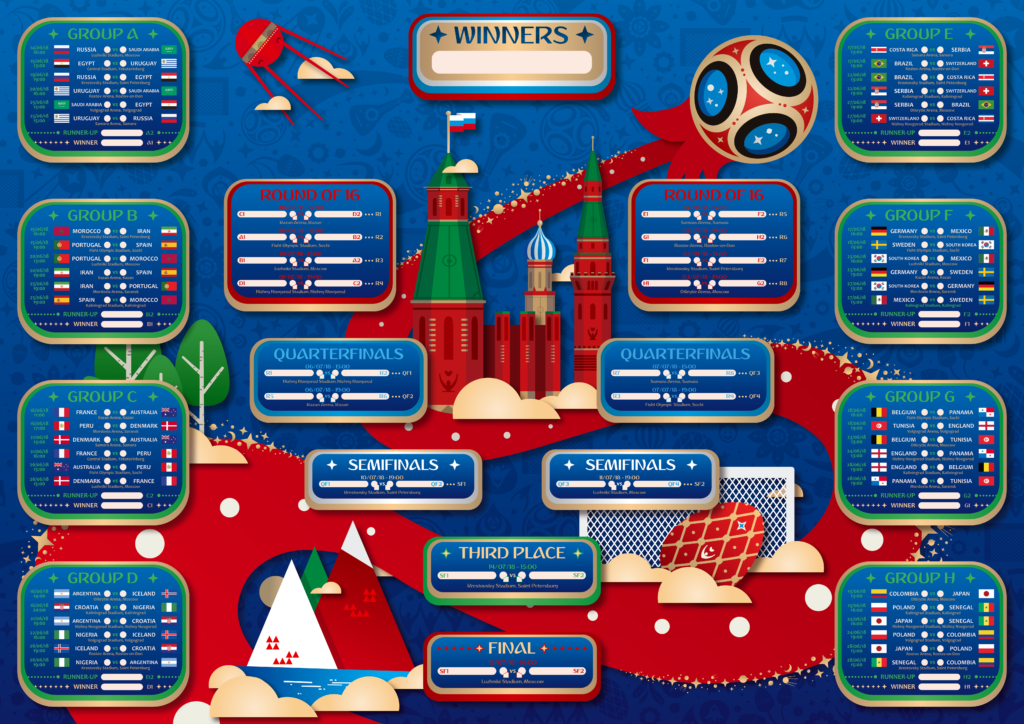 Group E
Group Winners: Brazil, Costa Rica
Like Argentina, we have another South American giant in Brazil facing a pretty tricky group stage. Serbia have faltered on the big stage in modern times but were fantastic in qualifying. Switzerland are solid although perhaps a bit overrated (+550) as the 2nd best odds in this group. Costa Rica were major overachievers in the 2014 World Cup and I love their odds to move on once again.
Group F
Group Winners: Germany, Mexico
There hasn't been a more steady team than Germany who are the defending World Cup champions and haven't placed worse than 3rd over the last 4 World Cups. If you're into schadenfreude as an American our friends to the south are ripe for the picking to miss out on 2nd place in this group. Sweden was surprisingly strong in qualification with wins over France and Italy, blocking the latter from the World Cup in a playoff.
Group G
Group Winners: Belgium, England
Panama are mildly interesting (+1000) as a major underdog. However, this feels like Belgium and England should easily cruise into the knock-out stages. Tunisia (+2000) has some of the worst odds and should be 3 points for the other teams in this group. Be wary of England, who find new ways to fall on their face in modern times during the World Cup.
Group H
Group Winners: Poland, Senegal
Here's a sneaky competitive group absent a blue-blood world power. Poland are probably the best non-blue blood team in the world at the moment in terms of form and have the potential to go deep following 25 points from 30 available in qualification and a solid 2016 Euro Cup performance. Most will take Colombia (+125) as the favorites to win this group but I like a fast attacking Senegal to surprise.
Top 20 Most Important Players
AM, Kevin De Bruyne, Belgium, Manchester City
The soon-to-be 27-year old blew up in 2014-15 for Wolfsburg prior to a massive $92.2 million transfer to Manchester City where he's been the creative engine behind the recently crowned Premier League champions. He's now in the same role for a Belgium team that has a good enough supporting cast around De Brunye to take advantage of his supreme play-making that saw him put up 21 assists in 52 games this past season.
LW/CM, Philippe Coutinho, Brazil, Barcelona
It's been a weird year for Coutinho who spent the first half of 2017-18 playing some of his best football for Liverpool while being overshadowed by a potential move to Barcelona. That move came in January for a hefty $148 million (plus additional clauses) as he links up with an enviable attack in the Catalonian capital. He'll also get the chance to play with another ridiculous front-line with his fellow Brazilians, although there's plenty of talk that he'll play more of a deep-lying playmaker role in the midfield.
AM, Christian Eriksen, Denmark, Tottenham Hotspur
If you like the Danes to advance it'll be largely due to the cerebral Eriksen who was third in goals during World Cup qualifying and has been the creative glue for a promising Spurs team in the Premier League for the past few years. With a big tournament, Eriksen's stock could peak this summer with the likes of Real Madrid, Barcelona, and others eyeing a move as he enters his prime in North London.
ST, Antoine Griezmann, France, Atlético Madrid
Griezmann has been pouring in goals (102 to be exact) for Atleti for the past 4 seasons and is coming off a Europa League title with Los Rojiblancos. This World Cup is as big of a personal proving ground for Griezmann as he's rumored to be spurning a new contract in favor of a 9-figure move to Barcelona (or elsewhere) very soon.
LW, Eden Hazard, Belgium, Chelsea
The linchpin of Chelsea's attack has 2 more years left on his contract with the Lions but is being pursued heavily by Real Madrid and hasn't been happy with his club's up and down performances in 2 out of the last 3 seasons. Chelsea is rumored to be offering a new $22 million annual contract for a 50% pay raise. His performance at the World Cup could have major ramifications across European football.
AM, Isco, Spain, Real Madrid
Until recently, the 26-year old Spaniard hasn't been an unquestioned starter for Real Madrid and is always mentioned in transfer news. He's far too valuable to move and finally appears to be breaking out fully in world soccer. Among the most productive players on a per minute basis, this World Cup could see Isco leading a deep run for Spain.
ST, Harry Kane, England, Tottenham Hotspur
Kane burst on to the scene in 2014-15 and has finished no worse than 2nd over the last 4 seasons in EPL goal scoring, grabbing a pair of Golden Boot awards in the process. Already Tottenham's all-time Premier League scorer with 108 goals in 150 appearances, he now captains an England squad with plenty of pressure to do something memorable in the World Cup.
ST, Robert Lewandowski, Poland, Bayern Munich
The World Cup qualifying top scorer, Lewandowski has been a Bundesliga tallying machine for the past 8 years slotting home over 180 goals in league play. Overall, he's well over 300 goals in his career and has the talent to change a game completely on his own. He's also rumored to be a bit unsettled in Munich and seeking a transfer which adds plenty of intrigue.
LW, Sadio Mané, Senegal, Liverpool
Somewhat overshadowed by a teammate recently (see below), Mane nevertheless has been a speed demon crux to Liverpool's attack and now gets the chance to make a bigger name for himself on the world stage. I'm predicting a huge World Cup for him and the main reason why Senegal will get through to the knock-out round.
LB, Marcelo, Brazil, Real Madrid
Some may quibble and say David Alaba is the world's best left back but Austria didn't qualify for the tournament. Marcelo is getting up there in age but seems to peaking as a creative force from a defensive position. Teamed up with plenty of other highlight reel teammates you can expect Marcelo to have a handful of big moments during the World Cup.
RW, Lionel Messi, Argentina, Barcelona
All the pressure remains on Messi as he looks to add a World Cup title to his resume which would cement his status as the Best Ever in many circles. With 9 La Liga titles and 4 Champions League trophies this is the last frontier for Messi. His accolades need no introduction, the soon-to-be 31-year old is already Argentina's all-time leading goal scorer and has netted an amazing 552 goals and 212 assists in 637 appearances for Barcelona.
GK, Manuel Neuer, Germany, Bayern Munich
The keeper for the defending champs is both aging (32) and missed the vast majority of the Bundesliga season with an injured foot he broke 4 times. Yes, 4 times. Due to the injury, Neuer may have ceded his title as the best keeper in the world but when in form he's a wall in net. He's still struggling to be fit enough to play a major role for Germany n the tournament but did start their last 2 friendlies prior to the tournament.
LW, Neymar, Brazil, Paris Saint-Germain
The world's most expensive player made a ludicrous $273.3 million transfer away from Barcelona late last summer and has spent 2017-18 scoring 28 goals in 30 games but a broken bone in his foot kept him out of action for nearly 4 months. Neymar looked like the player of the tournament in his home country during the '14 World Cup before a broken vertebrae in the quarterfinal doomed Brazil's chances.
CM, Paul Pogba, France, Manchester United
The former world's most expensive player ($129.2 million) Pogba made the move from Juventus to Manchester United 2 seasons ago, and while unarguably a larger celebrity in the English speaking world, his stock hasn't soared for his club team. On the international level he was named the Best Young Player of the 2014 World Cup and helped France to the final of the most recent Euro Championship. This could be a good time for him to reassert his vast talent.
CB, Sergio Ramos, Spain, Real Madrid
The only central defender on this list, Ramos is the captain of both Real Madrid and the Spanish National Team. He's equal parts respected and loathed around the world. You can expect him to have at least a couple controversial moments during the World Cup as he did just that in Real Madrid's Champions League victory over Liverpool not long ago.
AM, James Rodriguez, Colombia, Bayern Munich
The reigning Golden Boot winner from the last tournament, Rodriguez made a splashy $88.2 million transfer to Real Madrid following his scorching hot 2014 World Cup but hasn't really blown up while going on a 2-year loan to Bayern Munich this season. He'll be in a tough position to replicate his amazing run from 4 years ago.
LW, Christiano Ronaldo, Portugal, Real Madrid
If nature will eventually take over this should be the final World Cup for the 33-year old Ronaldo who could change his already legendary status with a World Cup win coming off the 2016 Euro Championship title. His club manager just surprisingly stepped down following 8 trophies in less than 2 years, and Ronaldo has been passive-aggressively threatening a move away from Madrid despite a nearly $39 million per year contract waiting to be signed.
RW, Mohamed Salah, Egypt, Liverpool
Coming off an under-the-radar 15 goals and 13 assists with Roma in 2016-17, Salah transferred to Liverpool for $51.5 million and has exploded on the world scene with one of the best offensive efforts in Premier League history winning the Golden Boot with 32 goals while chipping in 10 assists. He's one of the top in-form players coming in to the World Cup and could single-handily boost Egypt's chances with a few big goals. Unfortunately, as linked above Salah sprained his shoulder in the Champions League final and hasn't been training with Egypt in recent weeks.
AM, Son Hueng-min, South Korea, Tottenham Hotspur
The reigning AFC Asian Footballer of the Year was a young rising star in the Bundesliga prior to a 2015 summer move to Spurs that has seen him quickly become the highest scoring Asian player in Premier League history. His country is over-matched in their group and will need a massive effort from Son to get through, though.
ST, Luis Suárez, Uruguay, Barcelona
During the last World Cup Suarez was last seen biting Italian defender Giorgio Chiellini and faced a 9-match ban which allowed him to come back to Uruguay over a year later for start of the 2018 World Cup qualifying. Just a couple weeks after the incident, Suarez made a $101 million transfer from Liverpool to Barcelona. In 4 seasons with Barca he's scored over 150 goals and remains his country's top goal-scorer.
Top 5 Young Players to Watch
AM, Dele Alli, England, Tottenham Hotspur
Recently turned 22, Alli was scooped up by Spurs for $7 million in February 2015 and has spent the last 3 seasons in North London scoring nearly 50 goals and becoming a regular on the English national team. He's battled with maturity issues and could have one of the more controversial or sensational moments in the World Cup.
LW, Ousmane Dembele, France, Barcelona
Recently turned 21, Dembele's production as an insanely fast winger hasn't quite matched his hype (13 goals over the last 2 seasons) but he was scooped up by Barcelona for $128.8 million last summer and has been gaining caps with France for the past 2 years. He may not get consistent minutes for a loaded French side, but keep an eye out nonetheless.
ST, Gabriel Jesus, Brazil, Manchester City
Recently turned 21, Jesus was plucked by Manchester City from Brazilian club team Palmeiras for $39.2 million in January 2017 and has scored a healthy 22 goals for the Citizens without full-time starter minutes. While young he should be featured quite a bit by Brazil during the World Cup.
RW, Kylian Mbappé, France, Paris Saint-Germain
With 6 more months until he turns 20 years old, Mbappé has been on loan at PSG from Monaco in a deal that will become permanent for $220.9 million this summer. He exploded on to the European scene in 2016-17 scoring 15 goals and adding 8 assists on the way to Monaco's shocking Ligue 1 title. He's added 17 more goals and 11 assists with PSG this year and should be one of the top options down the wing for France.
CF, Timo Werner, Germany, RB Leipzig.
Germany made the controversial decision of leaving behind 22-year old Leroy Sané following his PFA Young Player of the Year 10 goal and 15 assist season with Manchester City. That may grab the headlines but don't sleep on 22-year old Timo Werner who led the Bundesliga in goals 2 seasons ago (42 goals in 63 appearances for Leipzig since 2016-17) and has 8 goals in just 14 appearances for Germany in his young international career.
Best Kits
The Belgium home, Brazil away, Croatia home, France away, Germany home, Poland home, South Korea away, and Argentina away take home my votes for the best kits in the 2018 World Cup.
The big winner and most memorable kit may be Nigeria's home effort which has received over 3 million orders prior to the World Cup beginning and is currently sold out with no plans by Nike to manufacture more. Collectors item!
Who's Winning?
This is the 21st World Cup and only 8 countries have ever raised the famous gold trophy. One of those nations (Italy) didn't qualify so we're down to 7 "blue-blood" countries remaining in the mix. I'd rank their likelihood of winning from a neutral perspective as follows:
7) England
6) Uruguay
5) Argentina
4) Spain
3) France
2) Brazil
1) Germany
For me, there's a decent sized drop-off between 4th and 5th above. Even though Argentina made it to the final 4 years ago they're really top-heavy in talent and lack depth especially outside of their attacking positions.
Uruguay won the first 2 World Cup's that they participated in but haven't had much success in modern times. As per usual, England is going to have a lot of hype around a handful of really talented young players but they're an easy pass if you're looking for a champion–the pressure and lack of experience is just too much to take a gamble.
You can pick any of the top 4 and feel pretty good about your selection. What about picking a country who has never hoisted the trophy? Here's how I'd rank those top choices:
4) Mexico
3) Poland
2) Portugal
1) Belgium
Again, huge drop-off from Portugal to Poland here. It's funny, you only really need to win 4 games to take home the World Cup and yet the knockout rounds are almost always littered with the usual world powers. Even still, both Belgium and Portugal are great values here as the 6th and 8th best odds to win it all. They check a lot of the boxes: solid to very good depth, recent success in Europe, and a sense that if they're going to win it now is the time for both of their chances and generational talent.
Winner: Brazil
I was going to go chalk here because no team has fewer holes than Die Mannschaft. Turns out, in many places it's now Brazil who is favored to win it all.
France lacks a veteran defense and will probably struggle managing minutes for half a dozen all-world attacking players–in addition to manager Didier Deschamps being skewered for playing incoherent lineups. Spain has a distinct lack of scoring power, especially up top at striker. They also feel a touch old with 12 players 28 or older in the World Cup roster.
Brazil is similarly well-rounded like Germany but the continued drama surrounding Neymar smells like it could be a cancer for Canarinho. A barely fit Neymar pushing aside incredibly in-form Roberto Firmino or Gabriel Jesus while (allegedly) pushing for a move to Real Madrid a year after blowing up the transfer world on his way to Paris–yikes!
Still, Neymar was fit enough to start in Brazil's last tune-up against Austria on Saturday with a terrific goal while also scoring as a sub in their previous game against Croatia. Even if he's not in the starting lineup he'll be the X-Factor sub in the early parts of the tournament.
Despite getting embarrassed 7-1 in the 2014 semi-final of this competition Brazil looked great prior to Neymar's back injury. They're unquestionably more powerful now, especially in attack. Here's predicting a 6th World Cup title for Brazil.