As the calendar has turned to 2019 and Notre Dame's season came to a grinding halt in Arlington we are looking ahead to the new football season. Ever forward. Since we're still awaiting news from several players and their decisions to return to South Bend this is basically an early version of the early 2019 depth chart.
In case you missed it recently, quarterback Brandon Wimbush has moved on publicly with his decision to play somewhere else for 2019 and sparingly used defensive tackle backup Micah Dew-Treadway has decided to seek his 5th-year of eligibility elsewhere, too. We have updated our SCHOLARSHIP CHART for the upcoming new season. As of January 4, 2019 the Irish are sitting on 91 scholarship players which includes 5 graduate seniors, preferred walk-on J.D. Bertrand who we are projecting to pick up a scholarship immediately, but not preferred walk-on kicker Harrison Leonard for now.
As I survey the roster I'm seeing 5 immediate concerns for Notre Dame heading into spring and the summer session.
Too Many Cooks in the Kitchen
Keeping in mind that Notre Dame is heavily favored to sign defensive end Isaiah Foskey and is still in the running for linebacker Asa Turner and we have ourselves the most intriguing numbers jam in the Brian Kelly era. Specifically, wide receiver, offensive line, and linebacker all have far too many bodies than is useful within the 85-man limits.
I'm getting the feeling that Boykin is going to try his hand in the NFL now. He's been here 4 years and might ever-so-slightly be nudged out the door to try the pro ranks amid the 2019 off-season concern that the offense needs to put more speed on the field.
I can't remember a roster in recent memory that featured more than 11 wideouts, either. With the position switches of Wilkins and Robertson here this past year things are definitely bloated. I have to think at least one more receiver will not be at Notre Dame for 2019.
Offensive line is crazy right now. With the handful of quality walk-ons to be used in practice there are enough bodies for 4 full lines. For spring ball! The status of Ruhland is one worth monitoring, though. You'd think he would be able to become the starting center but weirder things have happened. He's not a lock-down starter by any means and could decide to use his final year elsewhere.
Fourteen linebackers makes me dizzy. Ideally, someone is going to grow into a defensive lineman which is rumored to be the future for rising redshirt freshman Ovie Oghoufo who is 6'3″ but on the 2018 a mere 223 pounds. Long-term a move to the front four makes plenty of sense but he's probably another year away from impact.
We're projecting a move for Bilal from Rover to Buck which makes a ton of sense to balance things out for the linebackers. Simon and JOK are the emerging young and athletic Rovers, Bilal stabilizes Buck, and plenty of questions remain at Mike.
An Emerging Backup
The ceiling at running back will certainly be at the forefront of the off-season discourse. I'll buy up any stock in Jafar Armstrong as a quality starter-level back but questions remain about his ability to stay healthy for an entire season and just how much he'll continue to improve following this position switch last year. I think he'll be good but the offense is looking for great.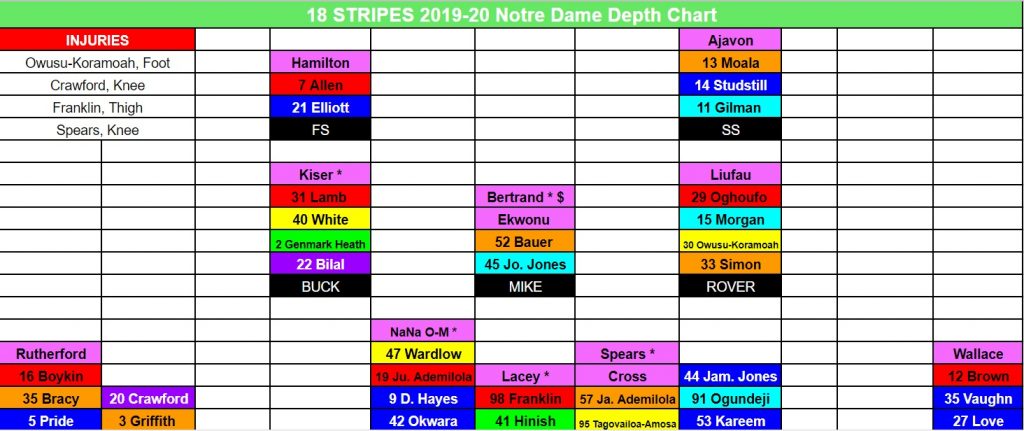 Behind Armstrong we've got work to do. Tony Jones appeared to level-off in 2018, the Avery Davis experiment if not a failure needs plenty of work, and neither true freshman from the fall blew the doors off folks. The good news is that this position traditionally has good odds of someone bursting on the scene and it's helpful that 2019 freshman Kyren Williams is enrolling early with a chance to make an impact.
Option #3
God willing, we will hear news of Julian Love returning soon. With the glut 20 freshmen receiving a redshirt following 2018 there will be 4 "new" corners added to the mix during the summer which is a needed injection of youth.
It's easy to assume Vaughn is going to be placed on the trash heap following the Cotton Bowl but that experience could theoretically drive him to improve greatly as a senior. His size juxtaposed with the diminutive Bracy fighting for the third outside corner will be fun to watch.
Assuming that Griffith remains at nickel (and Crawford comes back healthy) this position looks very solid for 2019. Yet, the future beyond that remains an enormous question mark. The Irish could really use one of those 4 young players emerging as an athlete good enough to push someone like Bracy for snaps.
Help in the Middle
Notre Dame is losing both of its starting tackles on the interior of the defensive line, Dew-Treadway transferred, and Franklin (essentially sliding into the two-deep by default) is coming off a quad injury. The trio of Hinish, MTA, and Jayson Ademilola is certainly a strength for the core of the interior but they will need some help.
Jacob Lacey is coming in early and could be a godsend. Most expect him to contribute (somewhere along the same lines as Jayson Ademilola from 2018 would be great) and he should be quite high on anyone's list of impact freshmen.
Someone growing into a tackle feels like it's needed. Could any of Wardlow (245 lbs), Justin Ademilola (246 lbs), or Jamir Jones (245 lbs) beef up enough to offer some help?
Spears, coming off his second knee surgery in two years, is unlikely to play as a freshman and Cross at this juncture (listed anywhere from 240 to 260) is more of a hybrid lineman who might not be ready for the physicality of the interior right away. Of course, the easy solution is to play Kareem on the inside a lot more in 2019 if it's needed although I don't love taking him away from the edge as one of the best strong-side ends in the country.
Special Teams Veterans & Newbies
One part of special teams is seemingly wrapped up with Chris Finke coming back as the kick and punt returner. There's the possibility he gets unseated in either of those positions and if so that player will have to make some big moves which is always welcome.
The loss of Yoon and Newsome is potentially enormous as they've been rocks on special teams for what feels like a combined 74 years. Moving on to a pair of true freshman feels like a huge question mark that could really derail special teams in a way that hasn't been seen before with Kelly. And that's saying something.
Of course, a lot of this could be completely fine if Doerer steps up. Most punters come in to the game quite serviceable so Bramblett gets the benefit of the doubt for me. Leonard coming in as a walk-on to push Doerer should be healthy for special teams over the long run, too.