Reasonable minds may disagree but Clemson might have the perfect offense for the college game. They are one of only 2 Power 5 teams (Oklahoma being the other) to run for 3,000 yards while also passing for 3,000 yards this season. The Tigers offense is predicated on power and speed, length and agility, stressing the field both horizontally and vertically.
Clemson's run game (8th nationally by S&P+) is the engine that drives their offense. Last year, their ground attack suffered from the loss of the workman-like Wayne Gallman but this year true sophomore Travis Etienne (rocking Gallman's badass #9 jersey) has blossomed as one of the best running backs in the country while leading the ACC in rushing by a mile and averaging over 8 yards per carry.
Before we move on, a few notes on Clemson's offense as it relates to their run game:
*In my scouting report on Trevor Lawrence I mentioned that Clemson doesn't run their quarterback a ton which is in stark contrast to the previous quarterbacks Kelly Bryant and Deshaun Watson who were heavily involved on the ground. As such, there isn't a ton of read option or as much as you'd expect. Even if there are technically reads for the quarterback, he's not pulling the ball down and running that much. This could obviously change in the playoffs, though.
*Clemson doesn't spread the field out as much as you'd think, either. At their core they are a base power spread team and spend a lot of their time with a lead blocker on the field. This comes in the form of #44 Garrett Williams (6'2″ 235 lbs) and #80 Milan Richard (6'3″ 255 lbs but super long) who are nominally listed as tight ends but are essentially H-back lead blockers only. They've combined for 662 snaps this season while Williams has 1 carry and 1 catch and Richard has no carries and 6 catches.
*The Tigers variation and ability to throw different looks on offense is impressive. In addition to the 2 H-backs mentioned above, Clemson legitimately rotates 4 running backs and 7 different wide receivers. They have tall receivers who work the sidelines, smaller receivers to find space in the middle of the field, and one of the deepest running back units in the nation. It's just a lot of personnel to prepare for, especially knowing a couple wrinkles will be unveiled during the playoffs.
Now, Clemson loves them some counter and it was a staple of the Chad Morris offense when he came over from Tulsa in 2011. The two assistants who worked under Morris and became co-OC's when he left for SMU have kept it as an integral part of the Clemson offense.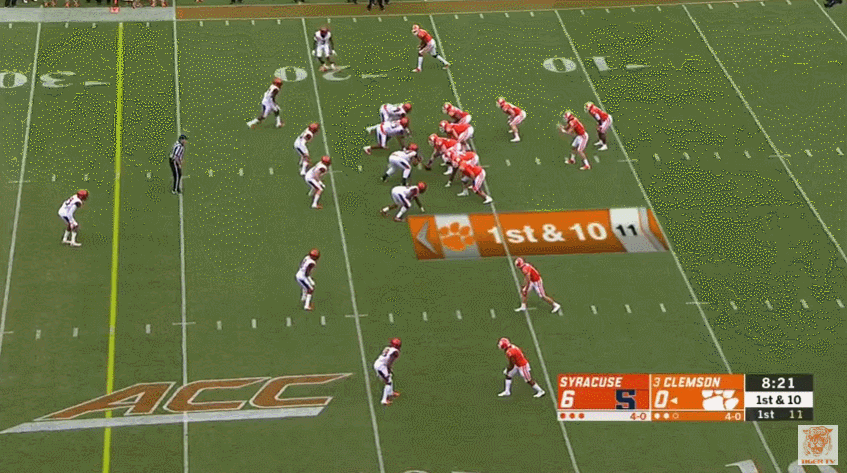 Technically, the quarterback has a read to keep the ball or make a quick screen pass to the receiver on the bottom of the screen but this is almost always a straight up run to the tailback this year for the Tigers. When Clemson moves quickly this is their go-to running play. By the way, that's Etienne #9 carrying the ball here. He's quick, slippery, and runs angry.
Etienne does not go down easy. Notre Dame better bring their A-game when tackling.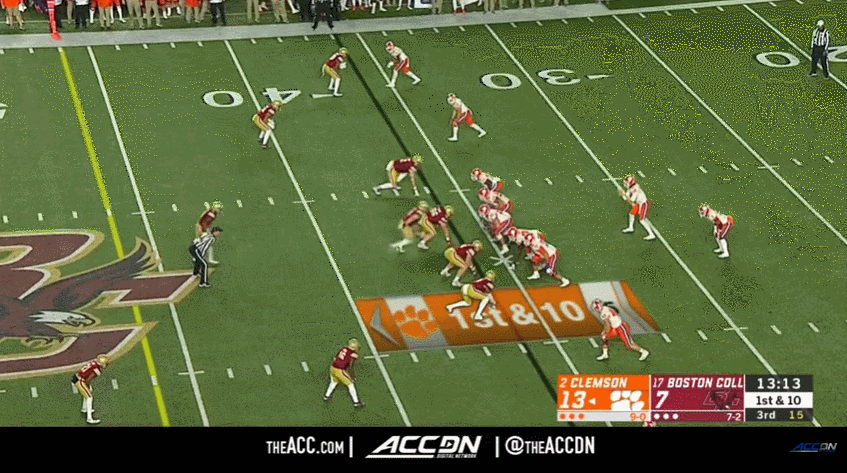 Being able to limit yards after contact will be crucial for the Irish. Etienne reminds me a lot of Theo Riddick except with all of his Madden ratings boosted, including being faster in the open field. He was one of three finalists for the Doak Walker award as the best running back in the country and it was a deserved honor. Etienne going from a really promising freshman season to an elite national running back has made a ton of difference for Clemson's offense as they break in a true freshman quarterback.
I told you, Etienne runs hard.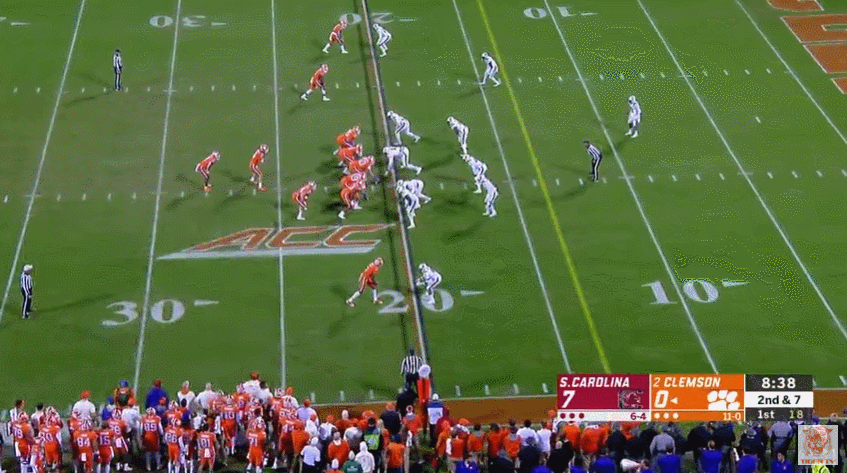 Pulling a lineman with a H-back lead blocker all out of Pistol. Power football! I actually did a double take on this run thinking Etienne was down for about 7 or 8 yards. No, look closely he's seemingly wrapped up and then spins forward for a first down in a play that looks like a car crash at the end.
Power is just one aspect to Etienne's game, though. He (and other runners) will beat you with speed too. There's a reason why Clemson was arguably the best big-play running team in the country finishing with more 30+ yard runs than anyone in the Power 5 conferences. Although, as Michael pointed out yesterday the advanced stats don't love the Tigers explosiveness quite as much as they took advantage of really poor defenses or were productive in garbage time.
In support of Etienne, the Tigers will play senior Adam Choice (#28) and true freshman Lyn-J Dixon (#23). The former is kind of a change-of-pace power back who will get sprinkled in occasionally. Dixon was a bit of a flat track bully against poor competition (368 yards on 20 carries against Furman, Wake & Lousville) but he has blazing speed and could rip off a long run if given the opportunity. He reminds me a lot of a freshman Bryce Love.
Notre Dame will see plenty of junior Tavien Feaster #28 who is a nice combination of speed and power. Here's another counter: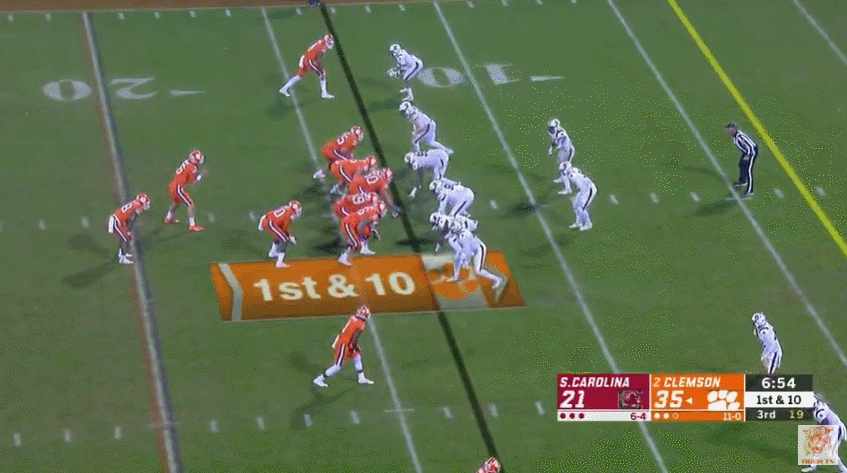 I don't know what they put in the water down at Clemson. Their coaching staff does such a good job identifying talent and getting them to run like they'll never get to play again if they're tackled prior to reaching the end zone.
This snap is also a good example of Clemson not spreading the field out very much. They like to stick their slot receiver close to the line of scrimmage and compact the field. This will be challenging for Asmar Bilal and the Irish safeties who will have to concern themselves with stopping the run but also be mindful of quick passes to the Clemson receivers.
They certainly can't do what South Carolina's #42 does in this snap. Despite a 7 defenders to 6 blockers advantage for the Gamecocks, #42 gets lost on a read that doesn't take place and might as well be on the sideline watching. Clemson gets a hat on hat with everyone else, and Feaster makes it to the end zone. Notice the wideout #14 Diondre Overton sell a route at first then block the corner and how a safety is covering the slot receiver so Feaster only has one safety between him and the end zone.
The Tigers will use two-back sets once and a while. For the most part, they will have Etienne paired with either Feaster or sophomore receiver Amari Rodgers #3 and the vast majority of the time they will pass out of these formations. Specifically, they love to throw screens with 2 playmakers in the backfield.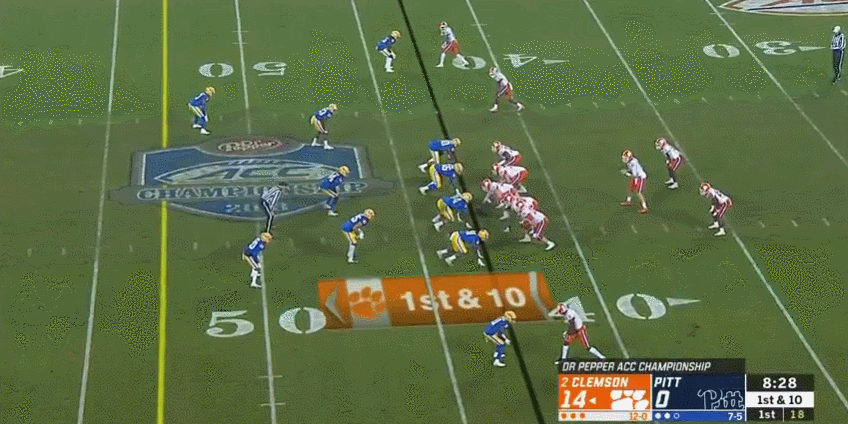 I don't think their backs are super dangerous catching passes out of the backfield, although the majority of these snaps will be short passes to wide receivers. I would hope the Irish play tight on the wideouts if Clemson comes out in a two-back set.
Rodgers is a key player as a dynamic punt returner (289 yards, 4th most in the country) and while he lines up in the backfield he's also used in motion a lot, as well. He only has one carry on the season but he'll receive 'pop' passes on motion which makes him look and feel like more of a hybrid running back. Clemson also uses freshman receiver Derion Kendrick #10 in this role in addition to being their primary kick returner.
To me, this is what makes Clemson so dangerous. They will try and beat a defense over the head with a lot of power spread running and wait for the perfect time to go over the top to an athletic 6'4″ receiver like Tee Higgins #5 in the play above. By the time the ball is snapped all 11 Clemson players are on one side of the field! Watch the linebackers and a safety all sucked toward the line of scrimmage based on formation, motion, and play-action. Whoops! That's an easy passing touchdown for the Tigers on a play that 90% of the time is a run.
Final Thoughts
Clemson isn't known as an offensive line factory. Since 2010, the Tigers have had 3 linemen picked in the NFL Draft and none of those players are currently starting or making a mark in the league. They won the 2016 National Championship rushing for 2,546 yards (48th nationally) and were decently ranked as the 30th best run game according the the S&P+ metrics that year.
This is a good Clemson offensive line this year–maybe Swinney's best–but not so great as to intimidate Notre Dame's front seven. The Irish have enough talent to win a lot of these battles in the trenches, especially one-on-one battles.
Having said that, Notre Dame will have to play its best game of the season by far. If there's a weakness in Clemson's run game they are only 98th nationally in power success rate (success running on 3rd or 4th & short) but I'm not sure how big of a deal that will be in one game. For example, the best defense Clemson has faced is Boston College and the Tigers went 0 for 2 running the ball on 3rd and short opportunities. I guess you could say 2 snaps can make an enormous difference in one game but at the end of the day it's just 2 snaps.
Anyway, Clemson did go 4 of 4 for 32 yards and a touchdown passing the ball on 3rd or 4th and short snaps versus Boston College. Perhaps, more indicative of Clemson's running strength was BC only managing 3 tackles for loss the entire game. The Tigers are 10th in offensive stuff rate and that's bad news for an Irish defense that is average at producing tackles for loss and 58th nationally in defensive stuff rate.
Notre Dame has been great all year at limiting long runs which could clamp down on a huge part of Clemson's success on offense. It's going to take a lot more to slow down their physical and unrelenting running backs on the shorter runs that will either put the Tigers in early passing downs or keep them on schedule and aggressive both running and throwing the football. I do think Notre Dame's physicality and size up front with aggressive linebackers will be able to control Clemson's favored counter play. If the Irish can really slow the Tigers down on that play a title game could await.