Notre Dame heads to Arlington, Texas to participate in the Cotton Bowl for the 8th time in school history. It's a bowl game that was once steeped in a ton of history, went through a funk for nearly two decades, and has found a rebirth in the new College Football Playoff system.
In 2010, the game was moved from the old Cotton Bowl Stadium which has been relegated to hosting the annual Red River Showdown and the First Responder Bowl–the latter cancelled this past Wednesday due to inclement weather and really who wants to watch Boston College play football anyway? For the last 8 seasons, the Dallas Cowboys' AT&T Stadium has hosted the Cotton Bowl and in 2015–once new contracts were signed–the bowl game was inserted into the College Football Playoff rotation and officially hoisted back up to major bowl status.
The last playoff game here was following the 2015 season when Alabama defeated Michigan State 38-0. The Fighting Irish will look to put up a much better effort as heavy underdogs against Clemson.
Notre Dame (+12.5) vs. Clemson
The 2019 Cotton Bowl Classic
College Football Playoff Semifinal
AT&T Stadium
Arlington, Texas
Date: Saturday, December 29, 2018
Time: 4:00 PM ET
TV: ESPN
Series: 2-1-0 Clemson
Here is a collection of preview articles leading up to Saturday's game:
Film Room: Game Plan Notre Dame Offense vs. Clemson Defense
Clemson Defense Scouting Report
Clemson Running Game Scouting Report
Clemson Offense vs. Notre Dame Defense Advanced Stats Preview
How Clemson Became an Elite Program
Trevor Lawrence Scouting Report
Clemson Defense vs. Notre Dame Offense Advanced Stats Preview
What Though the Odds Be Great or Small
3 Pre-Game Topics
Irish Chip on the Shoulder
Notre Dame, even through many ups and downs over the last 30+ years, is rarely a double-digit underdog. The Irish went through an 8-year stretch of never being one during the Lou Holtz era although the program went 9 out of 10 seasons beginning in 2000 while facing those odds at least once a year.
Here are all the 10+ point underdog games since 1985:
1985, Miami (+12.5) 58-7 Loss
1994, Florida State (+12.5) 23-16 Loss
1995, Florida State (+10.5) 31-26 Loss
1997, Michigan (+14.5) 21-14 Loss
1997, LSU (+10) 24-6 Win
2000, Nebraska (+12.5) 27-24 Loss
2001, Nebraska (+13.5) 27-10 Loss
2002, Florida State (+11) 34-23 Win
2002, USC (+11) 44-13 Loss
2003, Michigan (+10) 38-0 Loss
2003, Purdue (+10.5) 23-10 Loss
2003, Florida State (+12.5) 37-0 Loss
2004, Michigan (+12.5) 28-20 Win
2004, USC (+24) 41-10 Loss
2005, USC (+13) 34-31 Loss
2007, Penn State (+17.5) 31-10 Loss
2007, Purdue (+21.5) 33-19 Loss
2007, UCLA (+21) 20-6 Win
2007, Boston College (+13.5) 27-14 Loss
2007, USC (+16.5) 38-0 Loss
2008, USC (+33.5) 38-3 Loss
2009, USC (+10) 34-27 Loss
2009, Stanford (+10) 45-38 Loss
2012, Oklahoma (+10.5) 30-13 Win
2012, Alabama (+10) 42-14 Loss
2013, Stanford (+16.5) 27-20 Loss
2016, USC (+17.5) 45-27 Loss
Notre Dame is 5-22 straight up in these games but a solid 14-12-1 against the spread. A case could be made, and certainly is being talked about in the locker room, that it's entirely disrespectful to have the Irish be such large underdogs on Saturday. Let's hope they use that to their advantage.
Field Goals vs. Touchdowns
Notre Dame may need a few long touchdowns plays to win this game because when things get tight in the red zone Clemson statistically has a major advantage.
The Tigers offense has converted red zone touchdowns 78.79% of the time which is tops among all Power 5 teams this year and will face a Notre Dame defense that was 34th nationally in red zone defensive touchdowns at 54.55 percent. On the other side, the Irish offense wasn't great at 62.75% which is 62nd nationally, while Clemson's defense allowed touchdowns in the red zone just 45.16% of the time, good for 7th nationally.
Close to a National Title
On the one hand, Notre Dame faces very long odds to win the next two games. They are heavy underdogs to Clemson on Saturday and most sportsbooks would set a line well in to double-digits in favor of Alabama should the Fighting Irish make the National Championship against the Crimson Tide.
It's truly not 1988 anymore when the Irish went 10-2 against the spread on their run to the school's last title and were only underdogs in two games: Miami (-3.5) and USC (-4). When Notre Dame made the title game they were 5-point favorites against West Virginia 30 years ago.
The Irish surely would need some of that famous luck. Fans could certainly talk themselves into one upset but facing Alabama 9 days later right afterward is brutal. Nevertheless, Oklahoma could spring their own upset and as the New Year arrives Irish fans could see a title coming into focus in a realistic way.
2 Key Opponents
WR Tee Higgins
Our scouting reports above mention several players but Higgins only briefly. The sophomore was part of a loaded class from the state of Tennessee which included a trio of 5-stars (Higgins being one) and 7 players in the Top 120 nationally. Tee Higgins was the #2 receiver in the country behind Michigan's Donovan Peoples-Jones–and while he saw plenty of action as a freshman–this 2018 season has been his breakout campaign leading Clemson in all statistical receiving categories.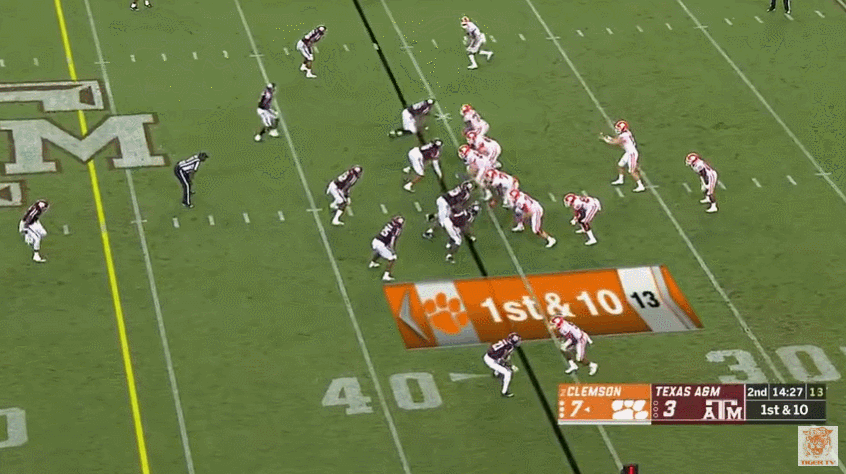 Higgins is baby-faced but stands a stout 6'4″ 210 pounds with plenty of speed and playmaking ability. Being able to get Julian Love lined up across from him and not being out-muscled will be crucial.
DB Isaiah Simmons
Simmons is mentioned several times in our defensive scouting report. The Tigers plucked the defender out of Kansas as a 3-star and gave him a redshirt back in 2016. Last year, he was hyper-productive with 3 tackles for loss and 5 pass break-ups in just 258 snaps before jumping into the starting lineup this fall.
Although listed as a safety he's basically linebacker sized (6'2″ 230) and is the nickel in Clemson's base defense. The hope is that Notre Dame can take advantage of that size by countering with speed but Simmons has been really tough to deal with on the edge this season leading Clemson with 44 solo tackles and chipping in 8 tackles for loss.
1 Prediction
So, here we are in the College Football Playoffs for the first time. It feels good, it feels special, and it feels completely deserved.
It's important to remind ourselves how the Irish got here. Heading into the season we discussed that the defense under Clark Lea had a chance to be better than what was left behind by Mike Elko but it would be close. Through 12 games, the defense has been much better, moving from 27th to 4th in S&P+, giving up 4 points fewer per game, and dropping yards per play by an impressive half a yard.
The defense would have to carry the team because I was not a believer in this offense. Too much was being lost up front, there was a lack of proven playmakers to get the ball to, and I wasn't convinced Wimbush could or would improve to an average college passer.
Yes, I called for Ian Book to start following the Vanderbilt game (that comment section is a fun re-read a few months later) but I didn't think he'd be this good either right away or ever. I was aghast at how many were unwilling to make a change when the offense debuted at nearly 70th in S&P+ after week 3 and looked to be on life support. Give Kelly and the coaching staff credit for making that bold move, though.
"Factoring in how each team tends to perform against projections, we get something in the neighborhood of Alabama by about 16 and Clemson by about 14." — @SBN_BillC https://t.co/y1AwAHWJcy

— College Football by SB Nation 🏈 (@SBNationCFB) December 27, 2018
This game is distilled for me down to a couple of factors pulling in opposite directions. That is, I don't think we're really that talented on offense but I'm expecting Chip Long to call a great game and things should get a bit easier without the mountain in the middle defensive tackle Dexter Lawrence who is officially suspended.
On defense, I'm prepared for Clemson's offense to humble the Irish at times but I am sure this will be mitigated by Lea playing super bend-but-don't-break, praying they can hold on in the red zone, and hope Trevor Lawrence makes some freshman mistakes. We've seen how this can be frustrating but ultimately lead to 12 wins and statistics show Lawrence improves when he faces more than 4 pass rushers–no way will Lea come out firing and try to put Lawrence on the ground early except for obvious passing downs.
Clark Lea is being overshadowed by Brent Venables and Clemson's #1 defense which is fair, however, this is an opportunity for the Irish DC to put in a good effort and if he does this is likely a very close football game. A romp by Clemson's offense wouldn't surprise me because they are super talented but I'm leaning towards this tough Notre Dame defense being a rock to keep this competitive. They've earned that trust.
The natural progression of the modern game allows me to think Chip Long will be able to adjust a lot better and have some tricks up his sleeve for Clemson. That, and Book's calming accuracy should combine to make things difficult for the Tigers.
Still, I can't overcome the difference in skill between these two offenses. The playoffs features the 1st (Oklahoma), 2nd (Alabama), and 7th (Clemson) rated offenses and with an emerging quarterback Trevor Lawrence the Tigers have a legit claim to be no worse than 3rd since Kelly Bryant transferred. Notre Dame has the same type of improvement since the insertion of Ian Book and Dexter Williams but it's a different game taking the 26th rated offense and believing their comfortably in the Top 20 instead of in the race for the best in the country.
Truth be told, many of the Irish on offense have seemingly played above their potential which is to say they're a lot better than I thought. I think just about everyone on offense is going to need to play at a really high level (especially the offensive line) and witness a sensational game from Book in the neighborhood of 400 total yards. In the end, getting frustrated in the red zone where it's difficult to scheme away from Clemson's defensive line is my predicted difference in a tight game. The Irish running game hasn't been efficient enough and that comes home to roost in the playoffs.
Notre Dame 23
Clemson 30