Notre Dame's first fall practice is in the books which means it's time for wild speculation based on the elastic depth chart without football pads! This is equally complete silly season and one of my favorite times of the year. Joking aside, I found a surprising number of roster moves to discuss following Friday's workout.
OFFENSE
Virtually no surprises whatsoever among the starting unit, although Kelly did signal out Chris Finke in yesterday's press conference and the former walk-on was running with the 1's in the slot. This bumped Chase Claypool out to "X" receiver where he's played off and on throughout his career.
The backups were a little more intriguing. On the offensive line, Aaron Banks opened camp switching from right tackle to left tackle, with Kelly mentioning him after practice too. This meant Josh Lugg had to move somewhere and he was at right guard, possibly a move to push Kraemer?
Only one true freshman lineman made it on the second squad in John Dirksen. He's also the tallest of the bunch by an eighth of an inch over Cole Mabry while weighing 37 more pounds.
I can't remember Javon McKinley ever not playing the outside "W" position so having him in the slot is a little weird, although the wideouts tend to move around a lot the lower down the depth chart you go. I don't think anyone expects Micah Jones to be a top 6 receiver for this current team, as it's clear the 3 non-early enrolled freshmen are working as a unit at least for a while.
Were you aware of Phil Jurkovec's quick throwing motion?
This became a topic of discussion in our writer Slack chat as Larz was horrified by Jurkovec's throwing motion. On the one hand it's really, really of the shot put variety. In the GIF above I've slowed the first to 25% speed followed by normal speed. For most quarterback's you would see the ball peek out the left side of coach Tommy Rees' head in the back of the throwing motion. Certainly that's not the case for Phil, although in the positive his release is super quick. Can he be accurate, though?
I haven't been able to nail down exactly what Nic Weishar's place is on the offense. He was simultaneously spoken about as getting plenty of reps but not formally listed anywhere by the media in attendance. He's clearly in the mix (perhaps no worse than 3rd?) although it seems Cole Kmet is entrenching himself as the No. 2 guy.
We've got bodies at running back! One thing we know, Tony Jones was the clear No. 1 back then it was a major rotation among Dexter Williams, Jafar Armstrong, Avery Davis, and Jahmir Smith with the backups. Without being here for spring–and weighing a solid but still the lightest of the bunch 196 pounds–it's likely a long shot for playing time with C'Bo Flemister.
DEFENSE
Similar to the offense we didn't see any surprises among the defensive starters. We still have much to talk about, though.
Maybe the biggest news of the day was Bo Bauer, not only leaping into the backup Mike linebacker spot, but also getting a little bit of work with the starters to give Coney a break. Speaking after the practice it seems clear that Bauer and Genmark Heath are the preferred backups at the inside linebacker spots.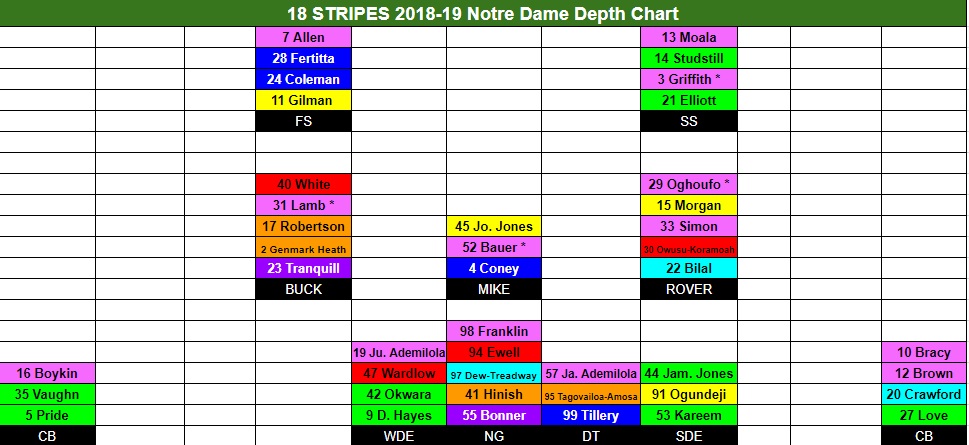 We have plenty of shuffling among the linebackers, too. Jack Lamb, coming off a spring with the program, had a knee brace, still doesn't look physically ready, and moved from Mike to Buck. Additionally, Isaiah Robertson had moved from safety to Rover, and is now inside at Buck despite weighing 215 pounds!
D.J. Morgan has had quite the ride so far, I believe he's played safety, then Rover, then Buck, and is now back at a packed Rover depth chart. For the first practice Ovie Oghoufo was also moved from Buck to Rover.
I don't think I've ever read fewer words on a scholarship player at Notre Dame than Drew White. Once again, he wasn't participating and was riding a bike on the sideline–not good.
The pecking order at safety appears to be Gilman and Elliott with Griffith mixing in at both positions. This is keeping Nick Coleman sort of in the two-deep but sometimes ceding playing time to the freshman Griffith.
I thought that Justin Ademilola–partially because his brother comes in at 284 pounds–would be large enough to be a strong-side end but he arrives at 246 pounds and is sticking to the weak-side. Jamir Jones, once a linebacker, weighs only 245 and is bumped over to the strong-side from the other edge.
We knew Jayson Ademilola would offer versatility and opened up camp working at both interior spots while receiving some reps with the second-team at nose guard. The same goes for Micah Dew-Treadway.
Football is back, ya'll.