My thesis is simple: Too much praise and blame is assigned to the offensive line and play-calling while not enough (especially blame) at the running back position when things go wrong or right.
No other position has been subject to so much hyperbole and shallow commentary, all while being attached to the success of other teammates blocking for them. Luckily, the analytics age and the evolving role of the running back (especially at the NFL level) are changing the way we rate the position.
A little over a year ago during their "Running Back Week" celebration The Ringer broke down the 5 most essential running back traits. Granted, they are looking at the more pass-heavy NFL but many of the principles still apply at the college level:
1 Instincts
2 Burst
3 Elusiveness
4 Pass Catching
5 Get Yards (aka Success Rate)
You know what isn't listed and is near the bottom of importance? Power. Nothing in the history of football is more overrated than power. Whether that's believing your average lineman should block 2 defenders or a running back should run over a pair of defenders the idea of power in football is exaggerated. Fun to talk about or witness once every blue moon? Absolutely, but minimized greatly on the average running back carry.
Last year, the Irish offensive line cratered an unbelievable 101 spots to 106th in Football Outsiders' Line Yards, their most important measure of offensive line play. Needless to say, this type of raw measurement seems flawed–no matter your views on last year's line there's no way anyone would say Notre Dame's line was one of the worst blocking units in the country. My biggest problem with a stat like that is that it factors nothing about what ball carriers are doing.
Let's go back to the running back traits and take Dexter Williams' 2018 season, for example. His burst is tremendous, maybe the best I've seen from a Notre Dame running back in 20 years or more. Although his 40 time was nothing special (4.57 seconds) Williams finished 2nd in the 20-yard shuttle and 3rd in the 3-cone drill at last year's NFL Combine. His initial acceleration is fantastic.
Yet, his success rate (52.5%, 15th best during the Kelly era for backs with at least 50 carries in a season) didn't match his gaudy rushing average (6.30) and the running game never felt productive enough last year outside of the rare long run by Williams. A big reason is that Dexter had poor instincts and even worse elusiveness.
If you watch Dexter's best runs he's almost always taking defenders by surprise with his acceleration and doing little else to avoid being tackled. He almost never made a defender miss and if he broke tackles it was largely because his acceleration forced poor angles from a tackler as Dexter was able to run away from outstretched arms. I know some might think this is impossible but you'd be hard-pressed to find a carry from Williams where he showed elusiveness, especially at the line of scrimmage where the difference of 2 or 3 yards is massive.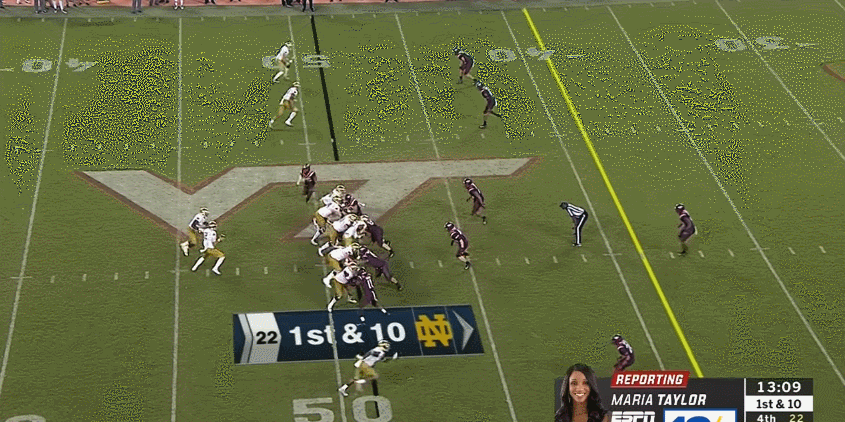 Poor elusiveness leads to running toward the sideline and no gain.
Let's think about another Notre Dame running back, for example George Atkinson III. Over his career he averaged a healthy 6.2 yards across 153 carries and had outstanding speed, running a 4.48 at the Combine while weighing 218 pounds. However, he's only managed 7 carries into his 6th season of professional football and never grew into a starting-caliber college back because he had really poor elusiveness. Like Dexter, his cutting was either non-existent or if utilized it took too much time to power down, change direction with far too much lateral movement, while leaving themselves exposed to being tackled easily.
While usually the offensive line gets a lot of criticism we are seeing plenty of that for Notre Dame's running backs this year. Largely due to a bunch of recruiting misses and suspensions there's a realization that this group isn't overly talented. Still, when people talk about running backs it's usually really vague or just centering around a lack of speed or toughness.
I'd like to focus on instincts and elusiveness because they are so important but hard to judge unless you're tracking every carry by a runner. According to Pro Football Focus their definition of Elusive Rating is as follows:
This statistic [Elusive Rating] helps "distill the impact of a runner independently of the blocking in front of him by looking at how hard he was to tackle." Elusive rating's formula uses yards after contact per attempt and missed tackles forced per touch, rather than raw yardage totals, as its main variables.
Notre Dame has an elusive rating problem stretching back to last year.
Let's take short-yardage situations, for example. We can distill the ability to be successful in these areas to three main areas: blocking, constraints or varied play-calling, and ball-carrier elusiveness.
Maybe 95% of the time fans only focus on the first two areas. We want 6 blockers to defeat 7 tacklers in the box because of a host of cliched terms handed down to us by our ancestors. We want the coaching staff to surprise the defense with a run they're not expecting. These are all legitimate criticisms, sometimes you should win battles (especially against inferior opponents) when -1 in blockers and sometimes you should vary the play-calling so you're not so easy to defend.
Notre Dame's problem is that its running backs are not elusive enough and they cannot overcome simple play-calling and loaded boxes of defenders. Even the best offensive lines are going to look bad at times when the only success they can find is giving running backs perfect holes to run through on their primary read.
The 4 most important type of cuts.
I find this particularly infuriating. Having a skill set of cuts that are combined with vision and instincts are so important in today's game. Running backs need to process information quickly and adapt on the fly. This doesn't mean trying to kick every run to the outside (a hallmark of fast, inexperienced runners who aren't very good at cutting) but rather determining which alleys at the line of scrimmage have opened up and can be exploited.
Notre Dame's running backs need to do more on their own. If you watch other top programs their runners are making plays in space, dispatching free defenders, and being explosive even if sometimes the blocking isn't perfect. With the Irish, I see a lot of plays that aren't amounting to much but if the running back just makes one guy miss, or cut/skip/jump/bounce to an open secondary read, there's room for a lot of production. Running forward and lowering your head only isn't going to cut it.
Elusive Rating Through 2 Games
Kyren Williams 88.0
Jahmir Smith 69.1
Tony Jones 27.8
For reference the top 5 NFL backs in elusive rating last year were Nick Chubb (103.3), Duke Johnson (94.8), Derrick Henry (89.7), Kareem Hunt (85.7), and Marshawn Lynch (85.6).
I'm going to be tracking elusiveness throughout 2019 and publish results later in the season and then maybe once the season is complete for a final overview.
Obviously, we're looking at very small sample sizes so far in 2019. Jafar Armstrong only has 3 touches following his abdominal injury and isn't included.
C'Bo Flemister isn't included either as he hasn't forced a missed tackle yet (can't have a zero in the equation) on his 10 touches. It's been a tough situation this year for the redshirt freshman. He wasn't expected to carry the ball this early in the season. Additionally, most of his snaps have come in short-yardage and he hasn't developed the vision to be effective yet. Flemister is basically taking the hand off, looking at his primary read, and lowering his head hoping for the best. That's the recipe for 3 yards on 10 carries.
Tony Jones has 44.8% of all running back touches this season and 161 touches to date in his career. Unfortunately, he's the type of back that could drive the Irish running game into the ground if he has to be the primary option for long stretches of the season. He has just good enough footwork to be competent at his size but his elusiveness is generally below average and he doesn't have the speed or acceleration to take advantage of plays when he does make someone miss.
I'll be interested to see how Armstrong stacks up when he returns (51.3% success rate last year on 72 carries, a nice blend of speed and power but hasn't shown a ton of elusiveness to date) but the two most important players moving forward are going to be Jahmir Smith and Kyren Williams.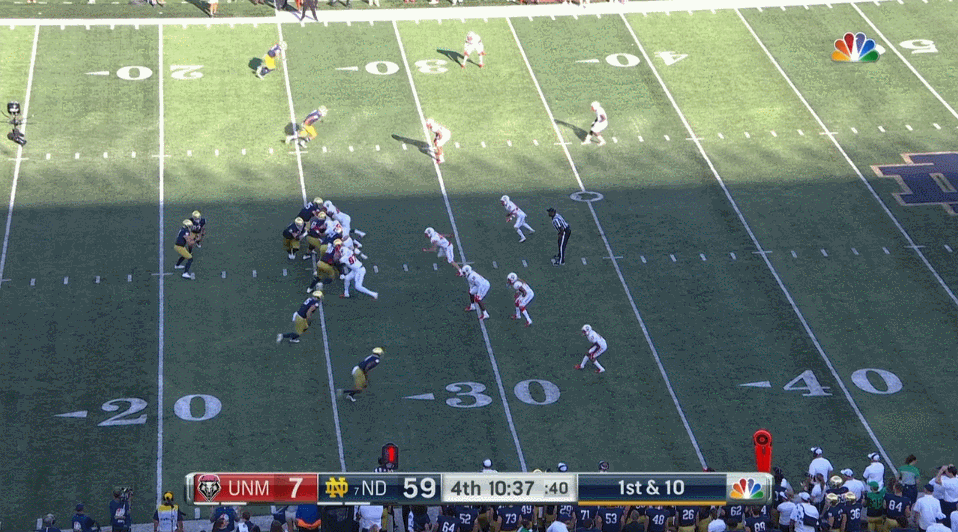 Kyren Williams with a beautiful crossover cut against New Mexico.
Both have exhibited in their short careers, both in games and practices, that they excel in small spaces and have superior cutting ability to their teammates. Smith in particular has been impressive with 4 forced missed tackles already this season while Williams' 22 yards after contact is second-best to Jones on 17 fewer touches. I was particularly excited for Williams after seeing a run (HERE at 35:20) in the spring game where he forced 4 missed tackles and sent Shayne Simon into the netherworld.
While it's true that these 2019 running backs aren't super talented and likely won't scare most of the top opponents on the Irish schedule there are ways to get better. None more important than improving their elusiveness. Mixing in some more variety in the run game and making tacklers miss has to be a massive priority ahead of a momentous visit to Georgia on Saturday night.