Notre Dame wrapped up its 8th practice of fall camp on Saturday and the 3rd already open to the media. This upcoming Wednesday will be the final practice open the media which means we will have 2 weeks with minimal news from camp before kickoff against Michigan. As luck would have it we've finally received some controversy bound to peak the attention of fans all over the country.
Quarterback
Remember how I mentioned prior to camp that due to virtually every quarterback looking solid at worst and excellent at best during practice we wouldn't have much to talk about until games begin? I may have been incorrect. On Saturday, the inaccuracy of Brandon Wimbush reared its ugly head once again.
Opening up the practice with drill work, Wimbush struggled mightily. Veteran beat reporter Tim O'Malley said ($) "no quarterback has struggled more in the 10 years I've watched practice than did Brandon Wimbush today."
Wimbush did settle down later in the practice. The problem is that both Book and Jurkovec were extremely sharp during drill work and still better than Wimbush throughout the rest of practice and team work.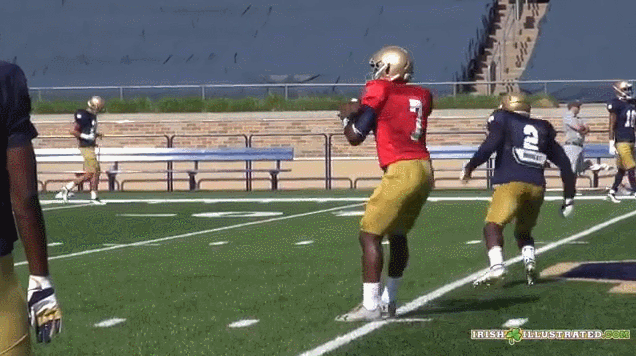 Wimbush wyd.
Is it fair to overreact to one portion of one practice? Given Wimbush's noted struggled with easy throws, it's a major concern. This sets up a really important practice on Wednesday to see if he can put this behind him. After Saturday's practice, Kelly admitted that Wimbush is (still) in his own head on these 'short' throws. Not good.
Running Back
Tony Jones remains entrenched as the top tailback, although he's curiously talked about less than anyone else among the starters on offense. That's quite the change from a year ago during camp.
Assuming a Dexter suspension, it appears Jafar Armstrong and Avery Davis have opened up a significant lead over the freshmen running backs. Kelly even went so far as to compare Armstrong to Theo Riddick in physicality up the middle combined with receiving skills. Surely, Armstrong is nowhere near as shifty as Riddick but he'll take that comparison, I'm sure.
Note, freshman Jahmir Smith was on the sideline again with an injury.
Wide Receiver
The rope here seems to be shortening as the aforementioned Armstrong and Davis are eating up a lot of snaps as hybrid running back and receivers. Be that as it may, Saturday was the official fall camp breakout for true freshman Kevin Austin who was back in the two-deep for the second straight media viewing, really made waves, and even found some playing time with the first-team.
Will a breakout ever happen for Javon McKinley? That seems less likely now with another viewing of him on the 3rd team and not much excitement through camp so far. For me, I think we're going to see the wideouts limited during the season to 5 guys only: Claypool, Boykin, Young, Finke, and Austin. There are too many tight ends to use and too many running backs willing to catch the ball that I don't see anyone else receiving more than 20-30 snaps on the season.
Tight End
Speaking of tight end, it's clear mixing it up has been the name of the game during camp. All of Mack, Weishar, Kmet, and Wright have been weaving in and out of the two-deep together.
There were some good things said about freshman Tommy Tremble on Saturday–he was one of my surprises for camp. As you'd expect, he's a long way from actual playing time although he may have already passed fellow freshman George Takacs (probably coming back a bit slowly from spring surgery) at this position.
Offensive Line
With our last update we learned Aaron Banks had an elbow injury that preemptively dropped him down the depth chart. On Saturday, starting right tackle Robert Hainsey was dealing with a calf injury and did not participate.
How did they shuffle the line?
Well, Tommy Kraemer moved from right guard to right tackle and Trevor Ruhland slid over from backup center to right guard. This allows me a few points:
1) Kelly was clear during his post-practice presser that Kraemer is the 3rd tackle. So that's an easy one to understand.
2) He also said that Banks and freshman Jarrett Patterson were next in line at tackle, that's pretty interesting for the latter player while being so young–even if he's actually super far away from ever playing in 2018.
3) Despite being nearly 6'7″ I find it interesting that Josh Lugg isn't more of an option at tackle and didn't get to move up to starting right guard (he's been the backup all camp) with Kraemer sliding over to cover the injured Hainsey. They really seem to be grooming him to take over at guard, possibly for Alex Bars.
Defensive Line
This unit is coming into focus with little drama. Julian Okwara was once again the starter at weak-side end, although it remains to be seen if this is just a rotational thing with Daelin Hayes or something more. As expected, depth for the ends could use some work. We've heard a couple good things about Ogundeji yet beyond that not much.
Five bodies are solidifying the interior with Tillery, Bonner, Tagovailoa-Amosa, Hinish, with freshman Jayson Ademilola mixing in with the second unit. This is likely who we're rolling with, although freshman Jamion Franklin turned some heads on Saturday with his quickness off the ball, as he's wont to do.
Linebacker
Jeremiah Owuso-Koramoah was out again on Saturday dealing with a hamstring strain. Kelly mentioned afterward that he's close to returning but he's so explosive that they don't want to risk anything. This is one of the more underrated issues with the defense so far. JOK was a possible emerging difference-maker and while missing some time during camp it's set him back a little bit.
As a result, it appears Asmar Bilal has all but wrapped up the starting Rover spot. Kelly said that freshman Shayne Simon (they've been giving him reps with the 2nd and 3rd-teams at times) is still so behind in experience which makes complete sense.
Secondary
Both Julian Love and Troy Pride received glowing reviews from this last practice. We still have Shaun Crawford and Donte Vaughn working at the corner backup spots. Kelly reiterated that when opponents spread things out they will be taking off the Rover and using Crawford and Nick Coleman at nickel.
The Coleman love fest continued on Saturday as he was working as a starter at safety opposite of Alohi Gilman (same as Thursday's viewing) while Kelly mentioned afterward the senior is having the best camp. The best!
Special Teams
You know the season is creeping closer when we start talking about the return game.
Judging by Kelly's comments, Chris Finke won't be relinquishing his punt return duties although Gilman and Michael Young were auditioning during practice. Color me surprised at Gilman being in the mix there.
The kick return game–where C.J. Sanders leaves behind 3 years of starting–is much more of a question mark. In the mix so far are Davis, Coleman, Crawford, and Young. Since he eventually became the backup returner last year I suppose Young is the most likely candidate right now, plus he seems like the best fit for longer speed. I'm curious to see if any of the freshmen receivers get involved.