In 1988, a third year coach edged his team to a national championship led by a brutalizing rushing attack. He employed an option-based running attack with dynamic athletes at fullback, running-back, and especially the quarterback. He was blessed to have in his corner such talents as Bobby Daugherty, Kenneth Goldsmith, Richie Harris, and Patrick Baynes. The coach I am of course talking about is former Furman Paladins coach Jimmy Satterfield.
Jimmy may not have been immortalized to the same extent as also 3rd-year coach 1988 national champion Lou Holtz, but he betrayed mortality in different ways . The classic 336 page Offensive Football Strategies, released in 2000, is a collection of coaching-clinic-articles by such minds of the game as Bear Bryant, Joe Paterno, Tom Osborne, Bill Synder, but also by one Jimmy Satterfield.
Jimmy's article was titled "The I Option Package" and focuses on his option game. One of his diagrammed plays is called "Loaded Option G Scheme" and this page of this book is the first link to include "G-Scheme Football" upon a google search today. The G-Scheme involves a "G-Block" which just refers to a trap of a defensive end/end-man-line-of-scrimmage by the play-side guard.
Chip Long Is A Recycler
Chip Long is reintroducing, or repackaging, depending on your point of view, a football play that is generally only living today in the Wing-T offense. This isn't by any stretch of the imagination a "finesse" "spready" so-called "weak-willed" play, instead it is by every definition of the word the embodiment of "Man-Ball."
Supposedly, this type of play was the "most famous option" by Nebraska. I've heard that possibly, Gap-focused running teams like Louisville in the past, and Stanford/Michigan of today have run this type of play, but it is certainly uncommon at the FBS level, Regardless they do not seem to have ran it as Chip runs it. Before delving into this play in detail, let's try to finish a bit more of Jimmy's story.
Jimmy's Championship
In 1988, Jimmy lost two games, which two games I am not entirely sure. I have tried to find a breakdown of his team's schedule, but it appears to be hiding. One of the games he lost that year was against the Clemson Tigers. The official game program of that day for the Tigers described Furman's offensive strategy as "Over the past eight seasons, Furman has relied heavily on its ground attack, averaging 263.0 yards per game on the ground since 1980.".
As an aside, that game program is an absolute gem, there is an ancient KFC ad in it (page 33), and some people trying to make a board game called "Ultimate Football board game" on page 122, I guess 1988 was the "Ultimate" of football? Perhaps for Notre Dame!
Anyways, evidently Clemson was the holder of the "College Football Belt", and in this game "Furman held the ball for 34:36 of the game but lost 3 fumbles prevented them from challenging for the upset.  Williams threw for just 74 yards in the win but 2 Furman quarterbacks combined for just 62 yards passing."
Jimmy went on to play for the national championship in I-AA that year against Georgia Southern. You can watch my "cut" of the game in the following, I condensed Furman's offense, but included the drama of Georgia Southern's last drive.
He called G-scheme variants about 3 or 4 times in the game until the final drive. The score was 17-12 with Furman having the ball with 1:49 minutes left. Georgia Southern had 3 timeouts, so Jimmy chose to grind out the game on running plays.
On this final drive Jimmy went to his most trusted play: the G-scheme. He called it again, and again, and again, and one more time. Finally, it was 4th and 2 on Georgia Southern's 20 yard line , and he again went back to the well.
However, it was not to be as the runner was stuffed for a 1 yard gain on 4th down. Georgia Southern went on to throw an interception on the ensuing drive which gave Jimmy the National Championship. Jimmy trusted this play, the G-Scheme, to such a great extent because in his years of coaching, it had not failed him. By the way, in the "Jimmy Satterfield Show" following the championship, the "Rick Roll" song was actually played as background music, this really was 1988.
Jimmy seems like he would have been a fun coach to play under. He heard from his son–who was using the early days of the internet–that one of his players was close to breaking Emmitt Smith's record of 100 yard rushers so like a typical football historian he made sure that his player broke the national record for 100 yard games.
This quote I typed from this video so please excuse any of my mistakes. It is simply beautiful and needs to be fully stated:
"Does anybody

[here] know what that is? 100 yard games, the national record. Broke Emmitt Smith's national record: 46 100 yard games. The ironic thing is we didn't even know that what the record was, didn't even know that he had a chance for it, son Shawn was coaching there and doing some video stuff, he looked on the internet, and said Pop, you know that Demetrius could break the national record in 100-yard games if he gets 100-yards the next 4-5 games, I said all we gotta do is give it to him because he averages 10-yards a carry, so he broke the record [unclear] the longest running record, and it was great for me to coach some of these guys…" – Jimmy Satterfield
Onto the Play
Thanks to a lot of help by Coach Maurek, check out his blog, I was able to acquire some resources on the G-Scheme as ran in the Wing-T offense.

So the first thing to understand, is there are generally two groups of running plays: Gap and Zone. MGoBlog's Seth wrote a fantastic writeup about the topic. I quote "To use a war metaphor, gap philosophy is about picking a spot in your opponent's defenses, puncturing a hole, and sending as much material into it as possible as quickly as possible before the defenders can match it." This G-scheme play belongs to the Gap family.

WarRoomEagle also talked about many of the nuances with several Gap plays and specifically highlighted that "One advantage gap schemes have over zone schemes is their ability to get bodies to the point of attack… Gap schemes get extra blockers to the playside and knock defenders out of the way."

As an aside, if you want to see how people should actually make film visuals, look at his work, its absolutely excellent, while I'm just at the "shadow" of the "cave."

Anyways thanks to Coach Grabowski , I have some resources on how the G-scheme is blocked in the similar, but different, Wing-T "Down" play.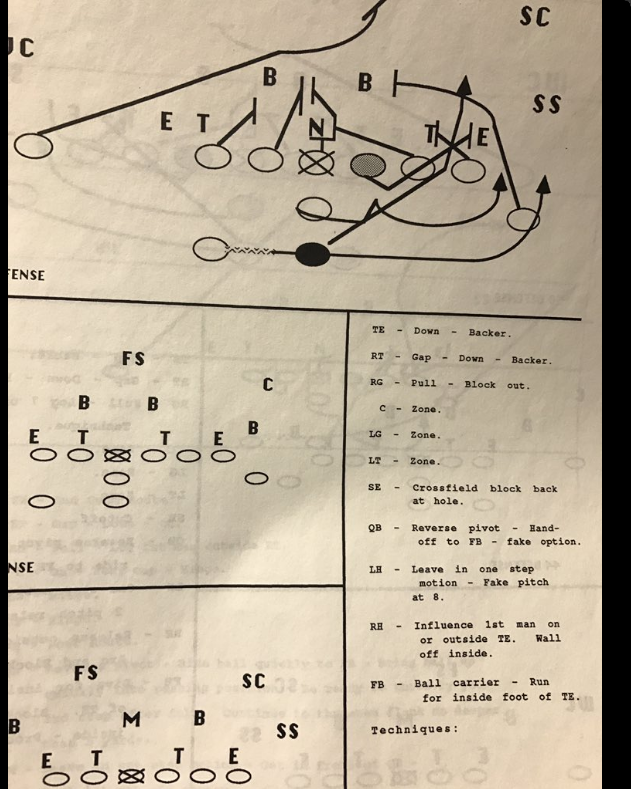 I prefer the blocking from the Rich Erdyli book, lets unpack it a little before talking about how Chip Long runs his variation. First off, there are several types of blocks talked about. The first is "Zone" by left side of the line and the center. Zone blocking is very common, but isn't very important to this play, take a look at this link if you want further information about zone blocking.

The second block shown is "Pull" which is rather obvious, the linemen just pulls out and hits the targeted defender. The third block is "Down". Inside the Pylon has an excellent football glossary of terms, and their article for the "Down" block is no exception. Essentially, a "Down" block is from the "Gap" family of blocks and just refers to a linemen blocking "toward" the center.

There is a lot of nuance and rules and coaching points, but basically the down-blocker blocks the first defender to cross his face in the direction of the center. The benefit of a "Down" block is it can easily free up the linemen-toward-the-center to be able to "Pull" without that lineman's defender interfering too much, and "Pulling" is basically the foundation of "Gap" style runs. In short, "Down" blocks free up "Pullers".

As always, here is an illustration of the blocking scheme similar to how Notre Dame runs it using the fantastic GoArmyEdge app.
"One of my favorite runs is the G-Scheme; it gives us the opportunity to [take advantage of the defense overplaying Naked Playactions]… [This] is probably our most explosive run play for the last 10 years… defenses don't see this anymore" – Chip Long

The main difference between Jimmy's G-scheme and Chip's is that the latter will always run it out of Pistol and under center and also that the action of the QB and RB are completely different. Chip will sometimes attach one of his fast screens as a pre-snap check on the defense's formation.

It is a minor point that if he does attach a fast screen, the G-Scheme will be ran away from the screen, with the Adjuster being pre-snap read, as you kinda want your players actually blocking on the side of what is essentially a sweep play.

Unlike the G-Scheme in the Wing-T Down play and Jimmy's article, the QB for the Irish will just receive the snap and hand-off to the running back. The running back won't do an option relationship, instead he will simply run at an aiming point outside of the Tight end. The Tight end is supposed to sell outside zone action, before releasing past the defensive end onto a linebacker. One variation that can be made is for the pulling guard to be given a "force call" which just means that he will not trap the DE, but instead destroy the player responsible for turning the offense away from the sideline.
Notre Dame's Personnel And The G-Scheme
As a disclaimer, I had a lot of help on this section by the excellent 18 Stripes Slack chat.

As opposed to most zone runs, this run does not require any "read" of the line to cutback: the RB is supposed to just kinda go fast. Josh Adams, is generally pretty good at everything, including surprising people with his speed. Dexter Williams is a very fast back, and this play would be perfect for setting him on 1:1 with a force player on the edge.

One almost crazy idea, is to come out in 01 personnel (no RB, one TE), with Alize Mack and Sanders as one of the receivers. After lining up in empty, motion into a pistol set with Sanders as RB and Alize inline. Sanders would be the perfect type of "Back" to just simply go out and run with his speed. Alize may not be the better blocker, but he is more of a vertical threat, and even if he isn't perfect, he should be able to block an unsuspecting Backer just fine.

For linemen, I think any of our players could do well, but for obvious reasons, I have to choose McGlinchey and Nelson. Bars is also an excellent puller.

Most any WR on our roster can stand still for a fast screen, however, Notre Dame really needs WRs that take pride in blocking for fast screens and crack blocks, which I will explain later. St. Brown certainly has the physical traits to be great at blocking, and he could double as a decoy to draw out the defense, because of his explosive ability. Claypool and Boykin perhaps could also become great blockers.
Film Breakdown
The first video is an example of a pistol G-Scheme run with a keyscreen to the backside.

The second video is a nice example of an under center 2-TE formation without any key screens. The WR's run a poorly executed, but brilliant variation: they attempt crack blocks on the "Spill" defenders. An "attempt" was made for the crack block, perhaps technically? This play could perhaps be described as "T-Scheme" as it is actually the tackle pulling, however it is in the same "family" as the "G-scheme" so that I won't make a large distinction.

The third video is from the Pistol with two TE lined up at the same side. The WR crack block is actually pretty successful in this one, and really illustrates how dangerous that action can be. Perhaps, as a change-up Chip could run a G-scheme play-action toward a twins WR side and have both WR threaten crack blocks, before running some sort of shallow/slant route. There was a nice double team call by the two TEs.

This may have seemed like a lot of work to break down a play Chip Long called only three times in a spring scrimmage and took literally 5 minutes in the clinic talk, but this represents the eternal recycling and evolving of ideas in football, and helps illustrate exactly how unique Long is among "Spread" offenses.
Conclusion
A player for the 1988 Furman team had this to say about the significance of winning the I-AA championship: "It's hard to explain, but when it's all said and done, you know it, and nobody can ever take it away. As long as people look back in the record books, they'll look at that year, and you get credit for being the best. It's special." I hope that some more people may also give the 1988 Furman Paladins and Jimmy Satterfield credit for influencing, perhaps indirectly, in some form the current offensive coordinator of the Notre Dame Fighting Irish.
Where are we in this series
As an aside, this is part 3 of my series breaking down Chip Long's offense. In Part 1, I talked about some quick hitters about his offense, and my theory that Chip Long already has full control of the offense. In Part 2, I talked about many of the RPO's that Chip ran, and Chip's possible view on RPO throws.

You may remember my general thesis: Chip Long's offense is a "Pro-Style" "Run-First" scheme with a West Coast play-calling mentality. Now, as I've stated, this "Run-First" balance idea is perhaps not intuitive in one respect: RPO's regardless of whether they are run or pass are considered run's for balance. Just to clarify, this doesn't mean that all "Passes" are considered "Runs". That would be rather absurd, and no one that is not being satirical possibly could believe that is true. Drop-back, play-action, quick, action, screen passes are, from my understanding, obviously considered "Passes."

However, I feel like I was a bit unclear. It is my understanding that RPOs are just basically "built in" constraints. The types of RPOs in part 2 were "running" plays that had "perfect playaction", that is it was an active read to be playaction. Those types of plays, where the natural order of the play is to be a "running" play, should be considered "runs" for balance. Other types of RPOs, that I haven't seen Long use, but ND used in the past, like Stick-Draw would have the "natural inclination" to be a pass, so even if it was a stat-run it would be a "passing play" in regards to balance. My understanding of this RPO isn't really tied to anything Chip explicitly said, but just generally reading and talking with coaches and watching Chip's clinic talk.

To give an analogy, if you take a history test, but cheat and get caught and thus get an F, you aren't suddenly taking some sort of math test.

In Part 4, I expect to write about another physical type of running play that is new to the Irish offense in 2017. In Part 5, I plan to modernize up an ancient play that I would encourage Chip to add to the playbook, if I had the chance to meet him. Part 6? And further? Not sure yet, if you have a preference or interesting question feel free to contact me or 18 Stripes on Twitter, or put it here in the comments.
Bonus
Thanks to a poster on Irish Envy, I was shown this gem. 1:04 is pretty famous.