Saturday's game against Virginia Tech presented the Irish with a chance to exorcise the demons of last year's loss in South Beach by going into a hostile road environment and coming out with a victory.  But to football nerds like me, it also gave us a chance to see Chip Long  – Notre Dame's promising young offensive coordinator – match wits with Bud Foster – universally regarded as one of the best defensive minds in college football.  And it did not disappoint.
Play 1
It's Notre Dame's first drive, and Bud Foster is loud and clear about how he's going to attack the Irish offense – he's going to pack the box, stop the run, and hopefully muddle Ian Book's RPO reads.  The deepest Hokie defender is only 8 yards off the line of scrimmage.  However, the corners are forced to play soft coverage since there isn't any safety help over the top.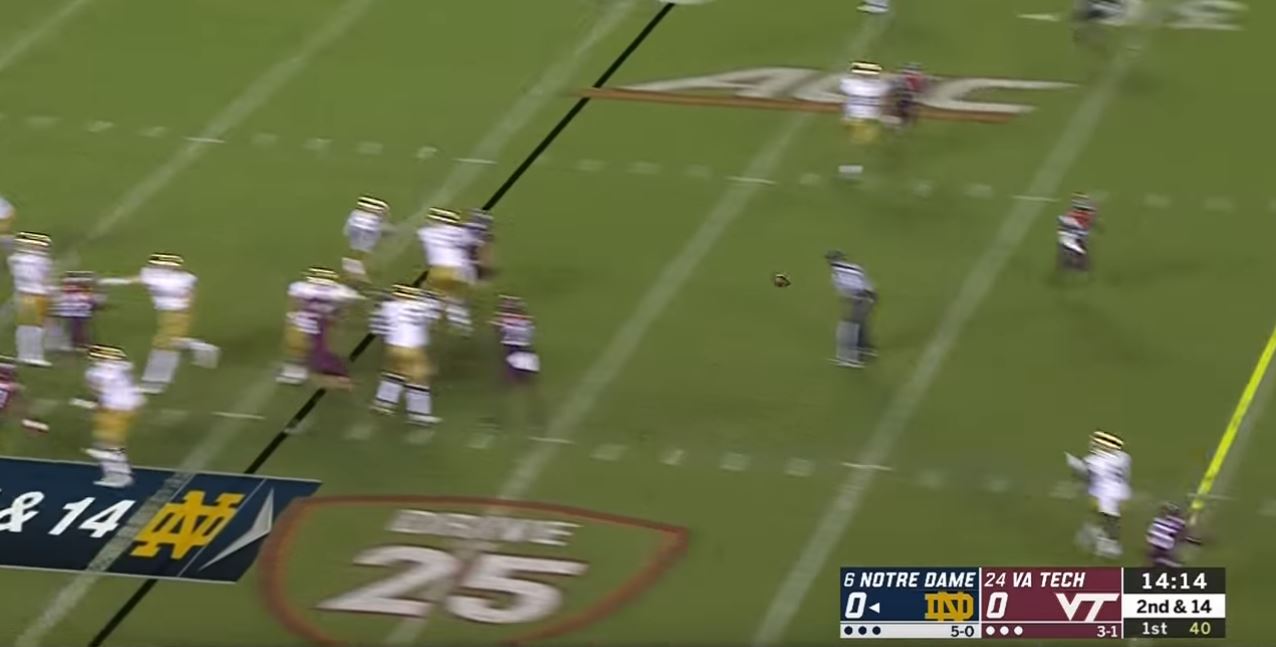 And this allows Ian Book to hit Miles Boykin on a slant off of play action.  The linebacker is sucked down on the run fake and Book fits the pass over his head into Boykin's open arms.
Play 2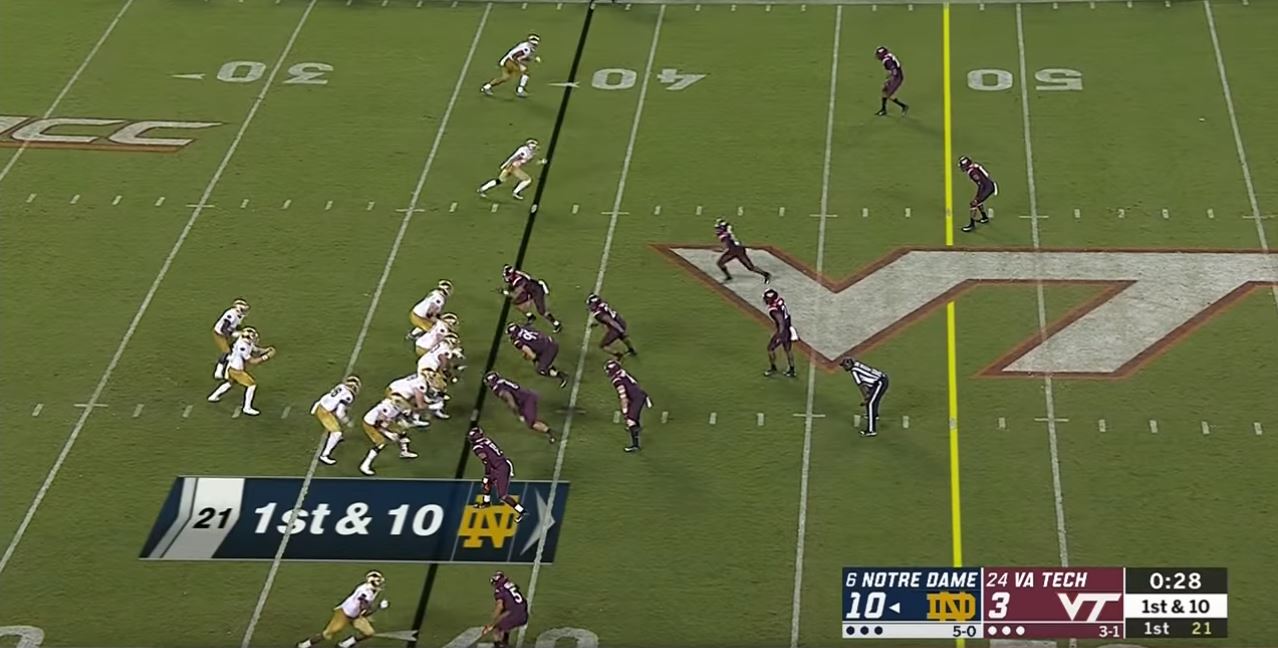 Once again, Foster has packed the box.  This time he brings a blitz and leaves Notre Dame's receivers in single coverage.  We saw in the previous play how this can still leave Tech's defense susceptible to the quick passing game, but this time Ian Book is going deep.
Chris Finke, lined up in the slot, runs a stop-and-go and completely blows by the safety.  This is an easy touchdown, but Book overthrows Finke.
This would be a theme in the first half.  Irish receivers were constantly running free but Book didn't hit any of them.  What should have been multiple deep touchdown passes turned into incompletions which turned stalled drives.  Chip Long was poking holes in Bud Foster's defense, but it wasn't amounting to points just yet.
Play 3
One of the complaints about the offense (especially in the first half) is that the Irish didn't run the ball effectively.  Well, here's a running play.
Once again, the defense is packed in tightly.  There are nine(!) defenders within seven yards of the line of scrimmage.  Notre Dame tries to run outside zone to the boundary…
…with predictable results.  Loss of three yards.
The best way to attack this defense (outside of praying for bad gap discipline and poor tackling – hello Dexter Williams's 97-yard touchdown run!) is to punish them through the air, as we've seen in the previous plays.  The defense is then forced to back off.  This allowed the Irish to go from -3 yards rushing in the first half, to around 170 yards in the second half.
Play 4
We're still in the first half but it looks like Bud Foster has decided to back off.  It appears Notre Dame has even numbers in the run game – five offensive linemen versus five defenders – so that means it's time to run the ball, right?  Except Bud Foster is still up to his old tricks.  Tech brings the linebacker (#4) lined up over Cole Kmet in the slot on a blitz, meaning the defense should suddenly outnumber the Irish on a run.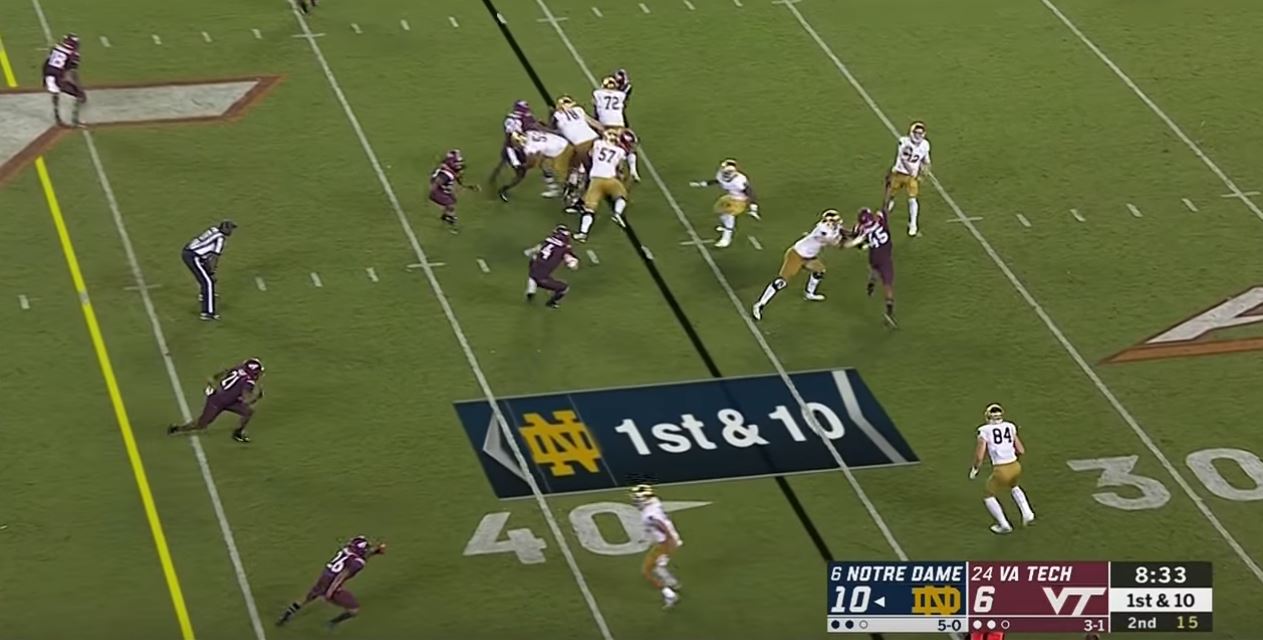 But Chip Long makes the right call.  Instead of a straight run, it's an RPO.  Look at how far inside #4 goes.  Book reads him and flips the ball out to Kmet on a quick screen.  Chase Claypool makes a nice block and it's an easy first down.
Play 5
Now we're in the second half.  Brian Kelly talked about the need to make "layups" in the passing game instead of getting greedy.  Here's a good example.
Bud Foster still hasn't backed off his safeties.  In the first half, the temptation was to try and hit the deep ball.  But that led to overthrows and punts.  This time, Book is just going to hit Miles Boykin on a simple out route.
The corner still gives Boykin plenty of cushion.  Pitch and catch, easy first down.
Play 6
Finally, we come to the drive where Notre Dame put Virginia Tech away.  It's third down, so Foster brings a corner up in press coverage on Boykin.  But there's no safety help over the top, so if you have a 6'5 receiver against press coverage, it's time to throw a jump ball.
Book makes a good throw, but "throw it up to the tall dude" is a pretty easy play to execute, as anyone who has played backyard football knows.
Final Thoughts
I know I'm a biased observer, but I have to give Chip Long the win in this fight.  Bud Foster had a pretty good game plan, but Long made the right calls all night to attack Foster's defense.  And if Book had connected on a few deep passes in the first half, this could have been a blowout before halftime.
But Book did miss those passes and the offense bogged down at times in the first half.  Receivers were open so it would have been understandable if Chip Long had stuck with that strategy, counting on Book to eventually hit one or two.  But instead of stubbornly expecting his quarterback to execute a play he clearly wasn't capable of (at least in this game), Long decided to go back to the intermediate game that Book has thrived in all season.  And the result was 28 points in the second half and a comfortable win.