One thing I like about Chip Long is his ability to creatively use formations and motion to out-scheme the defense.  I feel that past Notre Dame offenses where too reliant on one player making big plays to be successful, whether it's Will Fuller getting open deep or CJ Prosise breaking off a big run.  Having a Will Fuller or a Josh Adams is great, but Chip Long has a knack for creating big plays that don't require a singular talent.
Let's look at one example from the Florida State game.
The Play
Notre Dame lines up with Dexter Williams and Jafar Armstrong flanking Brandon Wimbush.
Notre Dame had a lot of success using both Williams and Armstrong at the same time against Navy.  Armstrong is a threat in both the running game and the passing game, and Williams is a dynamic runner.  Putting both players in the backfield creates a lot of stress on the defense.
Before the snap, Wimbush sends Williams in motion to the right.  Williams has caught a number of swing passes the last few weeks, so this isn't unusual.  The middle linebacker (yellow arrow) follows him.
At the snap, the Irish run our old friend GT Counter.  Tommy Kraemer pulls and kicks out the defensive end.  Robert Hainsey pulls and leads through the hole to block the linebacker.  Liam Eichenberg and Aaron Banks double team the defensive tackle to create a lane for Armstrong to run through.  Finally, Miles Boykin cracks the safety.
With two backside lineman pulling, GT Counter is susceptible to edge pressure.  There is no one left to block Florida State's star defensive end, Brian Burns.  That's where Brandon Wimbush comes in.
Let's zoom in on the handoff.
Instead of flying to the ball and tackling Armstrong for a loss, Burns (yellow star) has to respect Wimbush's legs.  If he goes after Armstrong, Wimbush can simply pull the ball and run around him.
The middle linebacker (yellow circle) is completely out of position because he had to cover a potential swing pass to Dexter Williams.  Thanks to some nice blocks by the offensive line, Armstrong has a clear lane for a big game.
That's Chip Long combining two standard plays in the offense – GT Counter and a swing pass to the running back – to create a big gain.
Here's the full play: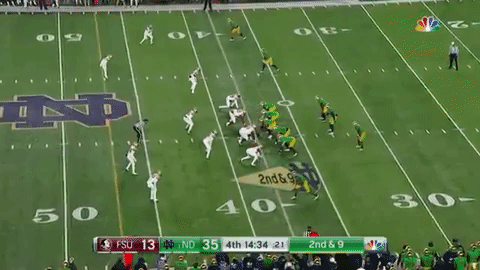 Final Thoughts
The Florida State game was a vintage 2017 performance, in both good and bad ways.  The offensive line paved the way for 300+ rushing yards and Brandon Wimbush threw some pretty balls.  However, Wimbush also threw some ugly balls and completed less than 50% of his passes.  When that offense works, it works great.  When it doesn't, the results are pretty ugly.  Luckily everything worked on Saturday.
Brandon Wimbush has had to deal with a lot of adversity this season, so I was very happy to see him get the chance to lead the Irish to victory one last time at home.  We should all appreciate what he's done for this program the last two seasons.