I was wrong. Before the season started, I predicted the offense would struggle. I reasoned that losing your best receiver, best tight end, best running back, two first round picks on the offensive line and returning a QB that was pulled in his last start was not a recipe for success. The first three games pretty much went as I expected, flashes of promise mixed with mind-numbing inconsistency.
As the 18 Stripes writers debated solutions to the offensive problems in the background, I expressed skepticism that the return of Dexter Williams would have a major impact. I argued that Williams simply wasn't a patient enough runner and I didn't see that changing. Mea culpa.
The most impressive part of Dexter William's performance this year hasn't been his explosiveness; we already knew he had that. It's been his patience combined with his explosiveness. In high school, players like Williams don't have to learn to be patient since they are physically better than everyone else. In college, everyone is a good athlete, so running backs have to do more than rely on physical talent. They need to learn when to be patient and when to be explosive. In 2018, Dexter Williams mastered that art. Let's take a look at the film and I'll show you what I mean.
Although it's second and 20, because it's late in the game, Syracuse anticipates Notre Dame will run, so they've loaded up the box. Notre Dame is going to fake the sweep (yellow arrow) and give the ball to Dexter Williams #2 (green arrow). Center Sam Mustipher #53 will pull and kick out the first threat (red line). Guard Tommy Kraemer #78 will pull and look to seal inside (purple line).
A fraction of a second after the snap. Nice play design has pulled the lone perimeter defender in the secondary towards the middle of the field (orange arrow). This leaves a corridor of undefended field (blue lines) that if exploited could result in a big play.
At this point, I guarantee you Dexter Williams sees that corridor and wants to get there. The question is how will he get there?
Williams is making his way through the line (green arrow). In high school, the right choice would be to follow the yellow arrow and head for open field. At the college level, if Williams breaks now, the defensive back has an easy angle to run him down and make the tackle (orange arrow). As well, the block from Kraemer isn't fully set, so there is a chance that the linebacker will be able to slip the block and get involved in the play (red arrow).
In the past, Williams likely would have followed the yellow arrow and been tackled for a seven to ten yard gain. He would have jumped up immediately after the play energized by what might have been. He would bounce around, pound his hands on the ball, to show the world how close he was to breaking a long run.
The announcers would have commented approvingly that Williams looks explosive and is the type of athlete Notre Dame has been missing since the glory days of the Holtz era. The Notre Dame football internet world would be a buzz, feverishly debating why Williams hasn't become a star. Some would claim that Brian Kelly was mismanaging Williams and holding him back from reaching his full potential. They would further argue this mismanagement was compounded by the fact that Kelly secretly hates the run game, Notre Dame, puppies and anyone with a first name that starts with D.
However, Williams doesn't follow the yellow arrow and this choice demonstrates how he has matured as a running back.
Instead of immediately cutting to the open field to his left, Williams (green arrow) stays patient. He makes a bit of a head fake to the inside and runs straight at guard Tommy Kraemer. This allows Kraemer to get into better position and seal the defender (orange circle).
More importantly, this pulls the Syracuse defensive back towards Williams (orange arrow) instead of towards the obvious opening (red arrow).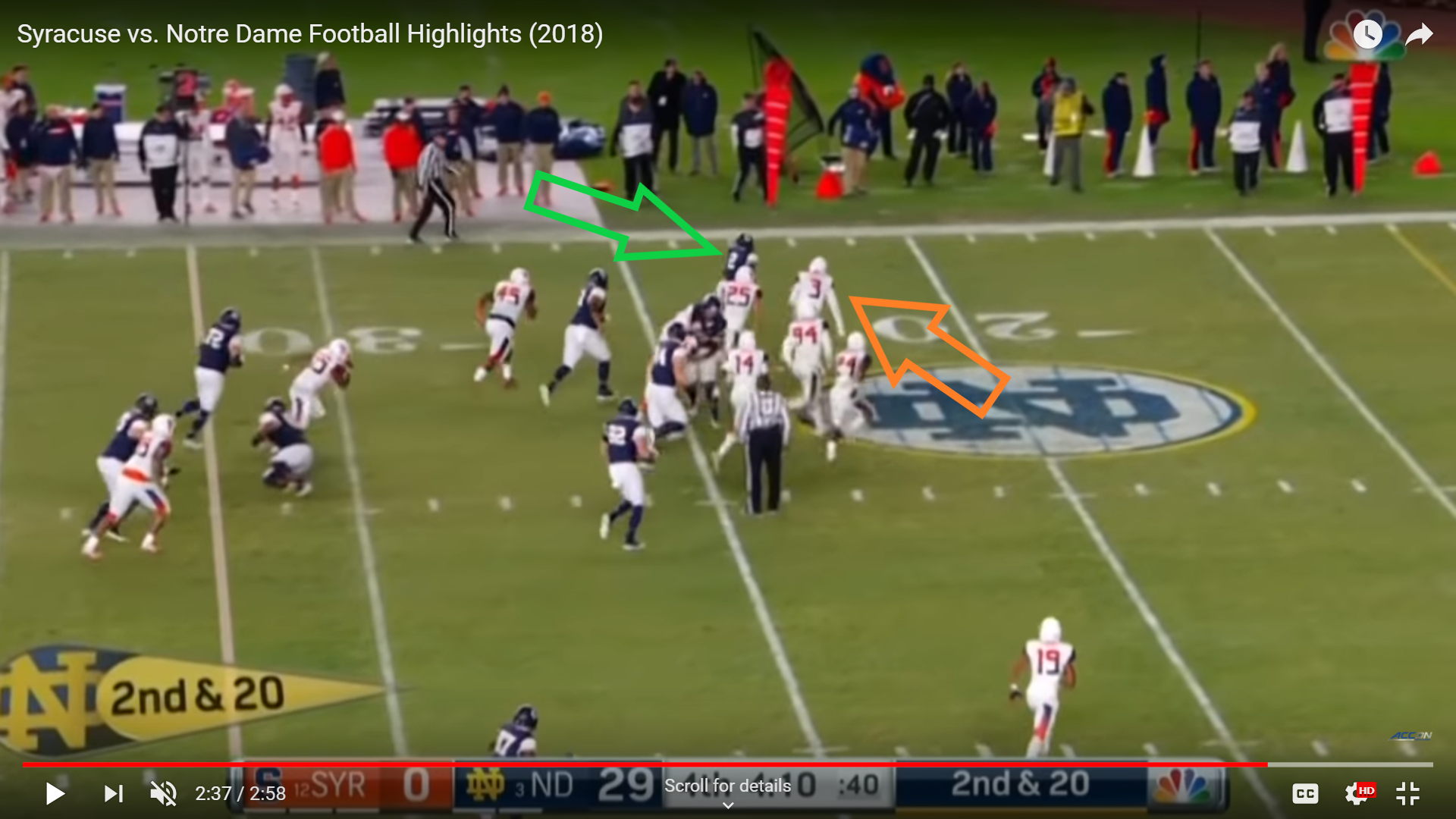 The patience paid off. Williams waited to the last second to make his cut to the open field and is off to the races (green arrow). The Syracuse defensive back that was a threat to make the tackle is in a chase position (orange arrow).  This is a bad place to be in relation to Dexter Williams.
Touchdown!
Final Thoughts
The key to this play was patience. Williams took his time, set up his blocks and at the last second made a cut and accelerated to full speed. A younger Dexter Williams likely would have seen the open field, went for it too quickly, which would have brought the defender directly to him and resulted in a nice gain instead of a touchdown.
It's been a pleasure to watch Dexter Williams master the finer details of being a running back this year. And it's been a lot of fun being wrong.