It's almost time to cast your vote and while we will ardently avoid politics today we still need your help. It's been long enough and we want to bring back Clashmore Mike to the Notre Dame sidelines.
Who is Clashmore Mike, you may ask? Well, some of you may know right away. I used to share some editorial space with a guy whose internet alias was Clashmore Mike, and there used to be a Notre Dame blog by the same name that closed its operations almost 6 years ago.
If you're a Notre Dame fan its a name you've probably come across before even if you didn't necessarily understand the meaning.
The History of "God's Little Red Dog of Ireland"
Like many things involving the early history of Notre Dame football it's difficult to separate fact from fiction. Several different versions of the popular growth of the "Fighting Irish" nickname survive and that name wasn't officially part of the school until 1927–exactly 40 years after the school's first football season.
For mascots, especially live mascots, the history is even murkier. Here's what we know about Notre Dame's adoption of an Irish Terrier dog as a mascot:
Back in the late 1800's and into the 1900's mascots were extremely popular, so much so that a team might "carry" more than one for good luck. Same goes for fans attending games–they'd bring "lucky" animals and sometimes the luck only lasted a game or two. Notre Dame was no different where a collection of random animals and costumed students/fans were used in the early days of the football program. In fact, there still survives a photo of the 1909 "Champions of the West" Notre Dame team with an American Bulldog named Mike as their mascot.
The history of the Irish terrier and Notre Dame begins in 1924 when Ed Lynch–a member of the aforementioned 1909 football team–helped the Notre Dame club of Toledo donate the first terrier named Tipperary Terrence to Knute Rockne. That dog passed away just months later after being hit by a car on Niles Road and was quickly replaced by Tipperary Terrence II.
For what its worth, Notre Dame won the first of its 11 claimed National Championships in the terrier's first year as the team mascot.
Brick Top ran away in 1933 and was replaced by Clashmore Mike courtesy of Chicago breeder William J. Butler. There's confusion about future names of the dogs–subsequent pups were named "Shannon Invader" and "Shannon View Mike" for example–but Clashmore Mike lived until 1945 and it's been passed down through the years that Notre Dame began breeding several terriers (who were given Irish birth names) while also informally calling the successive dogs who became the new mascot Clashmore Mike II, III, and so on.
Thus, the name Clashmore Mike survives today as THE name for the Notre Dame dog mascot.
As you'd expect, the canine mascot was pretty awesome. The original Clashmore Mike (1933-45) lived with a handler and trainer on campus and was taught to attack at the sight of any goats to strike fear in Navy's mascot. He was also trained to do a halftime show which included the hilarious ability to run up to the opponent's bench and raise its leg. Such was his popularity that Mike was given his own article in each football program on Saturday's during the fall.
Once Terry II passed away in 1930 he was replaced by another terrier named Brick Top Shaun-Rhu thanks to Charles Otis of Cleveland who donated the dog during the Penn game that November.
When Clashmore Mike I passed away he was buried beneath the grass inside Notre Dame Stadium. Right around this time, Notre Dame began bringing a student dressed up as a leprechaun to media events and athletic competitions. The two mascots co-existed for over 20 years but in 1965 the university officially adopted the leprechaun and by the late 60's the Irish terrier was gone. No one is really sure if the last Clashmore Mike died and simply wasn't replaced or if there was more of an effort to shut things down prematurely while the current mascot was still alive.
#ClashmoreMikeMonday
We'd like to start a movement that can hopefully bring Clashmore Mike back to the sidelines. At the start of each week we'd like to raise awareness for Clashmore Mike Monday's.
Send us pictures to @18stripes on Twitter of your puppies (any breed is fine by us!) with any Notre Dame gear on or around them. You can also email or put pictures in our comment section and we'll publicize them, as well.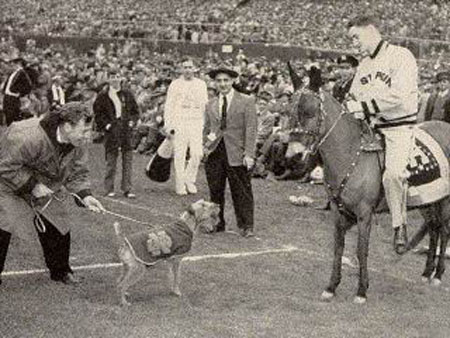 Clashmore Mike in all his glory menacing the Army mule.
College football is loaded with several live dog mascots that stitch together the fabric and tradition of the game. Reveille (Texas A&M), Smokey (Tennessee), Dubs (Washington), Tuffy (NC State), and Uga (Georgia) are some of the most famous names in the country. We think Clashmore Mike should come back and be among the most revered dogs in the country.
Every Monday keep sending us pictures of your Notre Dame loving dogs and let's see if we can create enough momentum to popularize the return of Clashmore Mike.