Notre Dame's run game sputtered against Northwestern and wasn't able to consistently help the offense move the football down the field. I targeted a handful of plays that I thought were interesting from Saturday and worthy of additional conversation.
I'm opening up the film room and flipping on the projector.
RP(N)O
This is the very first snap from scrimmage. Notre Dame has kept a tight end in to block but it immediately jumps out that Northwestern is ready and willing to stop the run. The Cats have 7 tacklers to match up against Notre Dame's 6 blockers.
As they often do, the Irish run a RPO (Run-Pass-Option) with the opportunity to hand the ball off to the running back, run the ball with Book, or throw quickly to a receiver, but in this case don't work it very effectively.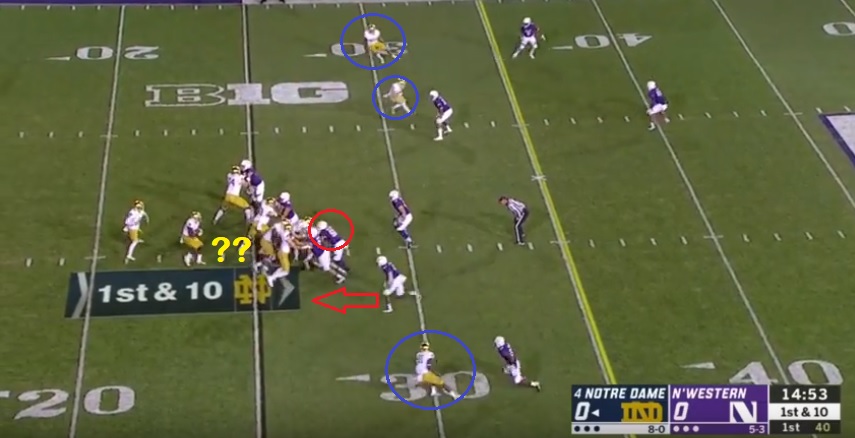 A split-second after the hand-off to Dexter Williams and look at how aggressive Northwestern's linebackers are in their movement. The middle linebacker has already attacked the line (red circle) and met pulling right guard Aaron Banks head on. More importantly, the boundary linebacker (red arrow) literally does not hesitate at all. He attacks down-hill, and because Notre Dame has one fewer blocker than defenders, he's able to come in and make the stop.
Notice the Irish receivers (blue circles). They are throttling down and waiting for a pass. Based on the outcome, Book should've thrown to Chase Claypool at the top for at least 5 yards and maybe more. Even if Book keeps there's a chance he gains positive yardage to the left as the field-side linebacker was not aggressive and remained flat-footed.
Clearly, this snap didn't put Dexter in a good spot. Still, one way to spark the run game is a back making something out of (mostly) nothing. A hard jump-cut to his left could've worked but takes him away from the play-call behind the pulling guard. Or, Dexter could've hit the D-gap of the line off the edge hard and with a head of steam to take on the linebacker. Instead, he hesitates twice and is brought down near the line for no gain.
Closing Holes
Notre Dame ran this formation quite a few times on Saturday. In fact, immediately after the snap above they went to this and Dexter had a clean gain through the middle for a first down. A bit later in the 1st quarter and it's another good time to run the ball. The Cats are respecting the pass and pulled a couple defenders out of the box. It's now 5 vs. 5 for the Irish offensive line to go to work.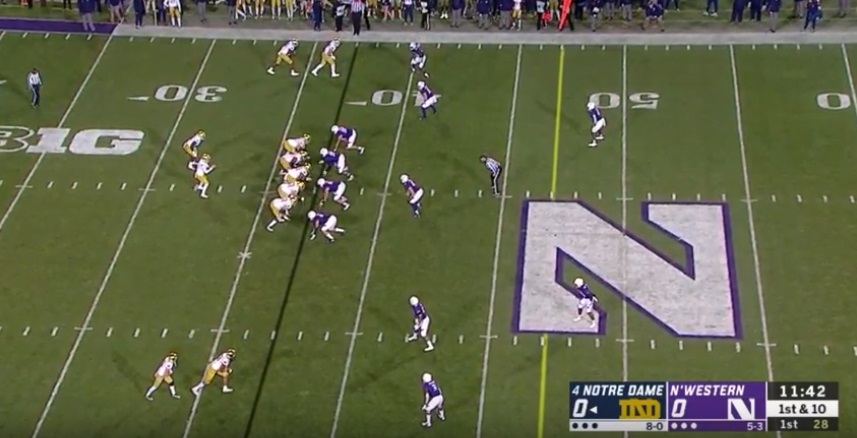 The blocking on this snap is fine with one small exception. Right guard Trevor Ruhland (red circle) initially gets himself in position to block the defensive tackle but can't finish the job.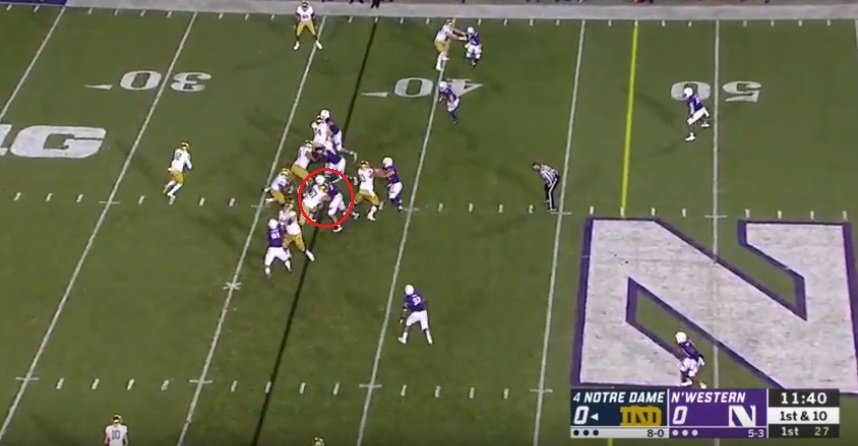 As Dexter is hitting the line of scrimmage it looks like he'll be taking the ball into the second-level of the defense. Center Sam Mustipher moves up to block the middle linebacker and this has a chance to move the chains. However, that defensive tackle rips off Ruhland's block and trips up Williams for just a 3-yard gain.
Ruhland was later replaced by Tommy Kraemer and this is probably one of the reasons why that happened. Notre Dame's power on the interior just isn't the same with Ruhland.
Sweep 🙂
Notre Dame expended a lot of energy trying to pound it up the middle against Northwestern. On a few occasions that wasn't the case. On this snap, the Irish will run a sweep to the short-side of the field with 2 pulling linemen. Normally, this is also a tough run for an offense to get good yardage out of but not always.
Aaron Banks barely gets moving before a crashing defensive end gets up-field on tight end Cole Kmet (green circle). However, this took the end completely out of the play and away from the ball-carrier. Ruhland (red arrow) is able to kick out and is in perfect position to block the outside linebacker.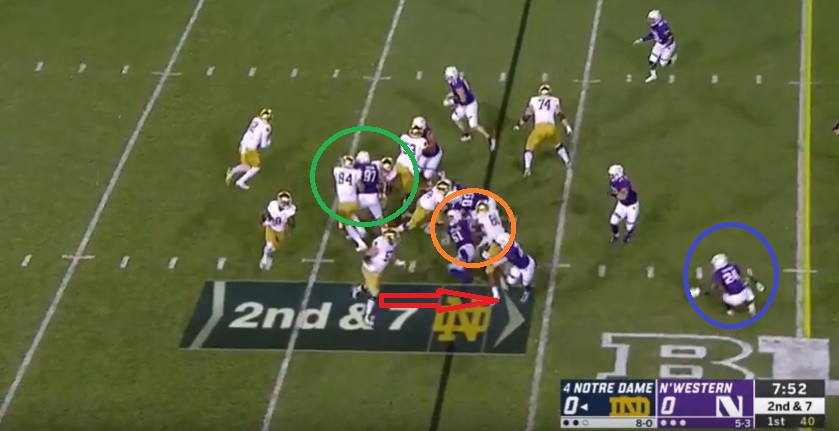 It's hard not to credit wideout Miles Boykin for making this play a success. His crack-back block (orange circle) on Northwestern's linebacker makes the defender go night-night while also pulling the corner (blue circle) just enough out of position to allow Jafar Armstrong to find the edge for 10 yards.
It was surprising that Notre Dame didn't try stuff like this a lot more often against a really aggressive defense in the box. The numbers aren't even in the Irish's favor on this snap and it was still successful.
Sweep 🙁
Notre Dame tried almost the exact same play as above later in the game. However, there were a few crucial differences. One, the ball is completely on the right hash with less room to operate toward the boundary. Two, the Cats are bringing a blitzing safety (yellow arrow) off the edge instead of the previous highlighted play where their linebackers are a lot more tentative and slow to react.
Three, watch the blocking from Claypool coming from the bottom of the screen. In contrast to Boykin who sells a passing route before sending the linebacker airborne, Claypool comes out of his stance very much moving like he's looking for a block.
Take a look at the corner opposite Claypool (orange circle). He takes one step backward but doesn't follow the receiver to the field-side at all before reading run and attacking the line of scrimmage. Also, notice how the aforementioned blitzing safety has disrupted the play and taken out both pulling guards for the Irish.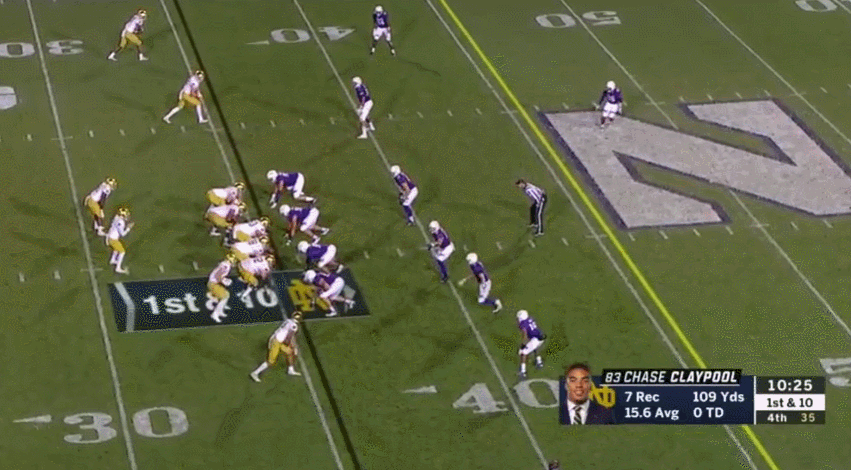 What remains is very similar to our first run of this article. Dexter is left hesitating against an aggressive defense and that's usually bad news. Again, in the heat of the moment you can't really blame Dexter for this but in hindsight he's probably better off continuing his momentum toward the sideline and taking on the corner with a head of steam. With a stiff arm or broken tackle there could've been 2, 3, or 4 yards available instead of no gain.
Summary
So what's wrong with Notre Dame's run game? Using this game against Northwestern as evidence I'd break things down into 4 different categories:
1) Solid Blocking
Guess what? Notre Dame blocks better in passing than in the run game who is shocked? For the most part I thought the line blocked fine when running the ball, it's just fine sometimes isn't good enough against a strong run defense. Or, 4 guys blocked well and 1 guy lost his battle. So it goes, that's football.
This shouldn't feel like huge news to anyone. With the Bars injury the top 3 linemen from last year are gone and the 5 or 6 guys remaining in the lineup aren't great enough to raise the running game up a few notches.
2) Running Back Instincts
I'm usually on this corner often while the majority of the blame gets heaped on the line. Super instinctive runners and backs who can successfully go "off script" can cure a lot of problems with a run game.
Ironically, prior to this year Dexter always seemed a lot more willing to kick a run to the outside or make a play in direction B despite the blocking being set up for him in direction A. This year, he seems to be overly conservative and has become much more of a traditional "put your head down" and get some yards type of back.
Plus, Dexter isn't much of a cutter and probably doesn't get enough attention for a lack of making guys miss or breaking enough tackles. We're seeing his production (6.11 YPC for 2018) come back down to earth with a larger sample size, and while he's a good college running back, I'm not sure he's the type of dynamic athlete who would cover up a lot of mediocrity elsewhere.
3) Lack of Creativity 
This has always been a consistent bugaboo for Kelly-coached teams at Notre Dame. The full array of the playbook never seems to be utilized, even when doing so appears to be the best course of action. More specifically, the offense will go long stretches without using the jet sweep or at other times neglecting to run the quarterback.
Now, this Northwestern game did feature a couple great quarterback runs, including the perfectly timed Book touchdown. But outside of a few snaps, the Irish didn't care to attack the edges of perimeter of the Wildcats' defense nor bother their run defense with much confusion.
My best guess is that Notre Dame was okay with "sacrificing" the run game if it meant Northwestern was going to routinely bring safeties down and utilize a lot of run blitzes from linebackers.
4) Pick your Poison
To pick up on above, Northwestern made a concerted effort to disrupt Notre Dame's running game. Great job! Yet, they allowed 343 passing yards and 6.3 yards per play overall. This is why I'm curious if Chip Long was okay with being a little more conservative against a scheme like this if it meant the Wildcats were begging to be thrown on for most snaps.
I'm fine with this given a couple stipulations. First, some balance remains in the offense. This past Saturday was a good example, the ground game wasn't working a ton but they never abandoned it completely and Book is able to be really effective out of play-action. Second, this performance against Northwestern was sufficient at best on the ground and the offense can't afford to be much worse–like it was against Pittsburgh.
Due to the accuracy and decision-making from Book it feels like the running game floor is raised from last year just because at some point the passing game opens up enough on the ground to be decent on a consistent basis. Obviously, the ceiling of the run game isn't near the 2017 offense and while this feels like a bummer I really don't believe the Irish have the horses to expect a whole lot more.