The 1991 season was an odd one for Notre Dame. Like most of the early-to-mid Lou Holtz seasons it's remembered with a mix of fondness and missed opportunities.
The Irish won 8 of their first 9 games and ascended to No. 5 in the AP Poll before coughing up a big lead at home against Tennessee. The next week they gained only 90 rushing yards and 5 first downs on the ground in a blowout loss in Happy Valley while nearly coughing up a big lead in the finale at Hawaii.
Enter, the Cheerios Bowl.
There's something to be said for been there, done that. It's important to note that the famous "What's the difference between Notre Dame and Cheerios, only Cheerios belongs in a bowl" line was a Holtz-ism used for motivation more than anything else. The Irish were in the middle of a dominant run 2 years removed from a National Championship and playing in their 5th straight major bowl game.
Florida was playing in their first major bowl game in nearly two decades and coming off a bowl ban in Steve Spurrier's second season. However, there's no denying the Gators were a dominant team with one loss, undefeated in the SEC, and #3 nationally hoping both Miami and Washington would lose their bowl games (they would not).
Part One
If this game happened in the internet era I believe we would've seen one of the angriest mobs in Notre Dame game chat history during the first half. Florida hogged the ball the entire half gaining 17 first downs and nearly 300 yards while just enough bending-but-not-breaking Irish defense gave the Gators only a 16-7 lead which they'd regret dearly wasn't 28-7.
No doubt, the Irish were trying to throw the ball more and had been trending that way for quite a long time. Tony Rice increased his passing (with poor results) by over 40% from his junior year and Rick Mirer continued the trend. For 1991, Mirer threw 100 more passes than Rice in 1988 and against Florida in the Sugar Bowl it sure seemed like the game plan was to soften the Gators up through the air first.
It didn't work.
At halftime, Notre Dame totaled 34 rushing yards (11 coming on a harmless draw as time expired in the 2nd quarter) in a game that would go down as one of the most memorable rushing performances in school history.
It's obvious Steve Spurrier's "Fun and Gun" offense was taking the SEC and nation by surprise but this game in retrospect seemed to really show the flaws of quarterback Shane Matthews. He finished 5th in the Heisman voting and was 4th nationally with 3,130 passing yards yet he tossed 18 interceptions and it was shocking he didn't throw about half a dozen more to Notre Dame in this game. He's just recklessly tossing the ball into coverage with an above average arm.
This was simultaneously the highest scoring Sugar Bowl in history to date and a game after the 1st quarter that looked like Florida would run away with. Yet, the Gators only scored 1 touchdown until late in the 4th quarter, I'd suggest, because Matthews was so scattershot with his passing.
Part Two
Commence imposing thy will on the ground.
Notre Dame opened their 6th drive of the game and first of the second half with 8 straight successful rushing plays to move deep into Florida territory. Almost immediately, the script in the game look like it was flipping as that Florida 9-point lead–which felt like it could've been easily doubled at halftime–was going to evaporate quickly.
Time for an announcer curse!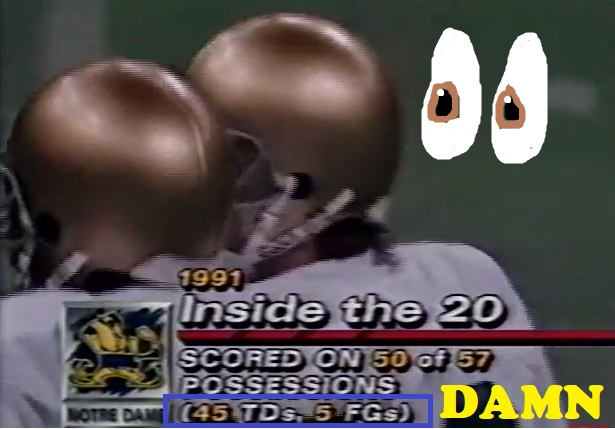 Peak red zone efficiency.
This is just a phenomenal red zone efficiency from the Fighting Irish. On the one hand, the trio of Jerome Bettis, Rodney Culver, and Tony Brooks (combined for 2,727 yards at 5.95 per carry for 1991) were a devastating trio. On the other hand, it makes you scratch your head how this good of an offense could lose 3 games.
Anyway, as this stat was flashed on the screen during the game the Notre Dame drive stalled on 3 straight unsuccessful runs and they settled for a field goal.
The announcers struck again a couple series later when they mentioned the covered up NFL hash marks leaving some slippery residue on the field. On a 3rd & 5 for Notre Dame you see Rick Mirer clearly slip right on the hash mark before losing a sack fumble. Of course, the announcers don't mention the slip!
If you have some older Irish fans in your life this is one of the games that solidified their belief that namby-pamby passing won't beat a tough running game. Florida settled for a field goal in the 3rd quarter and did the same after forcing the fumble on Mirer and recovering in Notre Dame territory. They simply could not score touchdowns.
The Irish scored a touchdown on a short Bettis run to take a 3-point lead and Matthews continued to struggle as the Gators passing game was off the entire second half. With under 4 minutes remaining, Matthews threw a nice ball toward the sideline that was dropped–and a Notre Dame manager rubbed it in: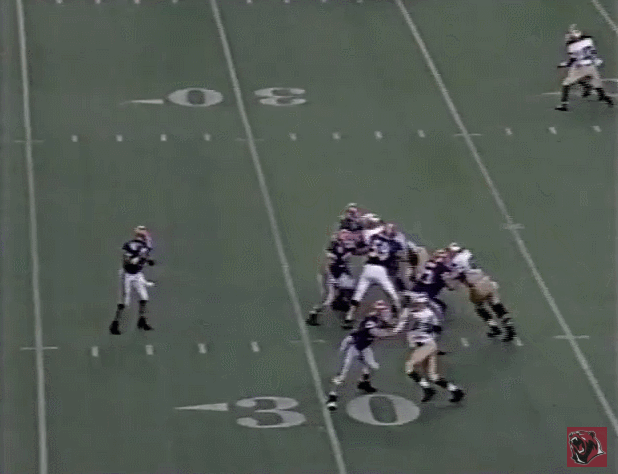 Cocky football managers.
A couple plays later, Florida went for it on 4th & 10 from their own 49-yard line. The pass yet again was incomplete as Matthews fell to 3 of 14 through the air in the second half. The very next play saw Bettis' iconic 49-yard touchdown run to put the game away.
Run Success
Jerome Bettis 11 of 16 for 150 yards
Rodney Culver 8 of 13 for 93 yards
Tony Brooks of of 10 of 13 for 68 yards
Rick Mirer 2 of 3 for 10 yards
TOTAL: 31 of 45 (68.8%) for 321 yards
This game, somewhat unfairly to others, gets labeled the Jerome Bettis game because of his trio of touchdowns late in the contest. Notre Dame was successful on 5 of their 9 rushing attempts in the first half but couldn't get any momentum going due to a couple turnovers and a seemingly poor game plan that emphasized Mirer's arm.
Don't sleep on how well Culver and Brooks played, though. Especially Culver who recovered a poorly placed pitch from Mirer for a 15-yard loss deep in Florida territory. On Culver's 12 other carries he totaled 108 yards.
We remember those iconic Bettis runs but this was a complete team ass-kicking on the ground in the second half featuring 72.2% rushing success. That's how you upset a National Title contender in a major bowl game.