This has been my first football season as a father and through the afternoon of November 11th it had been such a great experience. By Saturday night I shuffled off to bed with that all-too-familiar sinking feeling in my stomach. I lay in bed thinking about my daughter and how she'd cheer me up in the morning. Then I tossed and turned for a couple hours and wondered, "Oh God, what if she grows up and experiences this with me too?"
Sports are mostly cruel and I'm not sure why we do this to ourselves. On this Sunday with the sun refusing to peek through a wall of gray clouds I'm left wishing there was a sports version of the MiB neuralizer.
PASSING OFFENSE
Quickly forgotten was that Brandon Wimbush opened the game with a pair of third down conversions through the air! And then it went down hill fast from there. In fact, those were the only completions for Wimbush before he was pulled late in the 1st half. He rallied a bit in the second half with 8 completions but Wimbush was depressingly ineffective passing the ball while his legs were a non-factor until the break.
Ian Book actually settled things down on his 2nd series under center connecting on 3 out of 4 passes before a pick six all but ruined any attempt at a comeback before halftime.
Somehow, Notre Dame finished with more passing yards than Miami which speaks more to the short fields for the Canes and a run-heavy second half that salted the game away. Three interceptions on 27 pass attempts is a great way to blow up any gameplan.
RUSHING OFFENSE
Josh Adams didn't look right to me. He looked less explosive and unsure of himself. I'd tack a lot of that up to the offensive line really playing poorly as much as any injury concern with Adams, too.
| Player | 1st/2nd Yes | 1st/2nd No | 3rd/4th Yes | 3rd/4th No | Total |
| --- | --- | --- | --- | --- | --- |
| Adams | 4 | 10 | 1 | 1 | 29.4% |
| Claypool | 0 | 1 | 0 | 0 | 00.0% |
| Wimbush | 2 | 2 | 0 | 2 | 33.3% |
| Jones | 1 | 1 | 0 | 0 | 50.0% |
| Book | 1 | 1 | 0 | 0 | 50.0% |
| Dexter | 2 | 0 | 1 | 0 | 100.0% |
| McIntosh | 0 | 0 | 0 | 1 | 00.0% |
| Totals | 10 | 15 | 2 | 4 | 38.7% |
Dexter and Tony Jones combining for 35 yards on 5 carries made this rushing performance look bad instead of utterly terrible. So we've got that going for us.
Upon re-watching the game (very quickly) I didn't think the run game was set up that poorly or the gameplan looked out of sorts. When healthy Adams has been carrying the ball around 18 times per game and the Irish gave the ball to him 15 times in the first half. The vast majority tried to hit Miami in between the tackles.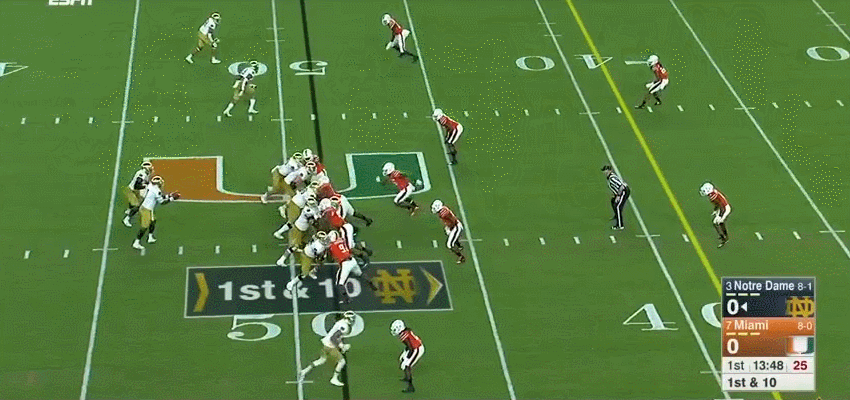 The offense simply got manhandled up front. They tried putting the game on the back of their Heisman candidate and it failed miserably. Don't get mad at the gameplan get upset that the biggest team strength was blown to bits by Miami and Wimbush was in no shape ready to help the team dig out of an early hole. This is actually a far worse indictment of the coaching staff (somehow looking this outmatched) than a case of zigging when they should've zagged on play-calls.
Three really bad plays do stick out, though. First, the 3rd down option to the boundary with Claypool that went nowhere on the second series. The last two occurred on the first offensive series of the 2nd half while down 34-0. A pair of screens to a large receiver and tight end had no chance of cutting into the lead.
PASSING DEFENSE
Malik Rosier was entirely comfortable all game long whereas Wimbush was feeling heat off the edges on most of his snaps. Notre Dame finished with 1 quarterback hurry and zero sacks. We may have seen greater contributing factors to this loss but the pass rush was entirely nonexistent.
Rosier didn't need to do much (15 of 24 for 137 yards) but if the Canes did need something more it probably would've been successful.
RUSHING DEFENSE
I vividly remember watching the first half and thinking Miami hadn't really established the run game and yet they were crushing us on the scoreboard. Turns out, they put together a miniature version of the run game we had seen from Notre Dame this season.
The Canes only finished with 43.5% success rate but ripped off enough medium-to-long runs to total a healthy 237 yards. Four out of Miami's 7 successful carries in the first half came from Rosier. Once the Irish adjusted, Homer was able to get some nice runs in the second half.
SPECIAL TEAMS
Not much worthy of note although Miami did miss one of their 3 field goals.
TURNING POINT
Taking the pulse of the live action the game didn't feel quite over until the Irish went down 20-0. In the early 2nd quarter the Irish converted a 4th down & 1 by Josh Adams and found themselves back with another 3rd & 2 while approaching midfield.
On this snap, Mustipher loses leverage with a run-blitzing linebacker and Adams uncharacteristically stop his feet from moving and loses all momentum. The Irish were set to go for it on 4th down again before a Hainsey false start forced a punt. For this drive there were 7 runs and 0 passes. Notre Dame tried to bread their butter on the ground and couldn't get it done.
The defense forced a 3 & out on the next series for another opportunity given to the offense only to see Wimbush throw his 2nd interception on the first play of the Irish series. From there, it was 20-0 in a hurry.
3 STARS
Te'von Coney

Kevin Stepherson

Drue Tranquill
FINAL NOTES
I find myself pretty bored with the "What this means for Brian Kelly" talk after games like this. He's not winning a championship and he rarely wins these big games on the road–neither are that interesting or ground breaking. I'd rather talk about anything else. We also know, especially at 8-2 and ranked No. 9 in the AP, that neither are grounds for termination. None of this is surprising.
I've had my suspicions about this team at times. We're now sitting at +1.38 YPP which is a strong indicator to me that 3 or 4 losses are far more likely than a 11-2 finish. I predicted 8-4 in August but this season has been built up and the team has looked far different for large stretches of this fall that anything less than 11-2 will feel really disappointing. A loss at Stanford will be another embarrassing hair pull. Finishing out 2-0 with a win on the Farm will temporarily feel nice but this program has to win a major bowl game. That hope is still alive. As much as Saturday hurt it'd be a pretty significant resume box to check. Ending the major bowl streak would be cool, you guys.
So the #33Trucking stuff was an all-time great sports jinx. I'm not blaming anyone but who's surprised that this ended up (at least for now) with egg on our face? As soon as the campaign hits full force Adams gets injured in back-to-back games and totals only 62 yards on 21 carries. A couple weeks ago, Adams looked like an easy bet to set the single-season rushing record and was on pace to break the mark with a handful of carries this upcoming weekend. He's now 207 yards away from breaking the record and watch him sit out against Navy and really sweat it out over the final 2 games. I just really love Josh and want him to get this record, he deserves it. He's also still flirting with Gipp's single season rushing average.
Can we finally admit the strength program stuff really isn't all that? Whatever happened to the Longo regime it may have contributed significantly to a 4-8 season. However, I've never believed a strength program can be that important compared to other teams across the country. Mostly everyone is doing the same things and it's not some magical edge in Notre Dame's corner only. It may help briefly to bring in new blood but that doesn't last. Just remember, history suggests everyone will eventually turn on Balis, too.