For just the second time in 42 years the Fighting Irish will be invading Chapel Hill for a football game. During the 50's and 60's Notre Dame had a nice little rivalry with the Tar Heels and overall have dominated the series. The 2006 game that resumed the series for the first time since 1975 was one of the more satisfying wins of the Weis era.
Notre Dame (-14.5) at North Carolina
Chapel Hill, North Carolina
Kenan Memorial Stadium
Date: Saturday, October 7, 2017
Time: 3:30 PM ET
Television: ABC
Series: 17-2-0 Notre Dame
The return game at Kenan Memorial two years later was peak bad Charlie Weis teams. The Irish looked good in the first half, witnessed a Clausen pick-6 to start the second half, and blew a comfortable lead in a deflating loss.
It's worth noting that both of Notre Dame's losses in this series have come inside Kenan Memorial Stadium.
3 Matchups to Watch
Chazz Surratt vs. Third Down Passing
Maybe Zaire was never truly interested but it was amazing to watch North Carolina welcome LSU grad transfer Brandon Harris to Chapel Hill and believe he'd actually play well at quarterback. He's lasted 2 games with the Heels before they gave up (he came in last week and threw a pick on his first attempt before sitting back down) and decided to invest in the future of redshirt freshman Chazz Surratt.
Surratt is a lefty (maybe they didn't want competing lefties with Zaire!??) so he has that going for him. However, he takes two steps backwards for spelling his name "Chazz."
Actually, he started out brightly this season going 46 of 66 (66.6%) for 588 yards with 4 touchdowns and 0 interceptions through the first 3 weeks. The last 2 games he's hit a wall going 35 of 62 (56.4%) for 400 yards with 1 touchdown and 2 interceptions. On the season, UNC is the second worst Power 5 team in third down conversions and over the last 2 weeks Surratt has gone 9 of 20 for 37 yards with only 4 conversions, plus 4 sacks, and a pick six.
He's averaging 4 yards per completion on 3rd down over the last 2 games! 4 yards! It suddenly makes sense why running back Jordan Brown leads the team with 20 receptions.
North Carolina's Front Seven Havoc vs. Notre Dame's O-Line
The Tar Heels traditionally have an athletic and disruptive defensive line, and while they have a lot of injuries, their big boys up front have been in decent shape. They do have some defensive problems this year and they've been pretty average at creating sacks and tackles for loss.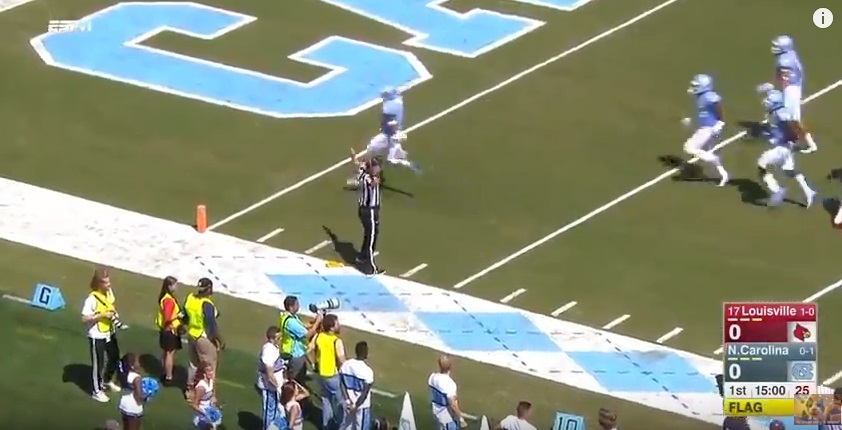 Argyle on the sideline borders looking sharp.
A massive key to victory for North Carolina is if they create just enough havoc on defense to disrupt Notre Dame's run game and hope the Irish bend-but-don't-break defense gets a little too bend-but-don't breaky and cracks a couple times in key moments.
Ian Book vs. Pressure
I'll talk more about Book below. Suffice to say he could be taking a big step in his career this weekend. Maybe he never starts again for the Irish, or maybe this is just the beginning of a surprising career.
2 Stats to Consider
4.02 YPC
The Heels' running game in 2015 was phenomenal as their top 5 rushers all averaged at least 6 yards per carry and the team finished 3rd nationally in overall average. Last year's ground game took a back seat to the Mitch Trubisky show at quarterback and gained almost 1,200 fewer yards than 2015.
This year, without Elijah Hood (left early for the NFL, he's on the Raiders practice squad) and T.J. Logan things are starting over in the backfield and it hasn't been pretty. Although the injuries haven't ravaged the offensive line either, the Heels had tremendous turnover at this position over the last 2 years and seem to be paying the price today as younger guys are inserted and former 4th and 5th best starters are struggling to become the top linemen on the team.
11 Attempts on 4th Down
Get ready for North Carolina to annoy us all while keeping their offense on the field! They already have 11 attempts on 4th down (zero attempts against Old Dominion so basically averaging almost 3 attempts per game against real competition) and they've converted 7 times.
1 Prediction
As Notre Dame found out last year college football comes at you fast. North Carolina now understands that feeling as they've sunk quickly in the college football world this season.
This is Larry Fedora's 6th season in Chapel Hill and it doesn't seem that long ago that the Heels were trying their best to upset Clemson in the ACC Championship. Before this fall, Fedora had gone 19-8 (13-3 in league play) over 2015-16 while displaying some efficient and productive offenses. He's had some decent defenses and a couple not-so-good defenses, but most of the time he's had good enough offenses to make up for any problems.
So far in 2017, the offense hasn't been able to keep things afloat.
Now, with a 1-4 start people are starting to scrutinize and wonder just how strong of shape this UNC program is in right now and for the future. Even over that 19-8 run they played no ranked teams within their 11-game win streak and were 2-4 overall against ranked teams. They've also lost their last 3 bowl games and only finished ranked once in Fedora's tenure.
Also, in case you haven't heard they are dealing with quite the injury problem. The significant players not suiting up tomorrow:
Austin Proehl, WR – Leading receiver for 2017 (270 yards)
Thomas Jackson, WR – Two-deep receiver with 283 career yards
Carl Tucker, TE – Co-starter with 230 career receiving yards
William Sweet, OT – Starting tackle who played decent minutes as a freshman in 2016
Tyler Powell, DL – Backup end with 4.5 career tackles for loss
Andre Smith, LB – Starting middle linebacker with 187 career tackles
Stanton Truitt, TB – Auburn grad transfer with 228 career rushing yards
Tommy Hatton, OL – Played extensively last year and was in the mix at guard this year
Corey Bell Jr., CB – Two-deep corner with 21 career tackles
That's only one missed defensive starter from 7 returning a year ago but the loss of retiring DC Gene Chizik and promotion of linebackers coach John Papuchis has provided some bumps in the road. It's the offense–now down to just 3 starters from 2016–that is searching for new playmakers.
So, the biggest question for Notre Dame is if Brandon Wimbush will play on Saturday.
Brian Kelly says Brandon Wimbush practiced today and did some good things. Game day decision.

— Irish Sports Daily (@ISDUpdate) October 5, 2017
My odds are as follows:
60% Book starts
20% Wimbush starts
20% Wimbush starts but plays minimally
If this was your average starter the history suggests with Kelly that A) Wimbush's injury is anywhere from 20% to 60% worse than he's letting on and if A is true then B) Wimbush isn't playing this weekend. Yet, we're talking about the quarterback and Wimbush at least suited up for practice in some capacity on Thursday. If the bye week wasn't a couple days away I think maybe, just maybe you test Wimbush's foot at Carolina.
If Book gets the start and there's no chance of Wimbush playing I'm pulling back on the reins a little bit. Not only because of the unknown of Book becoming The Guy for a game but also because they are planning on burning C.J. Holmes' redshirt this weekend which also signals at least 2 running backs aren't fully healthy enough to play their normal roles.
Being able to run the ball 80% of the time and winning comfortably by 2 scores or more sounds great, I'm just not quite there with this program. I'm actually secure with the Irish defense in this game given North Carolina's struggles on offense I'm just not convinced this is as much of a cakewalk as a two touchdown spread suggests. I'm going to invoke the thought of if you told me before the season that Notre Dame would be favored by 14.5 points with Ian Book playing quarterback I'd think that's crazy.
Now, we seem much better than expected, North Carolina a little worse, and I'm not sure Vegas has re-calibrated completely from Wimbush possibly not playing at all.  Or maybe Vegas isn't even phased by the #BookClub and we'll have ourselves quite the interesting bye week following another easy victory.
WINNER: Notre Dame 27 North Carolina 21

VS. SPREAD (-14.5): North Carolina

OVER/UNDER (60.5): Under

SPECIAL, BOOK PASS YARDS (156.5): Over