It was another annoying loss to Stanford dropping Notre Dame from a wind-in-their-sails 10-2 season and NY6 bowl appearance to a horrible taste in the mouth 9-3 season and a forgettable second-tier bowl game. This makes it 5 straight regular season finale losses for the Fighting Irish and the 23rd out of the last 24 seasons with at least 3 losses on the schedule.
Notre Dame goes from spending most of this season toasting, "dilly, dilly" to now being relegated to the pit of misery assuredly until the bowl game and very likely for the entire off-season.
The Gray Area
I think about Everett Golson a lot. When he was at his best he was my favorite player at Notre Dame since Golden Tate. To this day, I believe he will define the Kelly-era more than any other player. Before Golson had ever taken a snap for the Irish I wrote the following in Part II of my "Unofficial Guide to Rebuilding Notre Dame" on the old site:
Essentially what we're talking about with allowing Kelly to rebuild is the gray area involving 7 to 9 wins a season. Any seasons below or above that gray area and Kelly's future becomes much clearer.

But within that gray area, there should be much more patience and a willingness to forsake starting all over again with a new coach after 4 or 5 years versus allowing Notre Dame to build a foundation and identity through long-term stability.
That was written more than 69 months ago. The cool thing is that I could see Notre Dame improving despite a 16-10 record to that point and they went out and put together a 12-1 record in the upcoming season. From November 13, 2010 until November 18, 2014 there were some ups and downs but it was a mostly well positioned program with a 39-10 record. There was a legitimate argument to be made that the Irish were very close to getting over the hump back then if a couple things fell their way.
However, this was my next paragraph from the above article:
If Brian Kelly does not end a season with 6 or fewer wins, the main goal should be to continue under his leadership to the point where Notre Dame is a stable program, free from disaster, and much more attractive to a new and more proven coach who may be able to get the Irish over the hump.
In the past there were quality reasons to believe a corner would be turned, if not for massive injuries, or suspensions, or a coordinator change. For a long, long time Kelly dealt with some pretty ridiculous bad luck, truly bizarre games, and the like which fairly or unfairly gave him more rope to continue in South Bend. Since that fateful night in Tallahassee the Irish are 25-19 and of course Kelly has now given us a complete bomb (2016) of a season. Once Golson crumbled down the stretch in 2014 I had a terrible feeling The Gray Area was going to cast a pall over the program and now here we are.
QB Regression
The simple answer is to blame Brian Kelly for poor quarterback development which makes sense but like many things Notre Dame related I try to dig deeper. For a long time the knock was that Kelly's system was too complicated and demanded too much of its quarterbacks.
In that vein it was hilariously sad to listen to the ABC team last night describing how difficult it is to grasp Stanford's offense for redshirt freshman K.J. Costello. Yet, in just his 9th career game the Cardinal came out ready for Costello to make plays throwing on 3 out of their first 5 plays. When Stanford fell behind 7-0 their offense answered immediately with a 4 of 4 drive from Costello (plus a pass interference penalty) and a touchdown pass.
Notre Dame started out with 7 straight runs and runs on their first 9 out of 10 plays. Not a bad gameplan to ease in Wimbush and not ask him to do too much. Hey, here's a free 5 yards on a screen on the 11th play from scrimmage: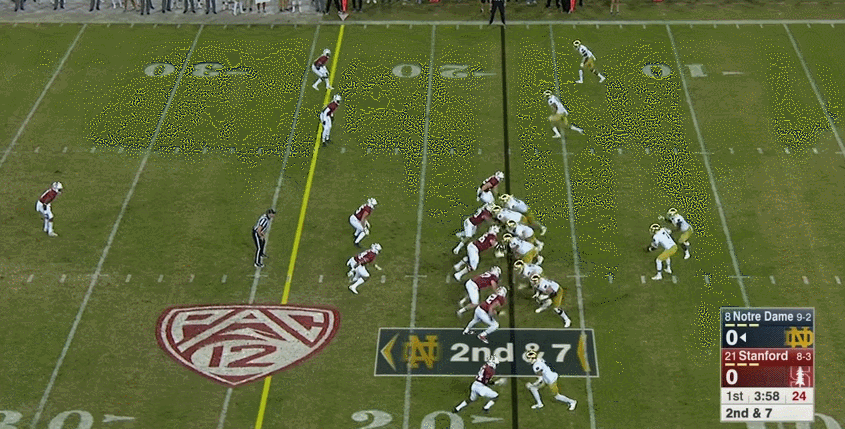 We've cycled through all types of personalities and players with different skill-sets at quarterback since 2010. I want to blame Brian Kelly and lay it all at his feet but at the same time I can't help but think there's some deeper meaning to these foibles.
Deep down, I mostly believe Notre Dame is cursed or jinxed. So much of the Kelly era has been plugging one weakness while witnessing another leak springing up somewhere else. The offense finally has its best plan of attack for running the ball and the highest rated quarterback, showing no signs whatsoever prior to the season, suddenly turns into the worst Power 5 passer.
Only at Notre Dame. Of course, if there is a curse bringing in a new coaching staff would be a good way to shake it off and you wouldn't be wrong for believing that.
Purgatory
A lot of people describe the Brian Kelly era as being in purgatory. While fitting for a Catholic school this assumes that eventually heaven will await the Notre Dame program. Are we so sure? That's why I like the Gray Area far better–it's just a colder and harsher reality devoid of any special treatment because we're Notre Dame.
That said, hope comes into play somewhere with these discussions. Is hope a dangerous thing? Or is hope the greatest of things?
Brian Kelly will be replaced, eventually. Until that happens there is no reason for hope. At one point it looked like he was close to getting over the hump (for me in basic terms this would mean winning a major bowl and having back-to-back 10+ win seasons) but today he's still a couple humps away from attempting that specific hump. He's 3 humps away and he's been here for 8 full regular seasons.
If you're looking for something positive this improvement from 4-8 to 9-3–while ultimately unsatisfying for the die hard fans–at least stabilizes the program in the sense of a lot of B-level coaching candidates are going to be more receptive to coming to South Bend. In the meantime, all you can hope is that things hold steady (or maybe move forward a tiny bit!) until the trigger is finally pulled.
About That Game
Another infuriating Stanford loss featured Bryce Love largely being bottled up (he did get going towards the end of the 3rd quarter) and the Cardinal starting 0 for 8 on 3rd down conversions. Of course, Notre Dame also led into the 4th quarter as Stanford was driving. Infuriating.
Josh Adams was limited to just 49 yards on 20 carries, making that 219 rushing yards over the final 1/3 of the regular season. And yet, he's still just 52 yards away from breaking Ferguson's single-season record. Then again, this is a pretty weak record and kind of surprising that it still stands today. It might be one of the lowest rushing totals for any Power 5 program. A quick check of the record books and there are over 100 people who have run for at least 1,700 yards in a season. Nevertheless, a bowl win with Adams setting the new mark will definitely make me feel 13% better about this season.
In a losing effort, we saw the big-play ability of St. Brown and Stepherson combining for 223 yards on 8 receptions and 2 touchdowns.
Tyler Newsome can still boom some punts and he can still down the ball inside the 5-yard line with aplomb. He cannot seem to kick anything other than a line drive anymore, though.
Justin Yoon kicked 2 more field goals and needs 18 more to break the career school record set by Kyle Brindza.
The Irish quietly had a disruptive day with 9 tackles for loss, the 3rd best mark of the season. Jerry Tillery and Te'von Coney combined for 5 of those TFL's. Coney now has the most TFL's in a season by a linebacker since Manti Te'o in 2011.
In hindsight, Notre Dame's 2nd possession of the 3rd quarter was a huge momentum swing. The Irish scored a touchdown to take the lead, held Stanford to a field goal, and started driving with 33 rushing yards strung together on 6 straight plays. The ball is at the Stanford 40-yard line and St. Brown gets flagged on a brutal 15-yard push-off interference penalty. Two plays later, Wimbush couldn't hit Stepherson in stride on 3rd down and the Irish punted. Then again, earlier on the drive a Jones 3rd down run came up seemingly half a yard short and was upheld as a first down anyway. Do you think the Irish would've gone for it on 4th & 1 from their own 46-yard line? They appeared to be in the process of doing so prior to the review.
Things fell apart FAST from this point forward. Despite forcing a punt deep in Cardinal territory, getting a 41-yard punt from Chris Finke, and starting a drive from Stanford's 19-yard line the Irish went illegal shift, false start, 10-yard run, 1-yard run, and sack to settle for a field goal. Stanford answered with a 70-yard TD drive, Wimbush threw a pick on the first play of the next series, and Stanford turned that into a touchdown. Sanders fumbled the kickoff, and the Cardinal turned that into a touchdown, too. Game over.