The rivalry with Northwestern that was prevalent in the 1920's, 30's, 40's, 60's, and 70's has made a little comeback. On Saturday, the Irish will face the Wildcats for the second time in 5 whole years. Even better, this will be Notre Dame's first trip to Northwestern's campus since 1976.
Notre Dame (-10) at Northwestern
Ryan Field
Evanston, Illinois
Date: Saturday, November 3, 2018
Time: 7:15 PM ET
TV: ESPN
Series: 37-9-2 Notre Dame
It's been an up and down year for Northwestern after opening up with a road win at Purdue followed by 3 losses in a row, including a tough one to a mediocre Akron team out of the MAC. The Wildcats have since rebounded for 4 straight wins and come into Saturday night feeling pretty good having upset divisional rival Wisconsin last weekend.
3 Pre-Game Topics
Fitz Magic
I sometimes joke with our writers that Pat Fitzgerald will be the next Notre Dame head coach. Even if it's unlikely (he's probably in the mix somewhere depending on how deep your list would be) his resume continues to be strengthened at tradition-poor Northwestern.
It's pretty much been a mini-Renaissance for the Wildcats featuring a trio of 10-win seasons since 2012 and numerous upsets of better programs. Just last week, Northwestern took out Wisconsin which isn't a huge deal on its own as the Badgers are struggling to meet their usual standards but it was the 4th win for the Cats in the series under Fitzgerald.
Let's not forget Fitzgerald was the star linebacker in the 1995 upset in South Bend and as coach took out the Irish in the last meeting back in 2014. Does he have some mojo against the Irish?
Ryan Field
Some Irish fans will spend a lot of time drooling over Northwestern's grass field where the litmus test for such wonderment is actually being a grass field. Standards need not apply.
Like many natural surfaces in the north of the United States, the Wildcats are forced to grow the grass out to give the playing field more sturdiness. Except, Northwestern has been known to keep an extra long cut especially when better football teams come to town.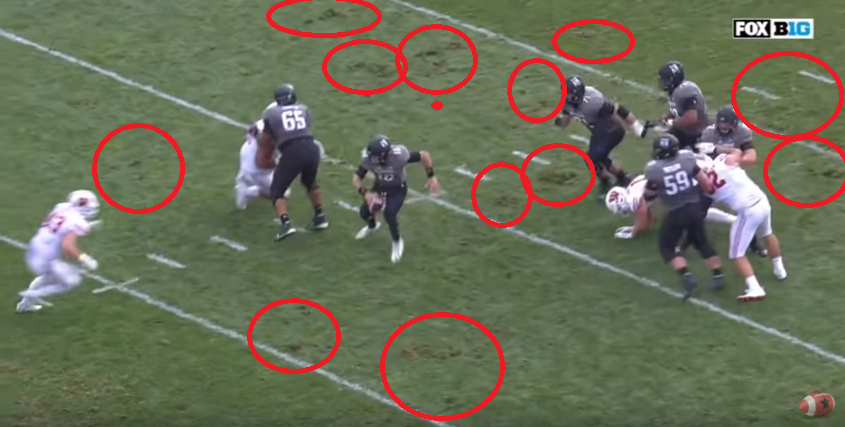 Just as long as this field makes old white men feel tough, we're fine.
The grass looks fine from the high field shots during live action but if you watched last week versus Wisconsin you'll see plenty of issues when large men with spikes are running on shaggy grass. The field is actually really sloppy and slippery with big divots flying all over the place. Remember those times in Notre Dame Stadium?
2014 Repeat
Okay, everyone remembers the 2014 upset of Notre Dame by Northwestern. Here's a sampling of what happened in that game 4 years ago:
Zaire bobbled an extra point which was taken back for 2 points by the visitors. A pass from Golson deflected off offensive lineman Christian Lombard's helmet, got picked off, and returned 65 yards to the Irish goal line. Golson fumbled an exchange and lost the ball inside Northwestern's 10-yard line. Chris Brown lost a fumble at the Northwestern 1-yard line off a jet sweep. Of course, who could forget the failed 2-point attempt while leading by 11 points with 10:34 remaining. Cam McDaniel fumbled with 1:30 remaining on 2nd down as the Irish were up 3 with Northwestern already burning timeouts. Two plays later, Northwestern fumbled right to the feet of Matthias Farley only to see Max Redfield dive in and bounce the football out of bounds. Normally steady senior kicker Kyle Brindza missed from 38 yards and 42 yards, the latter coming in overtime. And finally, Northwestern kicker Jack Mitchell had never hit a field goal longer than 29 yards and made kicks from 31, 46, 45, and 41 with the last being the game-winner in overtime. 
In short, a much worse version of 2018 Notre Dame–with Brian VanGorder coaching the defense–needed a crap ton of stuff to go wrong just to lose in overtime to Northwestern.
2 Key Opponents
LB Blake Gallagher – The true sophomore came out of New England prep blue-blood St. Sebastian and is now the leading tackler for Northwestern. He's tied for the lead for the Big Ten lead in tackles, and being from Massachusetts, there's a 63.6% chance he grew up a Notre Dame fan and has been receiving revenge indoctrination from Fitzgerald for the past two years. Be prepared for the broadcast to mention this background many times if true.
QB Clayton Thorson – Northwestern's running game is an abomination with 729 yards (127th nationally), 2.58 yards per rush (128th), and slotted as the 114th best rushing attack according to S&P+ metrics. In all likelihood, they will be abandoning the run game early if they ever truly attempt to force it on Notre Dame.
Thorson, now a senior, is likely to throw. A lot. He's averaging 39.8 attempts per game which is 5th most in the entire country. This should be entertaining either way!
1 Prediction
For over a year this game with Northwestern has been viewed as varying degrees of trouble for the Irish. Now that the team is past Navy I am ranking the remaining 4 games into these categories:
Narrative/Weirdness: Syracuse, Northwestern, USC, Florida State
S&P Rank: USC (43), Syracuse (51), Northwestern (64), Florida State (68)
Raw Talent: Florida State, USC, Syracuse, Northwestern
History/Atmosphere: USC, Syracuse, Northwestern, Florida State
Coaching: Northwestern, Syracuse, USC, Florida State
Motivation: Syracuse, Northwestern, USC, Florida State
If we assign 4 points to the highest team in each category and 1 point to the lowest team this scientific experiment provides us the following rankings for toughest remaining games:
1) Syracuse 19 points
2) USC 16 points
3) Northwestern 15 points
4) FSU 10 points
The narrative for the Syracuse game is super strong as many have accused the administration of essentially opening the door to an avoidable loss. The Irish moved a home game to Yankee Stadium, will be wearing ridiculous uniforms, and are facing a type of explosive offense that will be difficult to prepare for down the stretch.
We all know the history of USC as the spoilers. Many a great Notre Dame teams have gone to Los Angeles and came away with a loss from supposed inferior Trojan teams. Both Syracuse and Northwestern have recent experience toppling Notre Dame as an underdog, too.
The coaching really seems to favor Northwestern, and to a lesser degree, Syracuse. Who knows what's going on with Helton and Taggart soon. One week of football could drastically change their futures in either direction but their situations are definitely volatile to say the least.
The issue of motivation is interesting because as of right now everyone would love to spoil undefeated Notre Dame's season. At this point, Florida State only has pride backing that up which isn't too convincing following their embarrassment against Clemson. Additionally, USC could be even deeper into a "Fire Clay Helton" barrage from the media in the coming weeks–that doesn't bode well for a valiant effort in the regular season finale.
I guess Northwestern has a little bit of motivation in the sense of these schools being close to each other, within the same academic profile, and probably not a whole lot of love lost between each side.
Meanwhile, Syracuse should be 8-2 when they meet Notre Dame in Yankee Stadium following a road trip to Wake Forest and home date with Louisville. The Orange will have a lot on the line most likely when that ball kicks off in the Bronx.
National Rankings
| STAT | IRISH | CATS |
| --- | --- | --- |
| F/+ | 7 | 49 |
| S&P+ | 6 | 64 |
| S&P+ Offense | 34 | 105 |
| S&P+ Defense | 6 | 28 |
However, the one thing we haven't factored in yet is the vaunted post-Navy hangover for Notre Dame. Using my super scientific measurements above is that worth 2 points for Northwestern? Maybe 3 points?
Under the direction of Brian Kelly the Irish are just 4-4 following the Navy game, and even worse, 2-6 covering the spread. We can zero in on the 2011 and 2012 seasons when Notre Dame soundly defeated Navy (just like this past week) only to spin their wheels in close and ugly victories over Wake Forest and Purdue.
That was a long time ago, though. The Irish are 2-1 post-Navy over the last 3 years with one of the better program wins over USC in 2015 and a blowout win over Army (just 11.5 point favorites which is weird in hindsight but 2016 was a cruel mistress) in a game that was never close. The loss against Stanford occurred last year but that didn't feel like it was really much of a hangover game.
So, if the Navy hangover exists I think it'll be of the mild variety, perhaps worth a point or two in Vegas which isn't nothing but just not a major driver for an upset.
To me, the most important factor for this game prior to kickoff is Northwestern's struggling offense. They are 105th nationally according to S&P+ and the Irish are currently undefeated against an offense ranked that poorly or worse since 2010:
2018, Ball State, 107th, 24-16 Win
2016, Army, 110th, 44-6 Win
2015, Wake Forest, 105th, 28-7 Win
2015, Boston College, 125th, 19-16 Win
2014, Syracuse, 113th, 31-15 Win
2013, Purdue, 111th, 31-24 Win
2012, Wake Forest, 113th, 38-0 Win
2011, Boston College, 106th, 16-14 Win
2010, Purdue, 105th, 23-12 Win
The good news looking over those games is Notre Dame only gave up less than 14 points per game. The bad news is that 5 out the 8 games were close in various forms and if you'd like to be scared the 2014 Northwestern offense was ranked 100th and nearly piled up 600 yards. Then again, we have to factor in Brian VanGorder and in a way this makes me feel better about this weekend.
With the 2014 upset Northwestern was similarly ranked by S&P (69th then vs. 64th now) as this weekend, although the gap between the Irish then was 38 spots. For this Saturday, it's a 58-team gap (maybe even larger given the Irish are still working off their Wimbush offensive ranking early in the season) and Notre Dame's defense is now organized and knows how to tackle the opponent. I can see a close game but arguably even worse stuff than the 2014 meeting has to happen for Northwestern to score significant points and that's a lot to ask in an attempted upset bid.
Notre Dame 30
Northwestern 16