I feel so dumb. I let myself get a little cocky predicting Notre Dame would easily cover a 21-point spread in a rivalry when the program almost never does that. We have been down this road so many times before with a tired team dealing with exams struggling against a statistically poor team with a quarterback who grew up a huge Notre Dame fan. It was all too predictable and frustrating all the same.
Let's review the much-too-close victory over the Pitt Panthers.
Stat Package
| STAT | IRISH | PITT |
| --- | --- | --- |
| Score | 19 | 14 |
| Yards | 344 | 242 |
| Passing | 264 | 126 |
| Rushing | 80 | 116 |
| 1st Downs | 23 | 14 |
| 3rd/4th Conversions | 4/14 | 8/17 |
| Yards Per Play | 4.9 | 4.0 |
| Turnovers | 2 | 0 |
PASSING OFFENSE
Hear me out, Book when he actually threw the ball was quite good against Pitt. I know nearly everyone would say it didn't feel like he completed 81% of his 32 attempts but that stat isn't lying. The problem, especially in the first half, was that Book did not look comfortable pulling the trigger, was jittery in the pocket, was reluctant to look down field, and ran around for poor scrambles, in addition to taking 3 sacks for a killer minus-32 yards.
Thankfully, the 2nd half was much better. Book did throw a second interception when his arm was hit on the follow through. Otherwise, the ball didn't hit the ground as the Irish quarterback finished the last 2 quarters going 13 of 14 for 158 yards with a pair of touchdown passes. Book also completed his final 10 passes after the aforementioned second interception.
The starting trio of Boykin, Claypool, and Finke all gained at least 60 receiving yards which is nice. Even Alize Mack had 6 catches (although pretty quietly) which increases his season total to 25 catches. That should move Mack into the Top 10 for tight end catches across the nation.
I thought the line was decent in pass protection. A couple gaffes but generally pretty clean and not helped out by Book being super skittish in the early going, including not seeing blitzes or moving on to his hot-read quickly enough.
RUSHING OFFENSE
Following the game, Brian Kelly said this should've been the game where they threw the ball more, maybe 45 to 50 times. Let's understand that a smart gameplan taking advantage of your own strengths and the opponent's weaknesses is a good idea. However, I'm not sure how exciting it is to hear that from Kelly when there were 17 carries given to running backs and roughly 45 called pass plays from the offense.
It's one thing to go into a game ceding something on the ground to Alabama but a really bad Pitt team?
Granted, the offense was playing from behind most of the game after Pitt's ridiculously long 1st drive immediately shortened the game. So I get wanting to move things going through the air ASAP and forgetting the running backs a little bit. However, Dexter was actually sneaky successful in this game despite having really modest numbers (31 yards) and that's because he converted a bunch of short-yardage opportunities.
Irish Running Success
Williams – 7 of 13 (53.8%)
Book – 2 of 12 (16.6%)
Jones – 2 of 4 (50.0%)
Finke – 1 of 2 (50.0%)
TOTAL – 12 of 31 (38.7%)
My thing is the offense is going to reach its fullest potential only if they occasionally are able to grind things out on the ground when called for. The first half of this game seemed like a good spot to do that and the coaching staff didn't really seem too interested in trying. Although, to be fair Book's game eventually turned around as noted. I just think the one-dimensional aspect portends bad things.
A 35.7% run success rate last week and 38.7% rate against Pitt is really concerning.
On Saturday, a lot of blame falls at the feet of Ian Book. At times, he's been a sneaky efficient runner with the ability to make a defense pay with his feet. In recent weeks, we've seen the bad side. He's bailing out of the pocket too soon, making poor decisions with where he begins his runs, and far too often attempts to get around the edge of the defense with poor results. Against Pitt, he had nearly 10 "carries" from scrambling that went down in the book as stuffs for the defense.
I think we're beginning to see the limits of Book's athleticism and frankly it should probably be reigned in a little bit. Somehow, the offense needs to turn these 'lost' carries into successful passing attempts (the most likely route given Kelly's comments) or just play a tad more conservative and give the ball to the running backs more often.
A lack of explosiveness was a big problem. Book's only 2 successful carries went for 22 and 15 yards, respectively. The successful carries by everyone else went for 13, 7, and 7 yards with nothing over 4 yards!
Also, Book needed to keep running and pick up that first down instead of sliding late in the game. That was another moment in the game with poor results by the Irish quarterback.
PASSING DEFENSE
Pitt's passing offense was supposed to suck and yup, that checked out. The Panthers almost exclusively relied on a short passing game that gave their running game no breathing room whatsoever. Kenny Pickett picked (ha) on lanky Irish corner Donte Vaughn (rough, rough game for him) before he was benched in favor of freshman Tariq Bracy. Otherwise, there wasn't much to write home about.
Pickett finished with a horrible 4.5 yards per attempt mark and didn't have a completion longer than 16 yards. Losing to an offense with this inept of a passing game would've been outrageous.
How about Julian Okwara with 7 quarterback hurries and the defensive line crushing Pitt's dreams on their final series?
RUSHING DEFENSE
This game was close and we likely won't remember the defense mostly dominating Pitt's offense. This was a 3-drive game for the Panthers resulting in a touchdown and a pair of missed field goals. They put 80.1% of their yardage in those 3 drives and surrounded it with a whole bunch of nothing.
Pitt did rip off some quality runs with a few 6-yard runs, a pair of 7-yard runs, one run for 8 yards, 3 that went for 9 yards, with long runs of 16 and 17 yards. They just couldn't find any consistency, case in point 6 of their 14 total successful runs came on their first and only touchdown drive.
Panthers Running Success
Hall – 8 of 10 (80.0%)
Ollison – 4 of 16 (25.0%)
Ffffrench – 1 of 1 (100.0%)
Aston – 1 of 1 (100.0%)
Pickett – o for 2 (0.0%)
TOTAL – 14 of 30 (46.6%)
Judging from the above, Pitt should've given the ball to Darrin Hall more. Ollison was really ineffective after the first series and just didn't have the speed to threaten the Irish defense at any point of the field.
SPECIAL TEAMS
Hopefully you're sitting down. Obviously, the kickoff return touchdown was really embarrassing to open the second half and made this game closer than it needed to be. So too did Nicco Fertitta's offsides penalty on Pitt's opening drive allowing them to forego a punt and continue for their only offensive touchdown.
We also saw a failed 2-point conversion a bit too early for most tastes, and we'll file that in this special teams section. It's also cruel to see Jonathan Doerer back out there on kickoffs only to watch it come back for a touchdown and Justin Yoon have to go back out there and apparently tweak something in his leg.
The Irish were lucky Pitt missed 2 field goals and failed on a hilarious fake punt.
TURNING POINT
I don't want to get too fancy this week, once Ian Book hit Miles Boykin for a 35-yard touchdown pass and the Irish took their first lead the game seemed to turn. Pittsburgh had showed no signs for 3+ quarters that they'd be able to move the ball effectively enough to score a touchdown in response with just under 6 minutes remaining.
3 STARS
1 DE Julian Okwara – He was a menace and made a great tackle in space in coverage to get the ball back for Notre Dame's eventual game-winning touchdown.
2 DE Khalid Kareem – Notched another sack.
3 WR Chris Finke – Ran really hard with the ball in his hands for a career-high receptions.
FINAL NOTES
Not a good day for the heavy-set umpire who got in the way on 2 Notre Dame attempts to make a tackle. I focused on him during a re-watch and let's just say he was trying his best to move as little as possible out there.
On the one hand, a quarterback sneak would've been my preferred choice on this (nearly) fateful missed 4th down at the end of the game. So, I get criticizing the play-call. However, Notre Dame has been money on these play-action bootlegs with Book. He usually pulls the trigger quickly and for some reason pulled it down. I thought it was pretty clear he had Weishar for a first down and even a quick pass to Wright likely moves the chains too. Instead, Book (who may be taught this) believes his legs can pick up the first down if he gets the edge. He did not get the edge.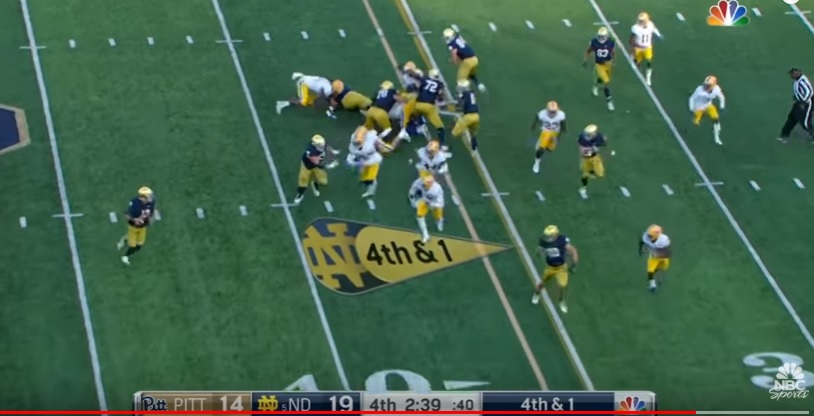 I thought it was kind of funny watching Boykin's late touchdown and how he falls down for no apparent reason.
These games suck because we know college football really isn't just about winning and losing. It's a reminder that every team (save maybe Alabama and even then?) is mortal and can lose any given week. Even though there are exceptions to the rule this is a data point that suggests the Irish could very well drop a game to someone like Northwestern or Syracuse.
Having said that, there's something to be said for overcoming adversity. So much was not going right in this game and so many of the upset boxes were being checked in the first half. Instead, the Irish rallied and played much better in the second half to win. That's also another data point.
Good news in the YPA department. The season defense mark dropped from 4.62 down to 4.55 and is now the second lowest mark in the post-Holtz era only bested by the 2002 squad. With rather modest offensive opponents coming up in Navy, Northwestern, and Florida State there's a chance the defensive YPP threatens to dip below the 4.4 mark and "Notre Dame shouldn't lose during the regular season with this defense" territory.
Bad news the offensive YPP fell -0.14 (ouch!) to 5.80 on the season with the worst mark of 2018 since the Michigan opener. This Pitt game was also the 4th worst mark since Chip Long arrived behind Michigan, Miami, and Georgia. All 3 of those games were losses but this Pitt defense should not be in the same conversation as those teams.
I'm still a little skeptical of this offense. That may be too much of a gut reaction to watching them perform against Pitt in a look ahead spot. Still, a trending unsuccessful run game, below average deep passing game, and continued over-reliance on Book's supreme accuracy make me believe the offense will cough up a game at some point during the regular season. When I think about the defense, going 11-1 would hurt a lot. When I think about the offense, going 10-2 still doesn't seem crazy. Do people feel like we're out of the woods where this isn't possible? I'm not sure I'm quite to that point right now.
I am 100% convinced the blistering sun affected both teams in the first half, particularly those moving south more into the circle of fire. This was a really poor uniform matchup for contrast sake and I truly wonder if it bothered Book looking down field because his longest completion in the first 4 series was just 8 yards. Also, a weird helmet note. I think every single Pitt player was wearing Riddell SpeedFlex helmets which is unusually conforming. Not only that, but Pitt has decided to go with a truncated helmet stripe in favor of placing their stickers in the bottom middle of the back while also attempting to white-out the Riddell wordmark on the back bumper. Strange.