Brian Kelly's press conference (full video embedded below) kicked off the spring football season and provided some details into the changes we'll see in the upcoming practices. Let's get to all the good stuff.
Jafar Armstrong has moved positions by 50% now listed as a wide receiver and running back. He has an interesting body-type at 6-1, 213 basically a lighter version of college Josh Adams.
Avery Davis has also kind-of-sort-of moved too, but maybe not really. It's complicated. Here's the text from Kelly on Monday:
Yeah, so, Avery, again, is a quarterback, and we want to give him a chance to really continue to develop his skills at quarterback. But when he's not playing quarterback, we want to see what else he can do for us. He's a very gifted player, and we may try to get him involved in opportunities where he touches the ball other than just in the quarterback position.

First and foremost, he's got to be given a chance to play quarterback. He didn't get that chance last year. He went right to scout team and did a great job for us. But he's got to have an opportunity to compete at quarterback. Then when he's not taking reps there, I'm sure he's going to want to get involved in anything he can do. He'll be on special teams. He's going to be a guy that definitely comes out on the field and helps us next year.
This still seems kind of ridiculous to me and it'll be fascinating to watch the staff juggle his responsibilities (special teams too!). In the long-run I can't see how he makes an impact at receiver but for spring–with Chase Claypool not taking contact nursing a shoulder injury–there are only 6 other options (not including Armstrong) so Davis should get some good reps and maybe all is not lost for him.
It took a couple years and Jamir Jones is now moved away from linebacker and will play weak-side defensive end. At 242 pounds he's still nowhere near the size of his brother Jarron and he might be leveling out around that weight as an upperclassman.
A new name at the Rover position is Isaiah Robertson now bulked up to 207 pounds (+12 from last fall) and moving from the free safety position. Kelly did say Asmar Bilal will get the first opportunity at Rover–but will also cross-train–and that would suggest plenty of others are going to get looks in the spring. Which is a good thing because absent any other changes there are now 4 Rovers on the roster for spring and a 5th coming (Simon) during the summer.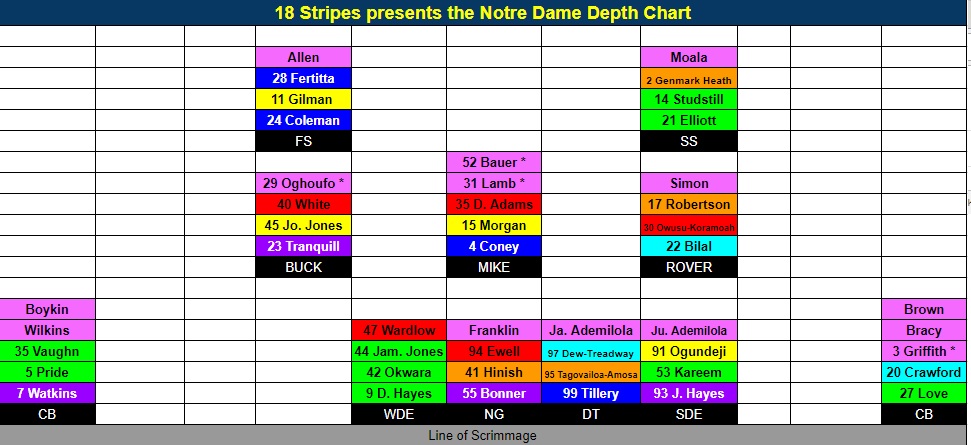 D.J. Morgan played very, very sparingly at Rover last year and is now up 11 pounds to 220 pounds and I wonder if he'll be moving inside to offer some depth? At any rate, that's where I'm listing him for the time being. Moving Jamir Jones (presumably one of the guys fighting for two-deep snaps at middle linebacker) opens the door to someone who previously wasn't a factor prior to spring.
As mentioned by OC Chip Long previously, they will be moving Robert Hainsey to left tackle although not much was said about the line besides that there will be a lot of cross-training.
The tight end spot has injuries to Weishar, Wright, and freshman Takacs. That's certainly not alarming but a deep position is now down to Mack and Kmet to pick up the bulk of the reps for spring.
Notable Weight Changes
RB, Dexter Williams -12 (203 lbs) – A bit strange that he's lost this much weight when he's already plenty fast and staying healthy and handling a lot of carries have been such a problem throughout his career.
S, Jordan Genmark-Heath -9 (211 lbs) – Pretty significant weight loss that should keep him at safety for the foreseeable future.
DE, Daelin Hayes +6 (264 lbs) – Gradually putting on weight since his freshman year.
LB, Asmar Bilal -5 (225 lbs) – It's weird that he's trimmed down and Kelly mentioned Bilal is the 'big' Rover. It seems like they really want a lot more speed there if Tranquill is playing inside at Buck.
LB, Jeremiah Owusu-Koramoah +6 (210 lbs) – Solid weight gain but if he becomes the starter it's a big change from Tranquil's size.
LB, David Adams -12 (222 lbs) – If the staff can trust Jonathan Jones at this weight (and one inch shorter) can they do the same for Adams? His shoulder concerns may play a part in this weight loss which isn't a good sign.
DE, Julian Okwara -10 (230 lbs) – Clearly a move to make him the premier pass-rusher on the team.
DE, Kofi Wardlow +6 (240 lbs) – I always thought he'd move to strong-side but the size doesn't seem to be there yet.
OL, Dillon Gibbons +13 (307 lbs) – Really the only offensive lineman with a significant change.
TE, Alize Mack -7 (244 lbs) – Lighter here is probably a good idea.
WR, Javon McKinley -6 (215 lbs) – Ditto for McKinley who sheds some weight.
DE, Ade Ogundeji -5 (251 lbs) – Another tweener like Wardlow, where will he settle?
DT, Myron Tagovailoa-Amosa -8 (285 lbs) – He held his own as a freshman but this is a curious weight loss for a nose guard.
DT, Jerry Tillery -7 (299 lbs) – Moving to 3-tech a lighter frame makes sense.
Freshman EE Height/Weights
DB, Houston Griffith 6-0, 196 – Really good size that'll allow him to play corner or safety.
LB, Ovie Oghoufo 6-3, 217 – Right about where his recruiting profile said he would be.
LB, Jack Lamb 6-4, 216 – A touch lighter and maybe not ready to play right away at this weight?
LB, Bo Bauer 6-3, 216 – All three linebackers virtually the same size!
RB Jahmir Smith 5-11, 200 – Out of the box great size for a freshman tailback.
WR, Micah Jones 6-5, 208 – Now the tallest receiver on the squad.
TE, George Takacs 6-6, 245 – A knee injury will keep him out for spring but prototypical size.