The Fighting Irish took to the Notre Dame Stadium field on Saturday afternoon for the 90th edition of the Blue-Gold Game. For posterity purposes we must mentioned the Gold Team (defense) defeated the Blue Team (offense) by a score of 58-45. No, it does not matter how the defense accumulated its points.
As per usual, the second half of the game was roughly 98.4% useless and sped by in a little over a half hour time as they instituted a running clock. However, the first half did offer us some insights into the developing 2019 Irish team.
1) Scrap Sideline SkyCam Immediately
Most of you know SkyCam from the NFL where it was used during a Patriots game when fog rolled into Gillette Stadium and then later during a Steelers game, too. Those were the first times fans saw SkyCam used for the main play-by-play camera. However, that was the SkyCam behind (and above) the offense.
On Saturday, NBC debuted the Sideline SkyCam for main play-by-play action and it's awful.
In theory, I don't hate this idea. At times, the angle provides a greater view of the field, particularly in the defensive secondary and stretching the width of the screen to see receivers a lot better. It seems like NBC is really keen on "changing things up" and providing a "different" experience on television and, well, this provided that.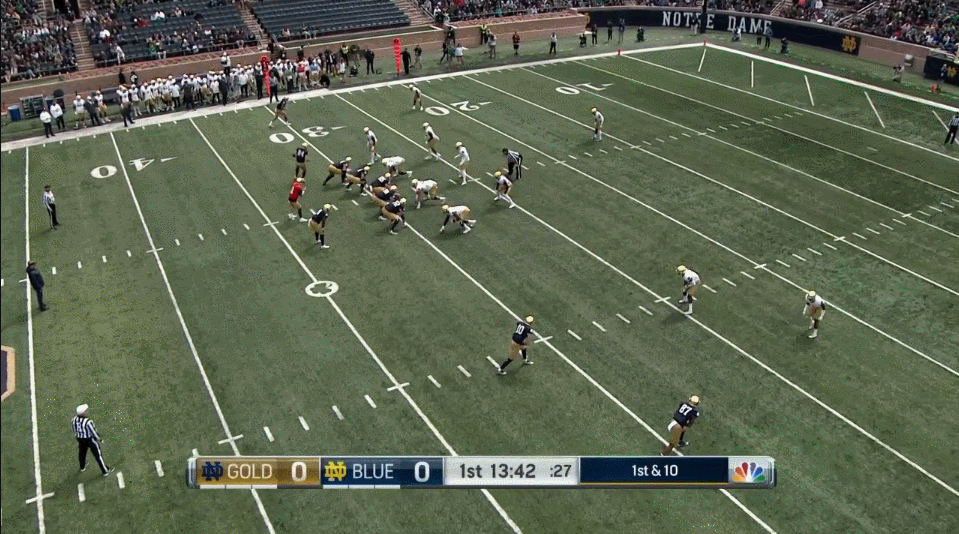 Super excited to see the camera centered on the slot receiver. 
Yet, the Sideline SkyCam has a few fatal flaws as presented during the Blue-Gold Game:
1 There's far too much motion. On most snaps the camera is panning away from the offense which is going to take a lot to get used to at best and is head-spinning at worst.
2 It seemed to me that the SkyCam operator had a lot more freedom than a traditional play-by-play cameraman which I think might be part of the appeal. When the offense is spread out the camera pans way, way back. When the offense is bunched together the camera focused in a lot more. Maybe that's cool for some but I found the lack of standardization really jarring. And I'd bet it will open up cameramen to missing some key moments in live action from this camera. 
3 When the ball is on the far side of the field and the offense is spread out the camera looks a mile away from the action. Do I enjoy seeing more of the defensive backfield? Sure, but not at the expense of the players looking like ants. You can't even read most player numbers!
In some ways this was a neat change of pace. But I see way too much downside overall. I don't see the point of a camera that makes you feel like you're in the 73rd row in the bowl. The advantage of watching on television is to be able to get up close in a way that isn't available in person. This feels like a step backwards.
I thought Sideline SkyCam looked great on punts, though. I'm a reasonable man.
2) Officially Worried About Phil
On one of the recent Irish Illustrated podcasts they mentioned that quarterback Phil Jurkovec struggles to throw a spiral on nearly every throw. Maybe that was hyperbole I thought but after Saturday's spring game there are alarm bells going off for me with Jurkovec's arm talent.
To me, this is by far the most troubling aspect to analyzing the young Irish quarterback. He throws a terribly ugly ball. It doesn't look natural at all. The weird thing is he's not super inaccurate–if he threw a nice spiral I don't know if we'd be talking about this right now. In fact, one of his best passes to Tommy Tremble (it was called back on a "sack") was simultaneously one of his best and most wobbly throws on the day.
Jurkovec isn't too inaccurate but he's really struggling to throw clean spirals. pic.twitter.com/vGzdl4T0Sp

— 18 Stripes (@18stripes) April 14, 2019
Compounding that issue was Jurkovec looking absolutely frozen in the pocket on most snaps. Even if we factor in him playing most of the time with a very young backup offensive line (he got some snaps with the starters but not a ton) and some sacks may have been avoided if he were live, Jurkovec looked really lost out there.
Plus, he took 12 sacks. 12 sacks!!!
Jurkovec threw the ball 26 times for 135 yards (5.1 YPA, yuck) and with sacks added in basically accounted for the same amount of offense that Book had in one throw to Claypool.
Some people aren't too worried since this is Jurkovec's first real extended run as a college quarterback and he's still very young. I think that's very fair. Still, for a top 100 recruit I think it's also fair to say from what we've seen his ceiling isn't that high and even if he does improve significantly it's not a guarantee he becomes the starter some day, or at least holds on to the job for a long time.
Book returning for 2020 is very, very important until proven otherwise.
3) No Worries for Ian Book
Book was the polar opposite of Jurkovec, calm and in command the entire game. He finished 16 of 21 for 220 yards and scored a pair of touchdowns. He was crisp, accurate, and displayed his characteristic good decision making. True, he didn't really test things down field but the one time he did it was a beautiful ball over safety D.J. Brown and into Claypool's hands for a 43-yard gain.
It was only 6.5 months ago that we were arguing whether Book should replace Wimbush. Now, Book is shaping up to be a terrific college quarterback.
4) The Pass Rush Looks Almost Too Good
Officially, the Irish defense notched 15 sacks in the Blue-Gold Game. At times, they were completely overwhelming the offense with speed and precision off the edge. Certainly not a great look for the offensive line but it seems like we're talking about a generational pass rush heading into 2019.
Julian Okwara could approach Justin Tuck's single-season record of 13.5 sacks. I feel like he will have a 4-sack game this year and 16 sacks overall would nudge him past Tuck for the most in school career history, too. This doesn't feel absurd to think it can happen.
5) Up and Down for Doerer & Bramblett
After the first offensive touchdown we saw Jonathan Doerer lazily boot the PAT through the uprights but the ball drew pretty hard to the left. Throughout the rest of the game he looked more confident and kicked really well. Until he missed a field goal late in the contest. Overall, some progress but Doerer is likely going to fight for this job in August.
I thought Jay Bramblett punted really well after his first attempt. There are so many bad punters throughout the country that I think he'll be at least average out of the gate. A little worried but it's not a huge concern.
6) The Tailbacks Took a Step Forward
Jafar Armstrong averaged 56.2 yards per game of all-purpose yardage last year. He's going to blow that mark out of the water in 2019. In the spring game he totaled 156 yards on only 13 touches! Armstrong is perhaps the main reason why I think we'll see a much more pass-oriented offense this year in year 3 of Chip Long. Somewhere in the neighborhood of 40 receptions for Jafar wouldn't surprise me. My biggest concern is keeping him healthy when he's bound to touch the ball 25 times every game.
The backups looked pretty solid. Flemister seemed to take a back seat to Jahmir Smith and Kyren Williams as the latter two took most of the non-Armstrong snaps.
Ain't nothing down there, Simon.
Our writers joked that Williams looks quite hefty for a smaller running back. He certainly displayed really good feet as seen by dropping linebacker Shayne Simon in the hole above. He took a Jurkovec pass near the sideline in a different part of the game and quickly danced his way to a near touchdown, too. At worst, it appears Kyren will be an interesting inside tough runner who will be difficult to tackle.
Smith definitely looked the best of the young bunch, totaling 93 yards on 11 touches. He looks so much like Tony Jones, Jr. (who also wore #34 early in his career) in appearance and in the way he plays the game. I'm not crazy high on these guys due to a perceived lack of speed, however, they will be an interesting complement to a ball-control passing offense that should be efficient moving the football down the field.
7) Moala's Presence is Real
I'll admit when Paul Moala was moved from safety to Rover I was skeptical of the decision. At the time, Rover was still dealing with Owusu-Koramoah and Shayne Simon with the staff apparently super high on freshman Jack Kiser, too. It didn't seem like a move for Moala that was going to give him much playing time any time soon.
On Saturday, Moala looked like one of the best defenders on the team. He's a lot longer and athletic than I thought and I can see him playing 300 snaps this year. For the day, Moala totaled 9 tackles with 2 sacks.
8) Corey Robinson Returned in STYLE
In the middle of the 3rd quarter as the backups and walk-ons were beginning to get a lot of work the NBC Sports cameras focused on Drue Tranquill for quite a while. After a minute, the camera panned out just enough to see former Irish receiver Corey Robinson in all of his glory.
Ohhhhh, get it Corey. 
Where will Robinson be in this world in 20 years? He's probably one of the most fascinating Fighting Irish football alums to watch in the future. Super smart, but a little weird too.
9) Can Agoro Get a Scholarship?
Temitope "Timmy" Agoro stepped into the spotlight with a solid 3 pass break-ups and nearly a 4th that was called for pass interference on Kevin Austin (although it was a close call). Agoro completely looks the part (6'1″ 203 pounds) and impressed quite a bit during the spring. He's a walk-on but depth at corner could end up shaking out in his favor if he continues playing this well. Maybe becoming a starter is well out of reach but 50 snaps on the season could be reasonable.
In my opinion, linebacker Jon Jones (was he even playing?) and receiver Javon McKinley will be moving on from the program soon. The quest to get down to 85 scholarships should happen over the next 7 weeks.
10) Soft Up the Middle
We know it's going to be tough to replace the 4 starters in the middle of the defense–3 of whom were some of the best defenders of the Kelly era. The spring game clearly indicated there will be holes to run through and the linebackers won't always clean things up real well.
One could say the ceiling for this team in 2019 is going to be defined with how well Clark Lea gameplans around being weak up the middle when his pass-rushing and safeties are going to be a strength.
11) Selling Tight End Stock
No one should take too much away from a spring game (contractually every spring game recap must mention this) but I don't think we'll see a ton from the tight ends in 2019. Some are completely enamored with Cole Kmet yet to date he's still all potential and looks like a quality tight end. I'm not sure I've seen a difference maker yet.
Plus, as I mentioned Armstrong should be a huge part of the passing game and the receivers are going to be taking a step forward too. Claypool/Finke/Armstrong could catch 70% of the passes in 2019 and I'm not sure how many balls there will be for Kmet & Co. at tight end.
I was excited to see Tommy Tremble and beyond one catch that was called back I was disappointed. But, still really high on his game.
12) The Shirt 2019
Notre Dame unveiled the 30th anniversary of The Shirt in a heathered navy color. This edition received universal praise from the 18 Stripes writers room. What are your thoughts?
The university also unveiled a throwback 30th anniversary crew shirt that is an homage to the original Shirt from many years ago. That's also a really strong effort.