Notre Dame football recruiting always has a lot of talk about states, regions, a national profile, pipelines, and Catholic schools. Like perhaps no other school in history, the Fighting Irish have covered a vast swath of territory (now including Germany for 2020!) in order to fill their recruiting classes.
Since Brian Kelly's 2010 class the Irish have signed players from 194 different high schools. One hundred and ninety-four schools. If you want to see the country then become a D-1 football assistant coach because the miles are there to be covered and the doors to many a high school ready to be opened.
FULL HIGH SCHOOL LIST OF NOTRE DAME PLAYERS
In total, the Irish have signed more than 1 player from 23 different high school programs since 2010. They are as follows:
4 – IMG Academy, FL
4 – St. Peter's Preparatory School, NJ
3 – Ardrey Kell HS, NC
3 – Bishop Gorman HS, NV
3 – Woodberry Forest School, VA
2 – Archbishop Alter, OH
2 – Archbishop Moeller HS, OH
2 – Aquinas Institute, NY
2 – Bishop Moore Catholic HS, FL
2 – Central Catholic HS, PA
2 – Elder HS, OH
2 – Granada HS, CA
2 – Harrison HS, MI
2 – Mission Viejo HS, CA
2 – Our Lady of Good Counsel HS, MD
2 – Palm Beach Gardens HS, FL
2 – Pine-Richland HS, PA
2 – Servite HS, CA
2 – St. Ignatius HS, OH
2 – St. John's College HS, DC
2 – St. Thomas Aquinas HS, FL
2 – St. Xavier HS, OH
2 – Warren Central HS, IN
In general, pipelines to schools is a fairly overrated concept. Granada (George and Josh Atkinson) and Aquinas Institute (Jarron and Jamir Jones) are there due to brothers coming to Notre Dame with virtually no activity at those schools before or since. Notre Dame signed 2 players from St. Xavier in 2010 (RIP Matt James) but haven't inked a Bomber since then. The only schools to have Irish commits in consecutive years have been: IMG Academy (3 years), Woodberry Forest (3), Bishop-Moore (2), Palm Beach Gardens (2), and Pine-Richland (2).
If we include the 2020 and 2021 verbal commits there will be an additional 4 schools added to the 'new' list while New Canaan HS in Connecticut and Red Bank Catholic in New Jersey would add the 2nd player from each school in the Kelly era.
Useless facts from all of the schools: There are 2 American Heritage's, 2 with Aquinas in their name, 2 that start with Archbishop, 9 that start with Bishop, 3 Cathedral's, 4 that begin with Central, one Highland and one Highlands high school, 3 schools that start with Lake, 2 Marist's, 5 that begin with North, a pair that start with Oak, 12 that begin with Saint, and a couple Warren's.
Which states players are coming from remains an important point for fans. Despite being shut out for the recent 2019 class the state of Florida maintains its comfortable lead with 29 players over the last 10 years.
Ohio remains the standard for the Midwest states with Illinois and Indiana in the next tier. As the affiliation with the ACC continues we should expect to see North Carolina, Georgia, and Virginia keep growing on this list while Florida–not rumored not to have quite the same emphasis as in the past–should remain a large part of Irish recruiting in the foreseeable future.
If you're curious about 2020 there have been 138 offers extending to recruits as of this writing. Texas (19), California (13), Florida (12), and Georgia (10) combine for 39.1% of all offers. The next tier includes Maryland (7), North Carolina (6), Ohio (6), New Jersey (5), Arizona (4), Colorado (4), Massachusetts (4), Michigan (4), Missouri (4), Virginia (4), and Washington (4).
Interestingly, just 6 combined offers from Illinois (3), Indiana (2), and Pennsylvania (1) so far although the Irish lead for 2 of the Illinois prospects and could sign the third depending on how things shake out on the offensive line.
The type of schools Notre Dame has been recruiting is certainly interesting. Over the last 10 years public schools hold a slight edge with 53.4% of all signed Irish recruits. Does Notre Dame still recruit Catholic schools in a big way? The answer is yes they do.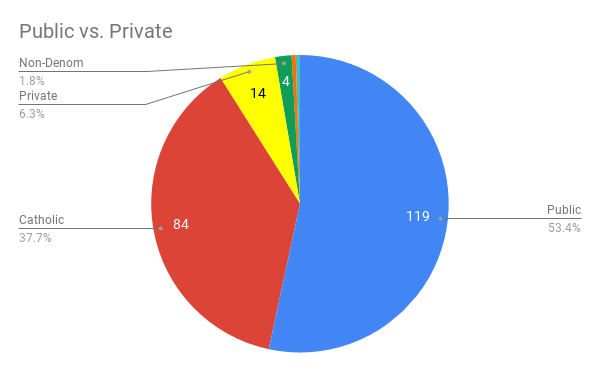 Nearly 4 in 10 recruits coming from Roman Catholic schools is quite a lot. For the record, the 5-year Charlie Weis era featured 29.2% recruits from Catholic schools.
For the most part, all of the states are hovering right around that 50/50 split in public vs. private with a few notable exceptions:
From Illinois, 11 are public school players. The days of Fenwick, De La Salle, Mount Carmel and the like sending hordes of Chicago Catholic talent to Notre Dame is long, long gone. In fact, that talent probably peaked in the 1940's. An interesting note I recall from a Lou Somogyi article is that Illinois has sent over twice as many players to Notre Dame all-time than 3rd place Pennsylvania.* Now, the Prairie State is hanging on in recent times in 4th place over the last 10 years.
*Only 2 states have sent more players to Notre Dame in history than Pennsylvania. Not only is there 1 offer out to that state to 2020 but there are only currently 2 blue-chip prospects.
The 2nd place all-time state in Ohio has been 63.6% private since 2010 and is by far the most Catholic presence in the program today. New Jersey (72.7%) is also heavily private and Catholic in the numbers it's been sending to Notre Dame.
Interestingly, all 7 recruits from Michigan have come from public schools. In addition, Texas (78.5%) has been heavily public and should continue to skew that way with its massive high school football non-private collection of programs.
***
If we're looking at schools for Notre Dame to keep targeting there are a handful that have fed to the Irish under Brian Kelly that the school would love to continue winning battles against other college programs. That list would primarily include: IMG Academy (Florida), Mission Viejo (California), St. Thomas Aquinas (Florida), St. John Bosco (California), Bishop Gorman (Nevada), and Servite (California). IMG continues to increase its profile as it grabs talent from all over the country and is jacking up an already loaded talent pool in the state of Florida. The school had 8 blue-chip prospects in the 2019 cycle alone.
Top 10 "New" High Schools to Target
Oaks Christian School, California
Mater Dei HS, California
University School, Florida
Chaminade-Madonna Prep, Florida
Lakeland HS, Florida
Greater Atlanta Christian Academy, Georgia
Lamar HS, Texas
James E. Taylor HS, Texas
Episcopal HS, Texas
Duncanville HS, Texas
These are only new in the sense that Notre Dame hasn't signed anyone from these schools under Brian Kelly. Jimmy Clausen is the most famous Christian Oaks alum, for example. However, these are some of the premier programs that the Irish could recruit hard in the coming years.
I can't stress enough how unimportant pipeline schools are in the recruiting world. It sounds great in theory, recruiting consumers love to eat it up as a magical breakthrough, but being able to consistently tap any individual school is unrealistic.
In many cases, the location of the best football players is too random especially in some of the larger states. Take Texas for example where the Top 33 players in the 2019 cycle came from 33 different high schools. That's absurd!
This is why a recruiting presence in terms of playing games (and winning!) in a region is so highly valued. There's so much ground to cover in California, Texas, Georgia, and Florida especially that you can run around with your head cut-off chasing prospects.
Relationships with schools and high school coaches are crucial too, although we tend to overrate individual recruiters. An assistant can be really bad at recruiting but there's a point in the other direction at which a program is essentially selling itself (see Alabama cycling through assistants for years). There's talk of Notre Dame shying away from Florida but there will be high school athletes interested and the Irish staff will be on the road to recruit them, that much is assured. It's creating an environment where more players are interested in you that's the tricky part.