Today we publish our 9th Notre Dame football uniform concept and the second of a handful of Black for Black's Sake designs from our collection. Our first effort explained some of the challenges surrounding using black with the Fighting Irish colors in addition to some of the modern bells and whistles usually seen on black uniforms that I don't personally love in most cases.
This effort will break a couple rules. First, the lack of white as a trim color. If you want mostly black well here you go. Secondly, the same color pants as the jersey. I really don't like this look on 9 out of 10 uniforms and yet 90% of concepts these days match the jersey and pants.
Without white the challenge was to get the colors to pop on the black background, also mentioned in the first black concept. Using a brighter green outlined in gold we feel like it's a scheme that really came together well.
The highlight of the design is the use of the shield from Notre Dame's academic seal. In reality, it'd probably never be used in any athletic function but it's a pretty strong logo and a fun contrast with a modern black uniform.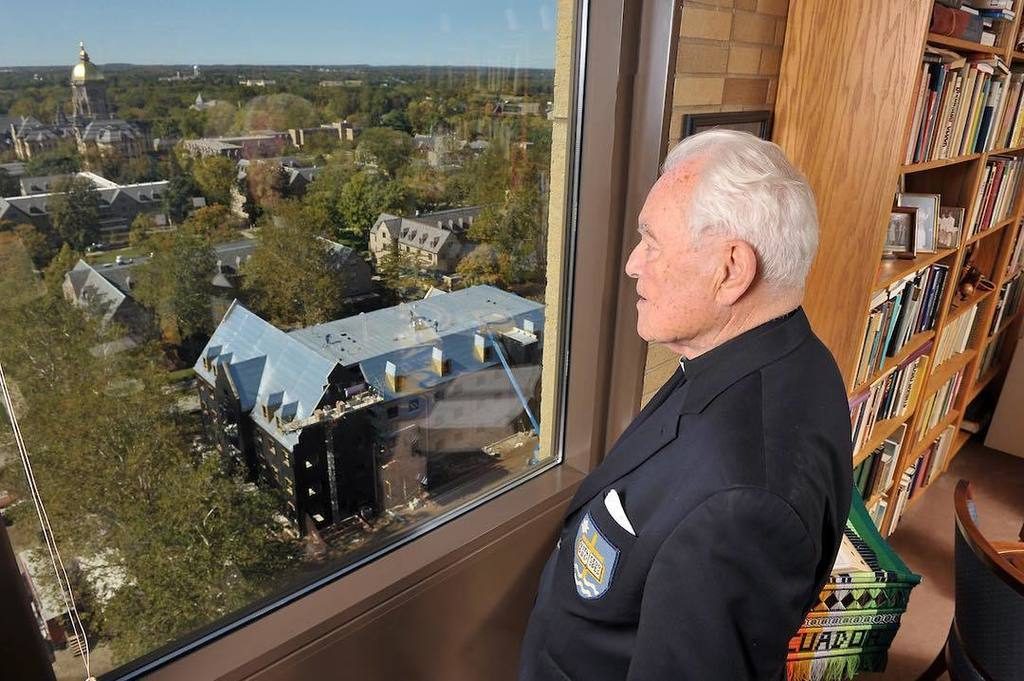 Father Hesburgh swagged out with his shield blazer patch.
The shield is placed on the shoulders and helmet while the rest of the uniform is relatively unadorned. With the black jersey and pants we tried to avoid the 'leotard' effect as best as possible while keeping the overall uniform simple and black dominant. A traditional two-tone pant stripe felt necessary as well as using a green belt with gold buckle to break up the black monotony just enough to let everything breathe.