Praying that the defense will have better luck against this Art Briles disciple than the last one, and anticipating a shootout with two defenses that have been shredded by every good offense they've encountered.
If looking for additional information on the statistics and terms used here, great starting points are Football Studyhall's Advanced Stats Glossary, Bill Connelly's Five Factors, and Brian Fremeau's FEI ratings.
Syracuse Offense vs. Notre Dame Defense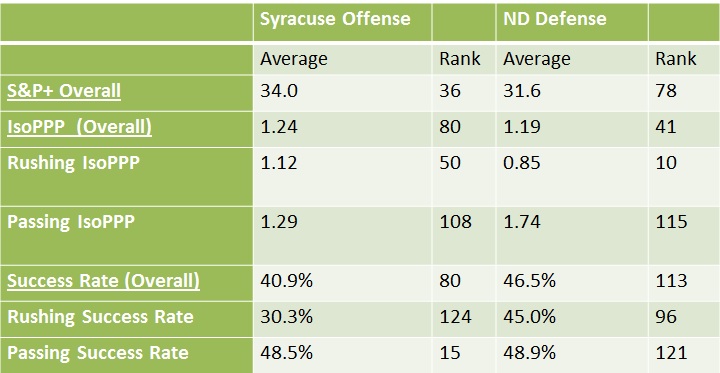 Before the Texas game I had a series of tweets questioning the optimism for the Texas offense under new coordinator Sterlin Gilbert (reminder: never tweet, and definitely never tweet optimism).  I asked if he was some kind of witch or something, that suddenly Longhorn fans thought they'd go from a one-dimensional offense that couldn't throw at all to a dynamic spread with a true freshman QB. Then, they went out and put up 50 on Notre Dame (it was much more impressive at the time than it is now, in hindsight).
What's scary is that new Syracuse head coach Dino Babers is like a souped-up, more experienced version of Gilbert. Both learned offensive strategy from Art Briles, and Gilbert actually was Babers' OC at Bowling Green for a year before heading to Tulsa.
Babers has a strong track record of success as a head coach after learning for four years under Briles at Baylor, mostly on the strength of his offenses. He's ascended rapidly to better jobs after first landing the Eastern Illinois job – two years there, two years at Bowling Green, and then securing a job in the ACC. Not too shabby!
And his impact at Syracuse has been pretty immediate – Babers inherited a lot of returning starters, and while it's early, the Orange have jumped from ranking 67th in Offensive S&P+ to 36th. A run-first offense has turned into a pass-heavy one that will mix things up running relatively more often on passing downs. And the tempo you'd expect has been implemented immediately, as the Orange are 4th nationally in adjusted pace.
Air it out, air it out, air it out
The offense's profile doesn't look that impressive when you break down the ranks above, looking at success rates and explosiveness measures, but that's mostly due to a lack of opponent adjustments incorporated into those measures. Like the Irish, Syracuse has faced a stronger early schedule than most, facing very solid Louisville and South Florida squads and beating a defensive-minded UConn team last week on the road.
The passing offense has been very efficient, spreading out as far horizontally as possible to nibble away at the perimeter before taking long shots downfield.  Run-pass options are a staple of the Briles/Babers offense, and a lot of throws will come off of run-fakes of some kind designed to freeze linebackers and safeties (who already are in a tough position to provide assistance in the passing game because of the extreme spread).  The Orange already have 7 passing gains of 40+ yards this season, tied for 7th in the country after having just 6 in all of 2015.
Eric Dungey has been the trigger man for Syracuse, and has put up some big numbers (341.8 passing yards / game) so far. He may be battling an injury if he plays Saturday, as he appeared to be shaking his hand in the second half of the UConn game, and Babers was silent on his status this week. Amba Etta-Tawo has been the primary target in the passing game (31.9% of targets) and for good reason – he's average 17.7 yards/catch and 13.6 yards/target, which is extremely impressive given the high volume workload.
Zack Mahoney would be the back-up in Dungey can't go, but he's an experienced junior that's played in some big-time contests last year like LSU and Clemson. Whoever ends up starting will likely come after the young Irish defensive backs early and often in one-on-one situations down the field, and the Irish have to avoid giving up explosive plays that are extremely discouraging and put immense pressure on the offense. To be transparent, this match-up looks pretty awful – a defense that's been one of the worst in the nation against the pass faces an air-attack that's performing well and designed to hit big plays.
But any success against the passing game will reap a lot of benefits – incomplete passes are one of the best ways for the Irish to help offset the Syracuse tempo they know is coming. Maybe with the coordinator changes and promises of a deeper rotation, the Irish will stand up in pass defense with their backs against the wall.
Run enough to make it a threat
Syracuse hasn't been much of a threat running the ball – lead back Dontae Strickland is only averaging 3.7 yards per carry. Babers is the type of coach who will play to his personnel's strengths, and he knows that the running game is currently a weakness.
The Orange will run just enough to keep the threat there and the impact of play-action fakes, and at this point, maybe the Irish defense can be a cure to any place opponents struggle. Duke had been struggling tremendously running the ball and then put up 208 yards on the ground on 5 yards per carry. If the run game can be more than just a threat, then Syracuse is probably putting up 40-50 points in this one.
Notre Dame Offense vs. Syracuse Defense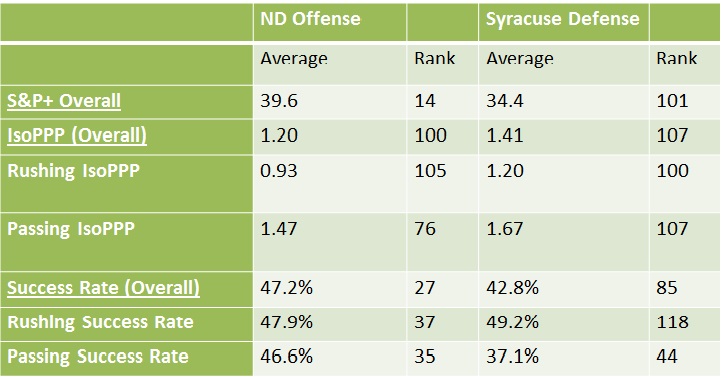 On the defensive end, the Orange have struggled mightily so far in 2016, and the decline defensively have mitigated the offensive improvement's impact on the overall quality of the team. Having Lamar Jackson's demolition account for a quarter of your defensive stats doesn't help, but even in opponent-adjusted S&P+ Syracuse's D rank 101st.
The Orange defense actually returned a ton of starters in the linebacking corps and secondary, but an overhaul of the defensive line has resulted in some abysmal stats against the run. As well as opponents have run on the Irish defense, Syracuse's has been even friendlier in opponent rushing success rate and explosive runs.
Take out the Colgate opener, and the Orange are allowing 6.55 yards per carry, which ranks last of any FBS team in the contiguous United States (Hawaii is the only team worse). The Cardinal and Bulls had field days on the ground, and while Syracuse had a solid showing against UConn's rushing attack, the Irish should be much closer in caliber to USF and Louisville running the ball.
Don't play yourselves
To quote this wise DJ Khaled, it's important in life not to play yourself. Syracuse's defense is BVG-level bad – they disrupt much (121st in havoc rate) including rushing the passer, and they've only forced one turnover per game. They've given up explosive plays all over the place, especially in the run game, and you get the sense that over time this ND offense should be able to exploit a lot of advantages – provided that they don't end drives earlier than they should.
So this young Irish team needs to make sure they aren't throwing away a clear advantage with unforced turnovers, dumb penalties, or cute play calls. The wide receivers need to secure the football and take the yards they're given – if I'm not mistaken, all of the lost fumbles by receivers have been forced well after they've gained first down yardage. DeShone Kizer needs to make good decisions, and if that means throwing it away on third down, that's ok – score the next possession.
Time to run the ball
Against a struggling defensive time, it's now or never for the Irish running game to get going. Will Dexter Williams see an increased role moving forward after a nice effort against Duke? Can the Notre Dame offense get into the right looks based on what the defense is showing them? Brian Kelly specifically mentioned a desire to check out of fewer plays this week, potentially hinting that defenses are showing certain looks anticipating Kizer's audibles.
Can the Irish finally break a long run or two? It's been rare for Adams or Folston to see much space allowing them to get to the second level of the defense, and as a result Adams' highlight yards per carry has dropped from an extraordinary 7.8 in 2015 to 3.6. Syracuse struggled with the read option against Louisville and South Florida, so watch for Kizer to also have some space to work with if given the opportunity.
Predictions:
FEI: Notre Dame 39, Syracuse 20
S&P+: Notre Dame 40, Syracuse 33
MB: Notre Dame 49, Syracuse 44. I expect very little defense in this game, and it will take time for any changes moving from Van Gorder's scheme to whatever Greg Hudson comes up with in the short term. I don't think the tempo issues will be solved this week, but I think the offense cleans up their miscues that have plagued the last few weeks to put together a more consistent performance and escape with a win.