This article has sat on ice for a week with us worrying that this piece may be the worst jinx imaginable, especially since we heard John Sexton was nursing a back injury. However, we're committed to telling the story of what should be the theme of the 2018 Irish lacrosse season. The fall sport "trucking" bit came out of nowhere this last season (and quickly fizzled after we bought five hats), but this story is four years in the making. So here we go, and let the chips fall where they may:
#46Trucking
The magician Ryder Garnsey and closer Mikey Wynne will dazzle us and light up the scoreboard, and everyone is excited to see what this year's freshman class can do, but the person we believe will most critical to the success of Notre Dame lacrosse is #46, senior John Sexton, from Lincoln-Sudbury H.S. in Massachusetts, the best Long-Stick Midfielder (LSM) in the country, and probably the best all-around lacrosse player in college.
Sexton is on the watch list for the USILA Player of the Year, and we submit it would be a tragedy if he was not also strongly considered for the Schmeisser Award as the top defenseman in the country, an award twice won by the Irish's Matt Landis.
First DI Player of the Year Watch List TY All American Coach Committee for contributing to this process Updates 3/12 4/16 Finalists 5/7 DII tomorrow DIII Friday @UAlbanyMLax @YaleLacrosse @TerpsMLax @OhioState_MLAX @PennStateMLAX @DU_MLAX @LoyolaMLAX @NDlacrosse pic.twitter.com/vSe0l5Ydir

— USILA (@USILA_Lax) January 24, 2018
For the unfamiliar, and LSM is what its name suggests, a midfielder that plays with a long, defensive stick instead of the customary short stick.  The LSM has critical coverage role in close defense, and must also control the middle of the field in unsettled situations.  LSMs like Sexton have responsibility to play wing on face-offs, and their forward position helps them initiate fast break opportunities where they have to be able to put the ball in the net when called upon.  John Sexton excels in all of these roles.
We are not alone in our assessment as he enters the season as the presumptive all-ACC player and all-American at the position.
The Accolades
2017 USILA All-American
2017 Inside Lacrosse All-American
2017 All-ACC selection
2016 Inside Lacrosse second-team All-American
2016 All-ACC selection
And he has excelled academically as a two-time ACC All-Academic team member.
The Statistics
2017  4 goals, 1 assist, 46 ground balls (#46trucking) and 23 caused turnovers in 15 games.
2016  3 goals, 44 ground balls, and 18 caused turnovers in 15 games.
2015  1 assist, 41 ground balls, and 11 caused turnovers in 15 games.
The Awesomeness
We know exactly where to begin this list, with the fact that he uses a traditional pocket on his stick.
This is wonderfully old-school and shows a keen attention to detail as these are incredibly difficult to maintain.  He is also known to carry his stick on his shoulder as he comes on the field, again, full old-school.
He can score showing off his excellent handle:
He has an incredible instinct to know where the ground ball will emerge.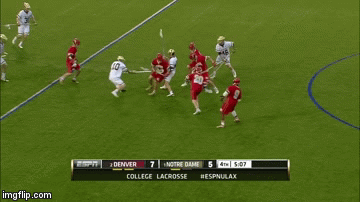 When Notre Dame was up against Duke great Myles Jones, lacrosse media presumed Matt Landis would get the assignment, but it was instead then sophomore Sexton who shut down the nation's top midfielder despite giving up 6 inches and 50 lbs.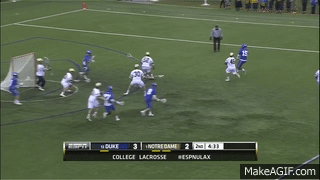 What separates him from most LSMs is that he knows exactly what is going on behind him which allows him to terrorize midfielders in wide-open spaces.  His understanding of when to take risks, and the ability to execute once he does, is without equal at his position in the nation as seen below:
Add this play the John Sexton highlight tape pic.twitter.com/4wyuN3HdXN

— Lacrosse Film Room (@LaxFilmRoom) April 8, 2017
He has played and made an impact in every game since he has stepped on campus.
Why #46Trucking?  If every player on this squad plays like John Sexton, this team will easily be in Foxboro on Memorial Day weekend:  Great team defense, ground ball hustle, "Hangry" faceoff play, push the fast break.  It doesn't hurt that he's a good student, too.
-Special thanks to photographer Morgan Crutchfield for helping us with the lead photo! @CentralMorgan MorganCrutchfield.com