It was the most Navy game imaginable. Eat clock, keep the Irish offense off the field, execute, get a little help from the refs, and wait for Notre Dame to mess up. The Midshipmen played their hand fabulously.
There will be plenty of criticism of the Irish in due course but first it needs to be pointed out that Navy played outrageously consistent and deserve a lot of credit. They scored a touchdown in each quarter, shortened the game to an extreme degree, and checked all of the right boxes to win this game. Good on them.
Now for us!
OFFENSE
First off, there wasn't a whole lot to judge. As you may have heard by now Notre Dame's 6 offensive possessions were the fewest nationally since 2008. As you'd imagine the 56 snaps were the fewest on the season and the least since last year's Wake Forest game when the Demon Deacons inexplicably scored 7 points, mostly sucked on offense, and still hogged the ball for 74 snaps.
Overall, the offense played right around its average level for the year–not really inspiring nor full of a bunch of mistakes.  They didn't really need to play perfect but with the shortened game the margin for error was really small.
TD
FG
PUNT
TD
TD
FG

And we lost.

— 18 Stripes (@18stripes) November 5, 2016
No turnovers, 6.6 yards per play, and nice averages across the board for rushing and passing look plenty fine. It's just with Navy you can't miss touchdowns on half of your drives, even if you only get 6 drives total.
In really broad terms the lack of a cohesive approach against Navy was puzzling. You could say this has always been a downfall for Brian Kelly at Notre Dame. They came out to open the game moving quickly and using tempo while scoring a touchdown. Later, while trailing 14-10 they went super slow and using the ground game heavily. In the second half, the speed was increased and passing the ball was the way to go. What was the gameplan here?
On the second possession the Irish faced a 4th and 2 from the Navy 21-yard line and decided to kick the field goal. Why did the offense go for it on 4th and 4 on the first drive deep in Navy territory and then forego the much more manageanle opportunity on the second drive?
The game looked like it was going to be turned when Navy was stopped on 4th and 4 just inside Irish territory. Notre Dame had a short field and the chance to go up 17-7 and take command of the game. Instead, they tried a 1st down kill shot deep pass (don't hate the play in a vacuum but was it necessary on 1st down?) got behind schedule and went three and out. Instead of 17-7 the Middies went down and scored to make it 14-10 in their favor.
This is what is so inexplicable about this team. Try for kill shots then go super conservative later. No consistency to the approach.

— 18 Stripes (@18stripes) November 5, 2016
Of course, the final Irish possession saw them kick a field goal on 4th and 4 from the Navy 14-yard line. In a game against an opponent where most would agree you have to go for every 4th down attempt deep in Navy territory why did we refuse on 2 of 3 chances?
None of these scenarios are big, dumb Les Miles mismanagement issues there's just a lack of consistency that doesn't make much sense. Kelly has largely been an aggressive coach. Most people wouldn't fault him for trying to go for it on 4th down and yet he chooses the route that leads to greater criticism. It's bizarre.
DeShone Kizer review of the Navy game CLICK HERE.
DEFENSE
There was a point pretty late in this game where I would've commended the way the Irish dealt with Navy's flexbone. Their fullback was largely neutralized and frankly not much of a factor. The slotbacks had a few nice runs–and one long touchdown run–but the defense adjusted fairly well on the edges.
Quarterback Will Worth had about 80 yards more than Notre Dame could handle. Given the volume he handled (28 carries!) it was quietly one of the best QB rushing performances Notre Dame has seen from a Navy offense–even Keenan Reynolds was never this large of a part of their offense against the Irish. Out of those carries Worth gained a first down or touchdown on 13 attempts. That's insanely good production.
It's fair to say that the defense didn't hold up their end of the bargain. Only 4 tackles for loss was disappointing and frankly a couple of out of character playcalls from Navy gifted a couple of those anyway. No turnovers forced when just one would've been huge. Navy converted 12 out of 18 of their 3rd and 4th down attempts. Navy didn't hog the ball for 20 minutes in the second half because the Irish were playing good defense.
FINAL THOUGHTS
We're not going to leave just yet without discussing 3 pivotal moments in this game, all from the second half, and all including poor officiating.
The first ocurred on Navy's 37-yard touchdown run on a key third down. The block on Troy Pride got most of the attention during the broadcast but there is a hilariously illegal block in the back on Julian Love.
Of course, the Notre Dame penalty after forcing a Navy punt late in the 3rd quarter was not without controversy. Not only was there no flag thrown on the play, not only was Devin Studstill with the legal bounds of stepping off the field, but following the game it was discovered the AAC after-the-fact play review was not allowed per the NCAA rule book.
You just have to laugh. It's been one of those type of seasons.
The final play was yet again another horrendously missed block in the back.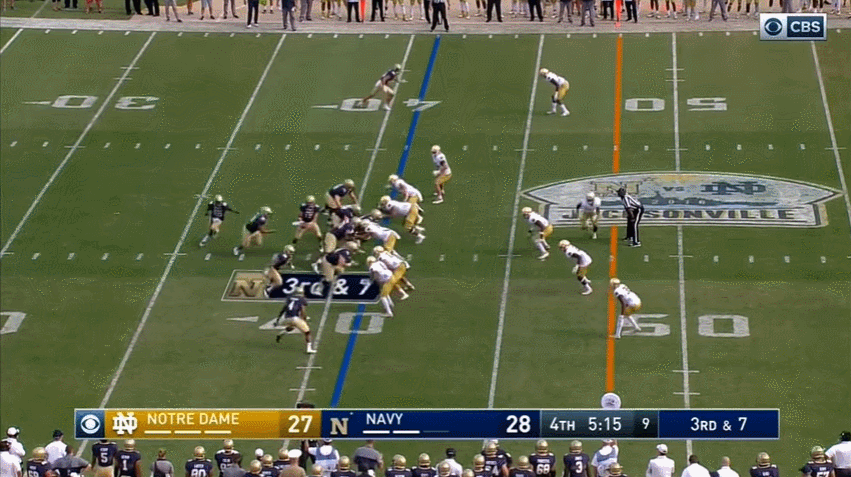 This is from Navy's final drive which would end the game as they ran out the clock. Yet again, another crucial third down. Watch freshman corner Donte Vaughn at the top of the screen quickly recognize the reverse. Once he makes his break Vaughn is a step ahead of the receiver who decides to put his hands directly on Vaughn's back for 9 yards before shoving him to the ground just as a game-saving tackle could have been made.
We rarely complain about officiating around these parts but these are obvious and patently easy calls to make for any officiating crew. Such a shame.