As we nestle into the halfway point of the season, we notice that it's time to revisit our predictions from our staff and commentariat polls right before the season started.
No doubt you remember our hilarious, Caddyshack-themed 2018 preseason prediction post. Well, good news folks;  now that 12-0 is in the books…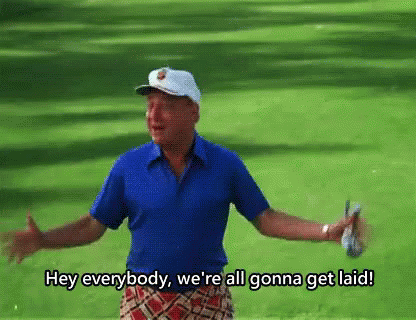 I almost included this all-time classic in the preseason post but I thought I'd try to be a little more appropriate. Now? DM, 12-0.
We also revisited the predictions at the halfway point of this season, but a punch line that ties directly to that would be more tortured so I'll skip it. Out of character, I know, but consider it a gift.
On to the fun!
Big Picture Questions
2018 Record
17% of the staff and 6% of the readers chose GLORY, and damn it, they were right. Another 8% of the staff and 13% of you chose 11-1, so all things considered we were a pretty bullish lot this year. Of note, 8% of the staff and 9% of the readers chose 7-5/8-4. We welcome you under our sunny umbrella, sad people. (Yes, I know "sunny umbrella" doesn't make sense. DM, 12-0.)
Biggest Concern
65% of readers and 67% of the staff picked quarterback play. I wrote at the halfway point that it seemed this concern had been addressed, and I think at this point we can say that it most emphatically has been addressed. Ian Book seized the QB1 job and it looks like he'll have it for the foreseeable future.
The broad array of secondary concerns are mostly non-factors at this point, with the exception of linebacker depth (unknown, thankfully) and offensive line play (flashes of brilliance but uneven). I'm cautiously optimistic about the line play in the postseason, given that Quinn will get 15 extra practices with this group. We had to replace two top-ten draft picks who are justifying their draft position in the NFL, and we lost another likely NFL lineman and captain in the fifth game.
All things considered, it hasn't been bad. Aaron Banks has established himself on the left side, and I think he and Liam Eichenberg are starting to develop some chemistry and timing. Tommy Kraemer and Rob Hainsey will have some extra time to get over nagging injuries that have dogged them all year. They're not Joe Moore Award level yet, despite what that award's finalists list says, but they're trending in the right direction.
Superlatives
Offensive MVP
Brandon Wimbush led all vote-getters in both surveys, taking 40% of your vote and 33% of the staff vote. As we pointed out in the halfway piece, major kudos to the 3% of you who said Book would be the offensive MVP. Well done. I think there's a good debate to be had between Book, Dexter Williams (who also received 0% of the staff vote and 3% of the reader vote), and possibly Miles Boykin as well (8% staff, 9% readers), so I'm not handing #12 the award. But anyone who saw him as a lynchpin of the team's success in August, please let me know what lotto numbers to play.
Defensive MVP
The staff overwhelmingly chose Te'Von Coney, with almost everyone else tapping Julian Love. The readers also clearly picked Coney, with Drue Tranquill second and Love third. Any of them would make excellent choices, as would Jerry Tillery, who wasn't considered by the staff and got just 9% of the reader vote. Some season stats for these stalwarts:
Coney: 107 tackles (59 solo), 9.0 TFLs, 3.5 sacks, 4 PBUs, 5 hurries, 1 INT, 1 FR
Tranquill: 75 tackles (58 solo), 9.0 TFLs, 3.5 sacks, 3 PBUs, 2 hurries, infinity grit
Love: 61 tackles (47 solo), 3.0 TFLs, 15 PBUs (doubly absurd because people hardly ever threw at him), 1 hurry, 1 INT, 1 FR, 1 TD
Tillery: 30 tackles (19 solo), 10.5 TFLs, 8.0 sacks, 5 hurries, 3 FF, 1 PAT blocked
Play of the Year
66% of you and 83% of the staff chose the defense, 26% of you and none of the staff chose the offense, 7% of you and 34% of the staff chose special teams. Much like baseball's MVP award, there were no criteria given and thus at the halfway point many used different criteria to pick their play of the year.
If your main criterion is impact on the season, perhaps you might choose:
Chris Finke's stolen touchdown against Michigan to put the Irish up 21-3.
Jalen Elliot's fourth-down PBU against Vanderbilt to seal the win.
Khalid Kareem's effort and Love's awareness on the scoop and score to change momentum against Virginia Tech.
The fourth quarter go-ahead strike from Book to Boykin against Pitt.
Tony Jones's 51-yard score against USC, which featured yet another crushing Boykin block, to lock down 12-0 and a playoff berth.
If your main criterion is excitement, with bonus points if it came at the expense of a rival, you might choose:
Finke's Michigan score (hey, it can pull double duty).
Tillery and Okwara's strip sack of Shea Patterson to ice Michigan.
The throwback dagger to Alize Mack against Stanford.
Dex's 45-yard score against Stanford, or 97-yard score against Virginia Tech, or 58-yard and 32-yard scores against Florida State, or 52-yard score against USC, or… Well, you get the idea.
Alohi Gilman's soul-crushing PBU-turned-INT-turned-54-yard-return against Syracuse.
There's a lot to choose from, which is a good sign that we had a fun year; I actually have a hard time picking my favorite. There were others in the moment that I might've picked, but looking back at the year I'm going to take Dex's score against Stanford on his first touch of the season. It was a sign of what was to come, a season of redemption for a good kid who couldn't quite put it all together previously. The preseason enigma will leave campus as an all-time favorite, and that first touch is what kicked it all off.
Reception Leader
58% of the staff chose Chase Claypool, 25% chose Boykin, and 8% chose Cole Kmet and Alize Mack. For the readers, it was 62% Claypool, 31% Boykin, 4% Mack, and 3% Kmet. I didn't put Finke in as an option, and man, was that an oversight on my part. Boykin paced the team with 54 receptions, Claypool wasn't far behind with 48, and Finke was nipping the big Canadian's heels with 47. Mack had a very respectable 34 and Kmet had 14. Dex and Jafar Armstrong were the other double-digit receivers, with 13 and 12 respectively.
Impact Freshmen
44% of the readers chose Kevin Austin, 38% tabbed Houston Griffith, and 14% took Braden Lenzy, with the remainder spread around a bunch of guys. 66% of the staff took Austin, while Griffith and Lenzy garnered 17% each. Austin showed some flashes early but seemed to fade, ending in his exclusion from the travel squad for Syracuse and USC. Griffith usurped Nick Coleman as starting nickel early but gave the role back later in the year. Lenzy has yet to play. So neither of us did very well on this question, it would seem.
Tariq Bracy held his own against Pitt and has been part of the CB rotation since, although USC targeted him a bit and any playoff opponent certainly will too. The one guy who has been a quiet, steady presence for most of the season is probably Jayson Ademilola – he played his way into the DT rotation early and closed out playing essentially even snaps with Jonathan Bonner and Kurt Hinish over the final three games. He wasn't on the staff's radar at all and garnered only 0.5% of the reader vote.
Over/Under Lines
5 Wins in the First 6 Games
52% of the readers and 42% of the staff were right. The rest of us were very happy about being wrong.
5 Wins in the Last 6 Games
47% of the readers and 62% of the staff were right. The rest of us were absolutely ecstatic about being wrong.
Average BK team sacks: 24.0
Average BK team TFLs: 71.0
90% of the readers and 100% of the staff took the over on sacks; 94% of the readers and 100% of the staff took the over on TFLs. Smart play, as before postseason play (which is included in the averages) the Irish have registered 31.0 sacks and 73.0 TFLs. As I said at the halfway point, I might have to change this line to an Elko/Lea average rather than a BK average going forward.
10.5 Possessions Versus Navy
45% of the readers and 58% of the staff correctly took the over here. 11+ possessions against Navy usually mean a blowout, 10 or fewer usually mean a dogfight. 12 possessions this year, three-score win. Q.E.D.
4.5 Non-Offense Touchdowns (BK average: 4.0 2.4)
64% of the readers and 58% of the staff took the over on my bad-math line, which was based on an average that I apparently pulled out of thin air. As it turns out we've had only one non-offense score this year, Love's fumble return against Virginia Tech. We had some close calls; Finke returned a punt inside the 10, Gilman returned an interception inside the 10, Coney had near-miss pick-sixes against Stanford (INT and a stumble) and USC (PBU), etc. Maybe the postseason will help…
0.5 Interceptions by Safeties
99% of the readers and 100% of the staff took the over on this tongue-in-cheek line, which hearkened back to the positions incredible (in a bad way) shutout in 2017. Yeah, well, consider this one busted. Elliott and Gilman combined for six interceptions on the season, and each had a couple of near misses as well. I think we have a couple of ball hawks back there.
800 Rushing Yards by Brandon Wimbush
56% of you and 50% of us thought Wimbush would hold his job long enough to get this mark, which is about 150 yards less than his 2017 total. We were wrong, but in the end it worked out, huh? He had 256 yards and isn't likely to add much to that in the postseason, let alone 550 yards.
120 Tackles by Te'Von Coney
48% of the readers and 58% of the staff (including me) took the over on this aggressive line – only Manti Te'o, in 2010 and 2011, has topped this number in the last 26 Irish seasons. Coney had 117 in semi-part-time duty in 2017, which made this seem like a reasonable play at least. He's on 107 tackles now, which means 120 is very much within striking distance in the postseason – consider that he had 17 against LSU in the Citrus Bowl.
8.0 Sacks by Khalid Kareem
Just 21% of the readers and 25% of the staff took the over here, and it looks like they were foolishly optimistic. BWA HA HA… Wait, I took the over. Damn… Kareem had 3.5 sacks at the halfway point, which made this seem in play. He had only 1.0 in the next six games, though, due in part to nagging injuries, a quick-pass strategy designed to neutralize Notre Dame's pass rush, and the steadfast refusal of any referee to call holding.
Long FG of 52.5 by Justin Yoon
41% of the readers and 58% of the staff took the over on a line that was set based on Yoon's career long of 52 yards, set his freshman season against Navy. Yoon missed from 50 against Stanford, which was his longest attempt of the season, and made from 48 against USC, which was his longest make. Something didn't look right on that kick, though; the kid who hit 60-yarders with regularity in camp just barely snuck that 48-yarder over the crossbar. Perhaps the midseason groin injury is lingering, or perhaps it's something else, but the time off before the postseason should help him.
1.5 Games Won by Justin Yoon
44% of the readers and 42% of the staff took the over on this one. Thankfully, we had a stress-free season that featured just two true one-score games (Vandy and Pitt, which were both in doubt late; Michigan, Ball State, and USC were all one-score finals, but not truly in doubt in the fourth quarter). This is a line that I'm very happy to be very wrong on.
4.5 Games Before Dex Gets 10+ Carries in a Game
61% of the readers and 75% of the staff took the over, and we were thunderously wrong. Dex's career high for carries in a game coming into this season was 8, which he hit four times. He had 21 carries for 161 yards in his first action against Stanford, and never had fewer than 13 carries the rest of the way. He averaged 17.8 carries per game, more than double his previous career high.
1.5 Nicco Fertitta Ejections
Just 8% of readers and 25% of the staff took the over, and the clock is ticking big time on this one. Nicco has obviously found a way to channel his aggression into semi-safe methods of destruction, so kudos for that. Just, please, don't sleep on him man. That's when he gets you.
0.5 Red Sox references by Kelly During Shamrock Series Week
81% of the readers and 100% of the staff took the over on what seemed like a conservative line. I only saw one Red Sox reference from Kelly, and it was in reply to a direct question about being a Red Sox fan playing in Yankee Stadium, but fair is fair and this hit the over.
Prop Bets
Who will start at running back against Michigan?
89% of the readers and 100% of the staff chose Tony Jones over the field. Jafar Armstrong somewhat surprisingly got the start, and despite Armstrong's serious knee infection midseason the two were essentially even in touches over the course of the season – 89 for Jones, 83 for Armstrong.
Who will start at running back against USC?
46% of the readers and just 17% of the staff chose Dexter over the field. The staff didn't feel good about trusting Dex all season, and man, were we absolutely wrong. 12-0 doesn't happen this year without Dex. He started against USC and earned that distinction, as well as whatever other plaudits come his way. Well done, Deuce. Well done.
The Irish will have a 1,000 yard rusher in 2018.
32% of the readers and 25% of the staff bought in here. This mark is in sight with postseason play thanks again to Williams, who has 941 yards in just eight games. Even with the quality of defense we'll likely face, he has the ability to get 59 yards on one carry. So stay tuned.
The Irish will have a 1,000 yard receiver in 2018.
30% of the readers and 50% of the staff liked us to hit this mark, and the bears were sharp folks here. Boykin, sitting on 803 yards, has a shot but would need two excellent postseason games. Not impossible, but not something I would lay real money on either. Claypool trails Boykin by a good margin with 631 yards, and Finke trails Claypool with 547 yards.
Who will lead the team in touchdowns scored?
73% of readers and 83% of the staff tabbed Wimbush, based on his 14 rushing touchdowns last season. That possibility went down the drain when he lost his job, of course, so it's not going to be #7. Barring a postseason performance for the ages by Boykin (8 TDs) or Armstrong (7 TDs), it's going to be Dexter again, who currently paces the team with 13 TDs. That's already the most in the Kelly era for an Irish running back, topping the 12 tallied by CJ Prosise in 2015 and Jonas Gray in 2011. Crazy.
Who will lead the team in sacks?
34% of the readers and 42% of the staff took Kareem over the field. Tillery is the current leader with 8.0 and Okwara is just behind him with 7.0, with Kareem as noted above stuck on 4.5. The field seems like it was a wise choice here.
Who will lead the team in interceptions?
A scant 17% of readers and 33% of the staff took Troy Pride over the field. I liked Pride's chances to rack up some numbers given that teams would stay away from Love. He's done well, too, with nine PBUs and two INTs. I never imagined that Jalen Elliott would emerge in such emphatic fashion to lead the team with four INTs. Pride and Gilman are tied for second with two each, while Love, Coney, Coleman, and Okwara each have one.