The bowl season is set and so is the 4th edition of the College Football Playoff. In the end, the Crimson Tide get the controversial 4th seed over Ohio State as the committee just couldn't overlook that 31-point loss to Iowa. Ultimately, this means Alabama lost their final game of the season, didn't win their division or conference, and still got in. The Iron Bowl was kind of meaningless and they got an extra week of rest! Ohio State won their conference, had 3 better wins based on the final poll in comparison to the Tide, but the committee foregoes the opportunity to place a 2-loss team in the Big Dance for the very first time.
ROSE BOWL
#3 Georgia vs. #2 Oklahoma
SUGAR BOWL
#1 Clemson vs. #4 Alabama
The Dawgs and Sooners have never met before so that will add an extra dynamic to what should be a historic Rose Bowl. I believe I read this is only the second time in history that the Rose Bowl won't be featuring a Big Ten or Pac-12 team which to me just shows how silly it was to include the "major" bowls in the playoff rotation. This game should be played in Norman, in my opinion.
Alabama and Clemson will meet for the third straight playoff, with each side claiming the last 2 national championships. They are also tied (3) with the most wins in playoff history. You'd have to think the winner here is favored in the title game. A win for Dabo Swinney would be something else, he'd move to 72-10 (.878%) over the last 6 years with the opportunity for back-to-back titles.
CITRUS BOWL
#14 Notre Dame vs. #17 LSU
The scuttlebutt had the Irish likely matching up against a Big 12 team in the Camping World Bowl, but no! Actually, it's the same stadium. Yes, the Camping World Stadium hosts the Camping World Bowl, Cure Bowl, and Notre Dame's post-season destination in the Citrus Bowl.
Count me as pretty bored with this matchup for a couple reasons. One, this is the 4th bowl meeting with LSU since 1997 and the 4th meeting in Notre Dame's last 13 bowl games. Secondly, this has to be one of the least "name" LSU teams in recent history. Only running back Derrius Guice and linebacker Arden Key were pre-season first-team All-SEC picks and Guice (1,153 yards) wasn't much of a star this year and Key missed 4 games with injuries–although he's expected to suit up in Orlando.
My Favorite Bowl Games
ARMED FORCES BOWL
San Diego State vs. Army
The Black Knights still have Navy this weekend and if they can win that this bowl will be for a chance at a 10-win season. Somehow, Army won 10 games in 1996 but this would be only the second time in school history they hit that mark. The Aztecs with Rashaad Penny (2,027 rushing yards) are a fun team, too. This one kicks off the Christmas weekend Saturday coverage.
FOSTER FARMS BOWL
Arizona vs. Purdue
Assuming Jeff Brohm sticks around the Boilers are searching for their 7th win which would be their most victories in 5 years. That could lead to some nice off-season momentum. Also, speaking of off-season momentum quarterback Khalil Tate and his gaudy 10.1 rushing average are going to be gracing many a magazine next summer. Tune in and check him out.
OUTBACK BOWL
Michigan vs. South Carolina
The rematch!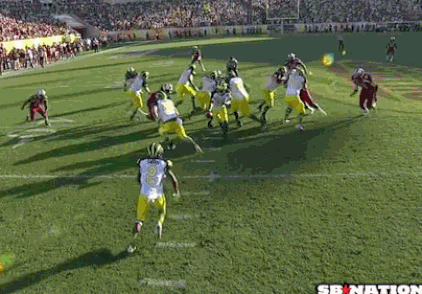 It's crazy that this is only Jim Harbaugh's 7th season wrapping up at the FBS level and he's lost at least 3 games in 6 of those seasons. A loss here would tie for the second most ever by a Harbaugh team, too. Obviously don't forget we open the season next year with Michigan.
PEACH BOWL
#12 UCF vs. #7 Auburn
Scott Frost it technically coaching in this game although he's turned over all of the prep in the coming weeks to his staff. So, that puts a damper on this matchup. The history suggest the plucky underdog losing its coach is going to come out really flat. However, we also have the ability of a seriously disinterested SEC team, too.
ALAMO BOWL
#13 Stanford vs. #15 TCU
These two teams met for a home-and-home in 2007-08 but that was before Stanford began their rise through the national ranks. The Cardinal lost both of those meetings, by the way. A loss here would be 5 on the season for Stanford which would tie for their most since 2009. A win for TCU could springboard them to the Big 12 favorite in a post-Baker Mayfield world.
ORANGE BOWL
#6 Wisconsin vs. #10 Miami
I'm sticking to my prediction that Miami ends the season with 3 straight losses. If so, it'll be interesting to see how the off-season shapes up. It'll still be the U's "best" season in 14 years and yet just 1 game better than 2016 as a fringe Top 15-team. By the way, Wisconsin has never won 13 games in a season so this is a massive program achievement lined up for them despite the disappointment of not winning the Big Ten.
FIESTA BOWL
#11 Washington vs. #9 Penn State
Only the third-ever meeting (PSU won both) and the first in nearly 35 years. For me it feels like Penn State is going to be the far hungrier team. Posting back-to-back 11-win seasons would be a huge deal in Happy Valley. In any event the explosive PSU offense is a great matchup against Washington's stingy defense.
COTTON BOWL
#8 USC vs. #5 Ohio State
Ohio State's reward for failing to enter the playoffs is to play one of the country's hottest and most talented teams! Congrats, guys! This is the first meeting between these blue-bloods in 7 years. Amazingly, the Trojans have won the last 7 meeting stretching back to 1975.