Playboy Magazine has long since passed its prime as a cultural icon in America and across the world and while we won't be covering the fairer sex today I am here to discuss a different set of pictures from the magazine's history: The Pigskin Preview All-American teams. They are truly some of the best photographs in college football history.
For decades* Playboy released a college football season preview in their September issue which was released in late July every summer. It was written by Anson Mount–whose namesake son is now a famous actor on Star Trek and Hell on Wheels–and apparently really well put together with team previews and a pre-season poll to accompany the All-American teams.
*Research indicates Playboy stopped the Pigskin Preview and pre-season All-American teams after 2012. RIP.
At first, Notre Dame players took part in these All-American lists and accompanying photo shoots. At some point in the late 80's the university instituted a policy of not sending Irish players to be photographed. While a bit unusual, there have been several players who have declined through the years none more famous than Tim Tebow in 2008.
Our friends at the old Blue-Gray Sky blog wrote a post on the Playboy All-American teams all the way back in 2006 with a nice list of all the Notre Dame players through the years. As you'll see, 1985 senior captain guard Tim Scannell was the last Irish player in the magazine.
Now, follow me on this journey to the 10 best Playboy All-American photo shoots in history.
#10 1967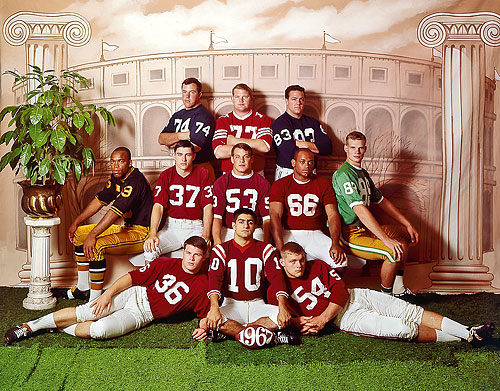 I don't know any of these players and had trouble finding a list of the names, although it looks like it should've been a good year for Alabama. The Roman motif is worth a chuckle and I can't stop looking at that enormous plant on the left–did no one think one on the right would work for balance?
The two players laying down couldn't have been happy about that. Both because it looks ridiculous and I'm pretty sure that 60's astro turf provided second-degree burns upon contact. Also, the guy on the left is that Canelo Alvarez?
The guy sitting on the right with the perfect posture (strike a pose!) is hilarious especially since his counterpart on the left has terrible posture.
#9 2003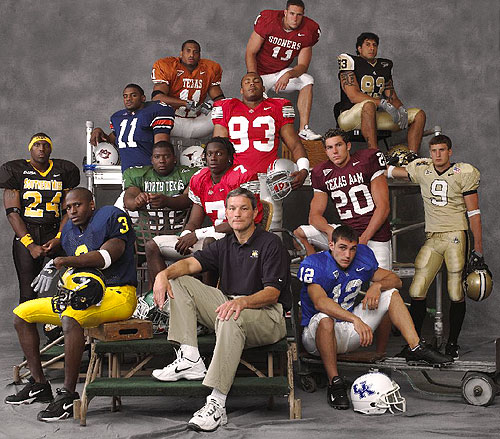 You're a full-blown college football aficionado if you can name one player from this picture. This one is ridiculous for the lack of lengths Playboy went to cover up the seating arrangements. We have a flat bed cart, some steps, and the Michigan guy is sitting on a wooden step-up. Someone definitely banged their shin walking away from this mess.
However, nothing is more important in this photo than the enormously Dad Life vibes emanating from Iowa head coach Kirk Ferentz. He knew exactly what he was doing. He bought a fresh pair of Nike Monarchs from the Coral Ridge Mall in Iowa City and pleaded with the photographer to let him sit in such a way as to show off his white socks–also bought at the Coral Ridge Mall.
#8 1983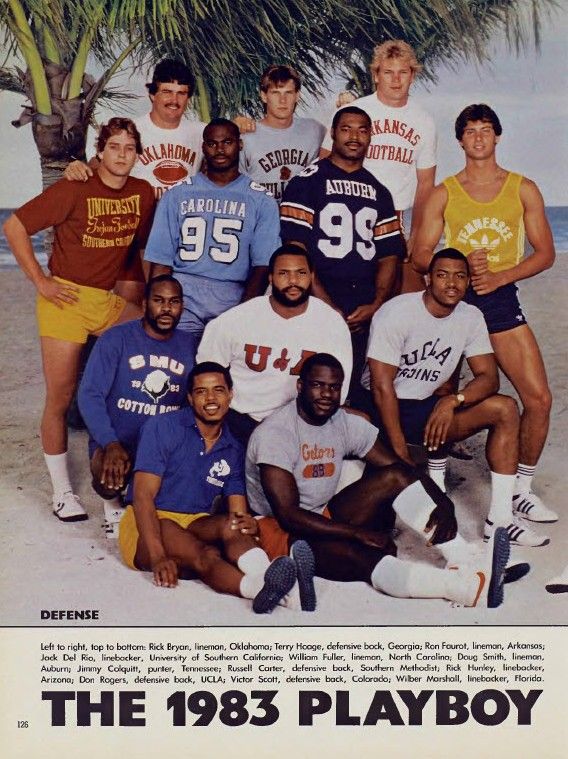 On a handful of occasions these photo shoots turned into something out of Playboy's imagination. While this one was far from the worst it's so unintentionally funny in a way the other leap of faiths are not. Why the beach? Why the socks and the turf shoes on some of the players?
Did the SMU player not have a tee-shirt to wear? Why did the North Carolina and Auburn players wear their jerseys unlike everyone else? I love the old-school blue and gold Colorado colors worn by Barack Obama sitting bottom left–people forget how good of a receiver he was in college. And of course, the Tennessee tank top won't soon be forgotten.
#7 1979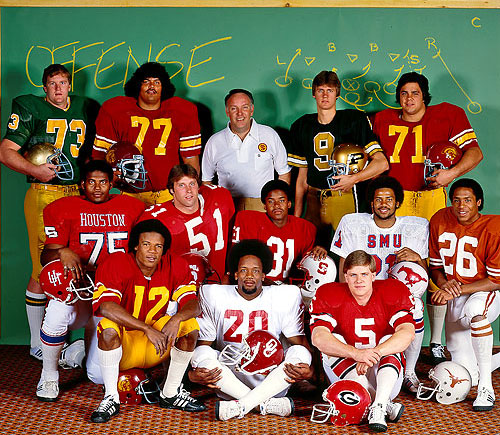 I wanted to include this for Anthony Munoz' (#77) hair.
#6 1984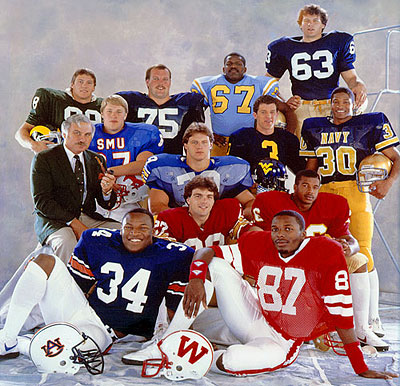 I looked at this picture numerous times and suddenly Doug Flutie appeared out of nowhere in the middle. A Navy player on an All-American team, though? Yup, that's Midshipmen legend Napoleon McCallum who destroyed Navy's school record book before suffering one of the worst knee injuries in NFL history a decade after this picture was taken.
Everyone knows Bo sitting in the front. You know damn well Howard Schnellenberger was bringing his famous tobacco pipe with him for this photo.
#5 1968
The colored lockers are probably my favorite backdrop for any of the All-American photos. Although, it does feel like a lot of work to bring them out onto a football field. I wonder where these lockers are today?
I feel like we could say many things about Terry Hanratty and O.J. Simpson standing right next to each other. And yet #77 from Florida is sticking out like a sore thumb. This guy looks angry! Did he not want to take part in this photo shoot? Apparently he didn't have the pull of Tim Tebow 40 years later.
#4 1995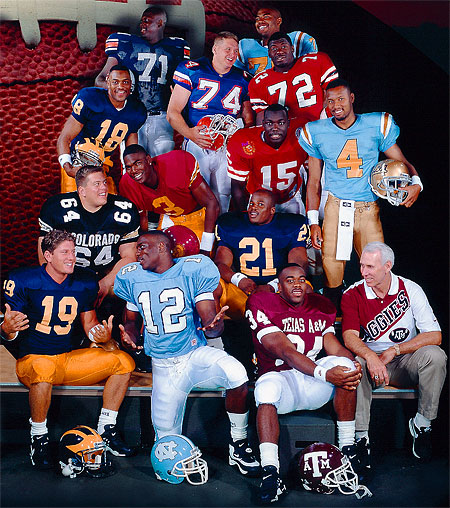 There are a couple of subtle things to notice here. First up top #71 looks like his head was photoshopped. To the right #72 looks like Ed Oliver's dad or something. Maybe it is? I like Tommie Frazier's leaned in look, as well. It's like his eyes are saying, "I'm going to destroy you." He did.
Obviously, what puts this one over the top is R.C. Slocum's vintage 90's polo shirt. It'd be a shame if he didn't show up in a similar looking hat for the full 90's effect.
#3 1978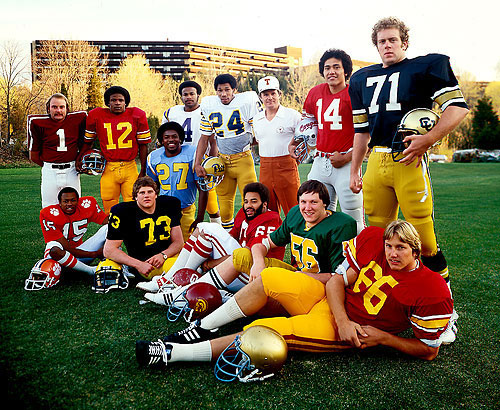 Someone's uncle wandered onto the set for this shoot and was given a #1 Texas A&M uniform. On the right side the fresh-faced #14 man from Wazzu is running back Tali Ena whose stats never really suggested he was an All-American so he's a weird inclusion.
That smirk from notorious prankster Dave Huffman (#56) makes me believe he somehow was able to sneak the Notre Dame helmet to the front of the picture. Sadly, Huffman died in a car accident on his way to the final Notre Dame home game in 1998.
#2 1974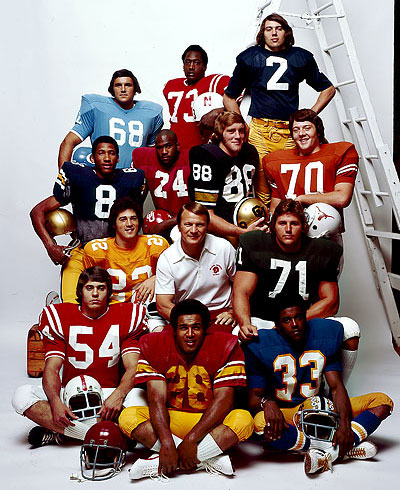 This picture is important for one reason only: bad ass Tom Clements standing above everyone.
In the long history of Notre Dame it's not talked about enough how much swag Clements had in the blue and gold. Is he one of the coolest looking players in program history or what?
#1 1986
Oh my goodness this might be the greatest picture in college football annals. I could write an entire post just on this one alone. There are two guys in the back flipping the bird!
The USC lineman in the back right fashioned his helmet to look like a Viking helmet. The Boz is holding a Texas helmet upside down. Rod Woodson looks stoned. There's someone in a tee-shirt and sunglasses not even facing the camera. Lastly, Jimmy Johnson is right in his element.
Hundreds of years from now when the Super Wikipedia computer explains college football this should be the picture used.