Few athletes receive the hype that was placed upon Clemson true freshman Trevor Lawrence. Few players have matched the hype like Lawrence has through his first season for the Tigers. Coming off a high school career that saw him shatter nearly every Georgia state passing record held by former Clemson star Deshaun Watson, the presence of Lawrence on campus this past spring caused 5-star recruit Hunter Johnson to transfer to Northwestern leaving only returning starter Kelly Bryant as the main competition.
During the last recruiting cycle many commented that Lawrence was the best high school quarterback prospect they have ever seen. In the 247 Sports All-Time Individual Rankings, only one quarterback was ranked higher than Lawrence and that was Vince Young. Lawrence saw plenty of action early this season and fully grabbed the starting role heading into week five. Kelly Bryant then famously left the team immediately and Lawrence hasn't looked back yet.
I was going to name this scouting report "The Perfect Freshman" because after going through all of Clemson's games with Lawrence at the helm I found very few weaknesses. He's just about the perfect quarterback prospect: Tall at 6'6″ with a wiry muscular frame that will eventually add good weight, athletic with quick feet, smooth mechanics, and very accurate. Plus, an absolute cannon for an arm.
During one of the broadcasts earlier this year the announcer mentioned Lawrence threw the ball harder than anyone in the college or NFL. I don't doubt it.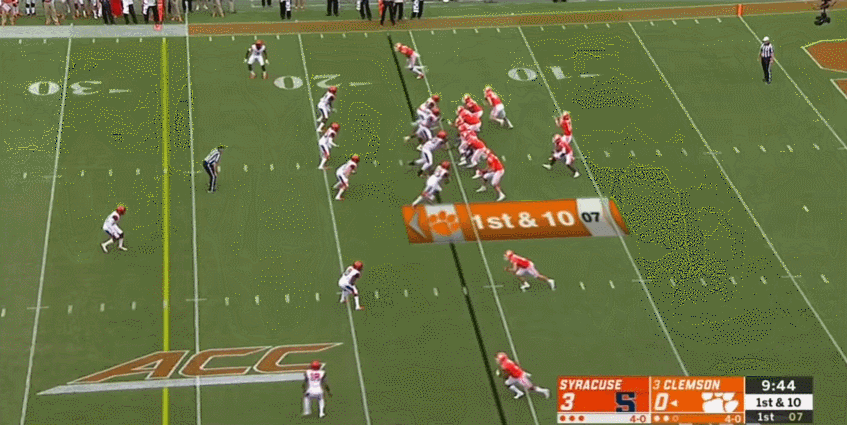 This is the first pass from Lawrence's first start back in late September. It's a ball that travels 22 yards through the air and it's delivered with the speed as if it was a 5-yard slant. When he delivers a ball with confidence it's coming in with extreme authority.
One thing that jumped out immediately to me is Lawrence's skill and productivity working the intermediate middle of the field, just like the first play featured above. He threw his fair share of deep balls but the intermediate stuff is much more difficult and a lot more impressive to me coming from a true freshman.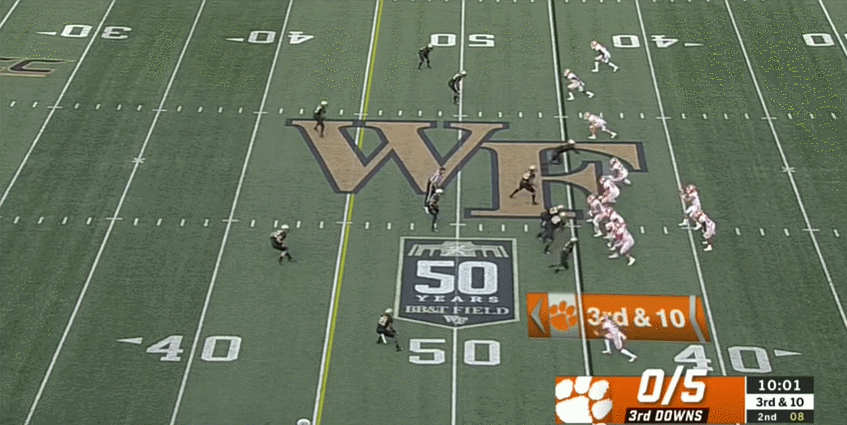 Yes, this is against an awful Wake Forest zone defense but the talent flashed in a 30-yard frozen rope delivered perfectly on time should make any scout tingly on the inside. True freshmen should not be able to drop this behind the linebackers and in front of the safeties with such ease.
Those intermediate routes are important because they could be the difference on a few important throws in the playoffs. Clemson also runs a ton of play-action off their strong run game and is constantly sucking linebackers toward the line of scrimmage allowing Lawrence more room to operate down field.
Like most spread offenses, Clemson makes a ton of hay on short passes (especially screens) to get the ball into the hands of its playmakers. Like we saw in the USC game, the Irish will likely sit off receivers early and hope they can tackle well in space and stall drives before they turn into touchdowns.
The Tigers also utilize a ton of out routes:
Obviously, this isn't a highlight reel throw but I thought it was important to show that Lawrence really has no problem zipping this ball accurately all the way across the field for an easy first down. If Notre Dame plays off, I would expect a lot of these passes to be completed in the Cotton Bowl.
During Notre Dame's last game, JT Daniels showed that he was a freshman who could deliver accurate short passes. A big difference between him and Lawrence is that the latter is a lot more mobile and will have no problem getting outside of the pocket and throwing on the run. If the Irish establish pressure early, expect Clemson to begin moving the pocket for Lawrence.
Lawrence just does not operate like a freshman at all. Clemson sells the run so well, he's able to get outside and then deliver a throw for a first down like it's the easiest thing he's ever done.
Lawrence doesn't run the ball much because Clemson doesn't need him to when their rushing attack is so good. That can be tricky for a spread offense but the Tigers typically overwhelm their opponents with superior talent. However, Lawrence sells the option-read terrifically. He has long limbs, and he's really patient reading the play and keeping the ball hidden in the running backs mid-section.
Technically, you could ding Lawrence for misreading the option all the time. An overwhelmingly amount of snaps against Clemson saw the defense flow toward the running back while Lawrence gave the ball away. I'd expect him to be a little more open in the playoffs and take advantage of the space created because he's a dangerous enough athlete with the ball as a runner.
I was pretty shocked at how polished Lawrence was at his age. If there was a weakness it's something most young players deal with early in their careers. When Deshaun Watson was being analyzed for the NFL Draft he was criticized for running a simple offense that only scanned half the field with 2 reads max. Even if that's a little exaggerated the same applies mostly for Lawrence as a freshman.
When facing pressure, at times Lawrence wasn't always comfortable and you can see him relying on his big arm while not reading the field very well.
Clemson's pass protection was very good this year but once and a while Lawrence wouldn't deliver a confident ball if the pocket began to collapse. On this throw, he's locking on a receiver and throws a dangerous pass across the field. Luckily, his arm is strong enough that it wasn't intercepted like it would be for many other quarterbacks.
The biggest weakness I found was Lawrence drifting laterally out of the pocket in the face of pressure, especially early in the season. He's really not a scrambling quarterback and places a premium on moving out of the pocket in order to throw the ball down field.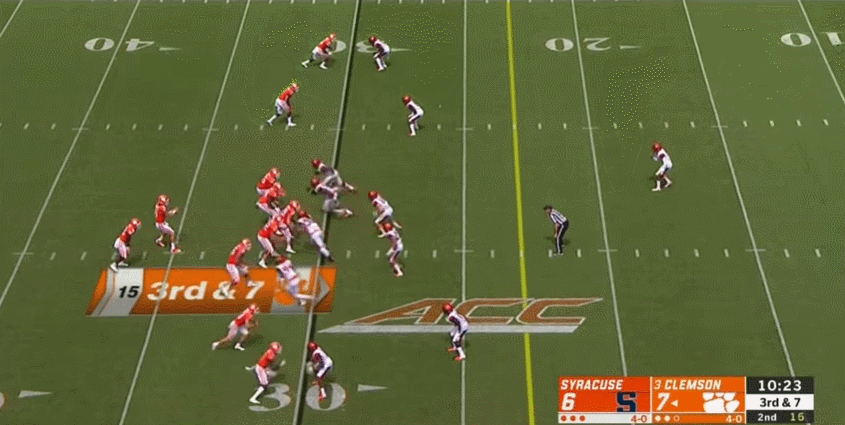 Not surprisingly, Lawrence showed his age in his first start against Syracuse. On numerous occasions he tried to run out toward the sideline to avoid pressure with poor results. Later in the game against the Orange, he'd be injured on a similar play where he broke out to his left and got pasted along the sideline after trying to avoid a loss of yards.
Bad news, Lawrence got a lot better in the pocket as the season progressed. He stopped drifting as much and when the pocket began to collapse he stood tall and delivered the ball much more confidently.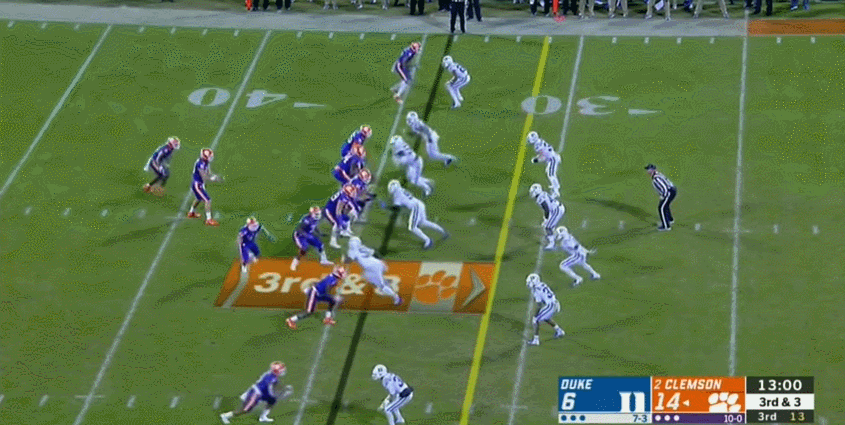 This third down throw against Duke is a great example. Clemson's line gets walked back and instead of panicking, Lawrence waits to the last second to throw a dart to keep the drive alive.
Final Thoughts
There are a bunch of highlight-worthy throws that Lawrence made this season which aren't featured here today and I'm sure you will see many of them leading up to December 29th. My purpose was to show that Lawrence has a shockingly small amount of weaknesses for his age and experience, and that paired with his tremendously high ceiling he's a scary quarterback to prepare for even as a true freshman.
My initial reaction is that with a month of practices be ready for Lawrence to look as good as we've ever seen and for Clemson's offense to do some serious damage at times. They will be presenting a tough running game with a strong passing game like the Irish haven't seen this year. I look at their offense and I see exactly what Notre Dame would like to be with Phil Jurkovec in the future. Except, that future is now for Clemson and Lawrence is potentially a once-in-a-generation type of player.
Clemson's offensive line absolutely will have to perform poorly for Notre Dame to win, I believe. Clemson will have success in their short passing game–similar to USC–except the Tigers have slightly more talented receivers and far more physical receivers than the Trojans. Slowing down Clemson's running game, getting their offense into third and long, with Lawrence reacting poorly to pressure from Notre Dame is going to be so important for a victory.
The Irish got a significant bump from switching to Ian Book after a few games this season. While Clemson's offense wasn't struggling nearly as much as Notre Dame's under Brandon Wimbush the Tigers still improved from Kelly Bryant to Trevor Lawrence. Their top 3 yardage and yards-per-play games all came under Lawrence and they averaged almost 7 more points per game with the true freshman. According to S&P+ this Clemson offense is 7th nationally but with an emerging Lawrence factored in it's likely not far behind Oklahoma and Alabama for the best in the country.