I've been on a quest this summer to find the most awful logos in sports. I didn't have a ton of rules except I didn't want to include American colleges, you had to be a current franchise, and I held some of the major North American sports to a much higher standard than other teams across the world. Minor league baseball alone–a world where the silly, goofy, and cartoonish are the standard–could have filled 90% of this list very easily.
Let's get to the amazingly bad!
25. Detroit Pistons
Is it fair to say the Pistons are one of the more storied franchises in the NBA? At least, they are one of the older ones as they've been in Detroit for over 60 years. Can't someone make a decent logo with an actual piston? This throwback to their 80's logo is not good.
24. Nebraska Danger
This is a team from the Indoor Football League who decided they wanted a logo that best resembles a second-tier kids ride at Six Flags. Actually, did they nail their clientele?
23. Jacksonville Jaguars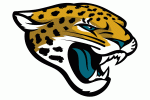 If the 2010's have taught us anything it is that going more life-like with animals really doesn't work. This re-tooled logo from 4 years ago is by far the worst in the NFL.
22. Detroit City FC
Is the "Spirit of Detroit" statue pretty cool? It's okay. Am I the only one who looks at this logo and sees the statue doing Ace Ventura air humps? Plus, the arms breaking past the background shield are an odd twist.
21. Vegas Golden Knights
A handful of NHL teams (Phoenix, Dallas, Winnipeg) deserve mention for this list. The country's first major American sports team in Las Vegas could've gone with maybe a million different logos that would've bested this boorish and generic video game attempt.
20. Oklahoma City Thunder
The "Thunder" is a cool name but hard to implement. I'll give OKC a little bit of a pass there but come on, you guys. This logo is such a poor attempt the franchise should be forced to move back to Seattle.
19. Harlequins
Full disclosure I secretly love this silly logo, especially because it's for an English rugby club in Twickenham, London. Do they wear diamond patterned uniforms? You're damn right they do!
18. Indianapolis Indians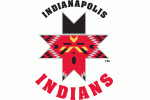 I dig the colors and Native American designs here. I also feel like this logo was borne from a bad acid trip and will haunt your nightmares if you stare at it for too long.
17. AK Bars Kazan
This Kontinental Hockey League logo is a combination of an evil 1980's Latin American cartoon cat with an Rome side-street tourist colored banner. The Russian letters are just the cherry on top.
16. Kilmarnock FC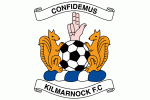 Look at this thing, no really look at it. A pair of squirrels on a candy cane thing. And what is that hand doing? Most people don't even know that "Confidemus" means "rectal exam" in Latin.
15. New Orleans Baby Cakes
Man, it's almost as if God decreed the Saints would have a good logo and then cursed New Orleans with never having a good logo for their city ever again. Of course, he's sitting in a local "baby cake" and not a larva baby. Which everyone gets.
14. Colorado Rockies
I'm not saying the Rockies original logo was anything memorable but in comparison to this? Just a terrible font and boring faceless logo. Look at how the silver doesn't extend through both letters completely.
13. Esbjerg fB
This Danish soccer team's logo is straight out of Fat Albert and the Cosby Kids.
12. Kannapolis Intimidators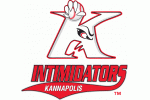 Minor league baseball back in the list again. Does Dale Jr. own stock in this club? Well, he should.
11. Catania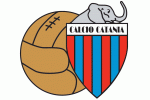 The thing about Italian Serie A soccer teams is that they are almost all awesome logos. Well, except for maybe Napoli and definitely this amateur hour crest. That's a tiny elephant!
10. Lansing Lugnuts
Let's just say if you're going to use a lugnut for a logo what expressions could you give it if you wanted to have some animated version? Angry? Happy? Serious? This minor league baseball team selected, "I pooped my pants."
9. Philadelphia Passion
I believe women's lingerie football technically counts as a professional league? This barely qualifies as a logo, though.
8. Nippon Tornadoes
This Japanese basketball team plays in the International League. I'd pay $50 just to be able to go back in time and be in the room when this logo was pitched to the owners.
7. Philadelphia Fury
Is the ball melting? Is it covered in mud? Is it actually a chocolate chip cookie soccer ball?
6. Saskatchewan Rush
A Canadian lacrosse team is called "Rush" and they DON'T have a logo of a 360-degree Neil Peart drum kit?
5. Revier Lowen
Okay, I included one team that is now defunct. This comes from the German hockey league and is so terrible and goofy it had to be included.
4. Jersey Blues FC
I haven't actually found quality evidence that this National Premier League Soccer team exists. Nevertheless, they have perhaps the blandest logo in the world AND it's a direct ripoff of Ducati motorcycles.
3. Warriors FC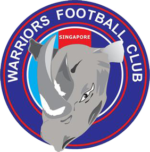 This Singapore soccer team went through a re-brand and decided to put the world's worst drawn rhino just all up on their logo.
2. Ogden Raptors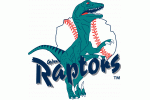 Sadly, during the last minute I found out this logo was recently updated. I'm keeping it in the list. This is 100% a logo that came after way too much cocaine in 1994 following a VHS viewing of Jurassic Park.
1. Michigan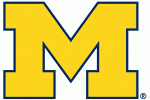 Okay, we'll allow one college program.