The judging of uniforms is back. I went through the Power 5 programs and noted a handful who desperately need a makeover. I originally had a list of 5 but decided to spare Mississippi State as they've made some solid improvements in recent years.
The others here today, not so much. Write in the comments your makeover submissions.
Baylor
Once upon a time, Baylor was a model program for how to pull off green and gold. As Robert Griffin III increased the school's profile the Bears decided to start messing with their uniforms after he left and they've been on a twisted and poor sartorial journey ever since.
Baylor's problems started in 3 areas. One, moving to a darker green. Two, embracing sandstorm gold. Three, generally adopting the Oregon plan* for little uniform cohesiveness from week to week.
*Ironically, Oregon is now a lot more uniform in their look than several other programs today.
Even with bold pants stripes, RG3-led Baylor looked super sharp. Also, don't sleep on how good Baylor looked back in the day when Mike Singletary was prowling on defense.
For 2018, Baylor wore 6 different helmets, 4 jerseys, and 4 pants and no combinations looked worth the effort. In fact, I'd say right now Baylor has the worst uniforms in their school history.
Something needs to be done. Embracing white numbers and a shinier gold feel like easy decisions if the school isn't going to dial things back to a more throwback look.
Florida State
I'm a big believer in a uniform change giving a team special powers to re-brand and win a championship. See the 1998 Denver Broncos and 2007 Anaheim Ducks as teams who won a title immediately after changing uniforms.
Florida State, on the other hand, won the 2013 National Championship and then decided it was time to mess with their uniforms after renegotiating their deal with Nike. I think some people have warmed up to their new look but I remember the re-brand being universally panned by critics.
It didn't help that the Seminoles briefly wore these hilarious road jerseys with gold numbers that caused everyone to squint just like Jameis Winston. Also, notice that bright almost neon manila helmet from early 2014 in the above link? Yup, those were boo'd off the field and later scrapped.
Seems like if you do a re-brand and immediately have to make significant changes things didn't go well.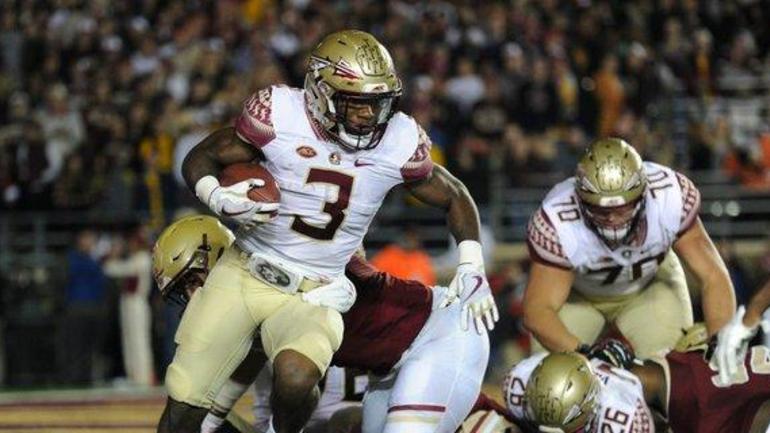 Back when the Seminoles visited South Bend in 1993 their uniforms were underrated for their simplicity. Their jerseys were about as plain as you'll find and only the Seminole hip patches and tomahawk helmet stickers provide a little flash. By the late 90's, they added a Seminole pattern to the collar and sleeve for one of the sharpest looks in college football.
Now, FSU has the weird hieroglyphic patterns plastered all over their jersey and the gold numbers ruined what used to be one of the best home uniforms in college football.
Louisville
I will say this nice thing about Louisville first. Their 2018 traditional home uniform inset below actually isn't that bad. But I'm being kind and it's a low bar because overall the Cardinals have a heinous set of uniforms.
To be fair, Louisville has found it difficult to settle on a strong identity. They used to look like NC State and the Arizona Cardinals had a baby. They really led the way in many areas for moving toward a bold look that is so early 2000's that it hurts (love those numbers though to be honest).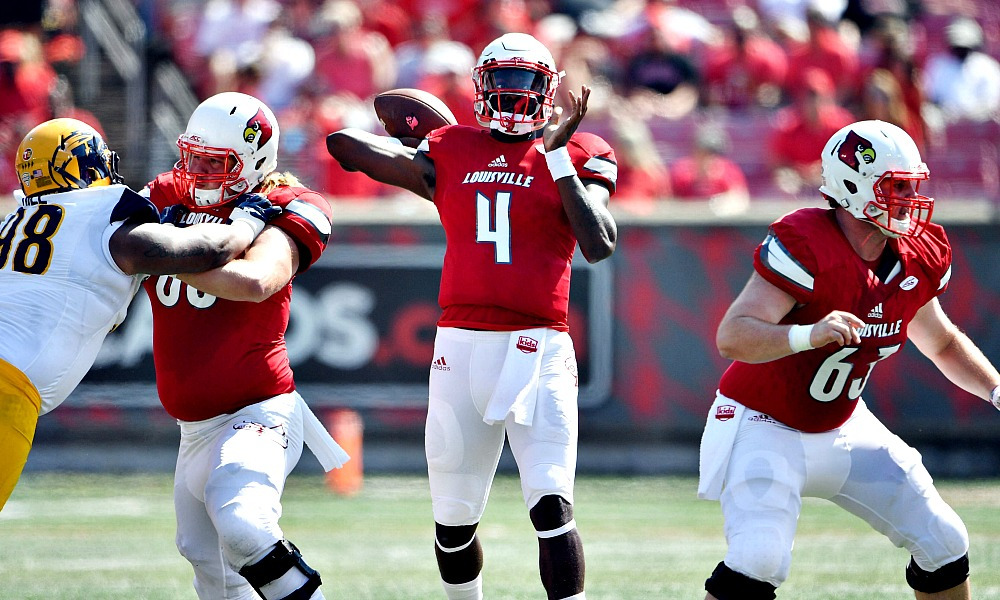 Adidas has ruined many uniforms throughout the years and even though they've come around to improve several programs (Miami, most especially) Louisville is still out there crying for help.
Look at THIS uniform for goodness sake! The Ed Hardy hip logo! The iron-on numbers! The tiny script! The dumb bird wing on the shoulder!
USC
Is this the most overrated uniform in college football?
I'm personally not a fan of this color combination especially when there's another major conference team that looks so similar. If you were starting a college program today this would be one of the last colors you'd want to pair together. Perhaps the colors of a trojan warrior are important to mimic but if that's the case maybe USC's helmets should be gold or at least bronze colored like THIS guy?
I think the really boring shoulder stripe bugs me more than it should. I know that tradition goes way back but come on USC didn't even use a helmet logo in those days. The stripes used from the 1970's through the 1990's was a far better look, too.
USC's helmet deserves far more criticism, in my opinion. Their logo is really blob-y and hard to make out from any distance. They've used it for years and it's never felt like a college football tradition worth keeping. I'm a Tommy Trojan truther and think it looks better. But something else would work better than the current version.