I created a primer to this project which explains the way we'll be ranking all 185 players. It will be a pyramid structure and as we ascend the players will get better and better. Follow along this off-season as we preach about all the wonderful talent that has played for Notre Dame.
Level 1, Wing 1
Level 1, Wing 2
Level 1, Wing 3
Level 2, Wing 1
Level 2, Wing 2
Level 2, Wing 3
Level 3, Wing 1
Level 3, Wing 2
Level 3, Wing 3
Level 4, Wing 1
Level 4 Wing 2
Today, we finish the pyramid and rank the very best Fighting Irish of all-time.
ICONS
National Champion
Consensus or Unanimous All-American
Major CFB Award
10. Frank Carideo, QB, Mount Vernon, New York (1928-30)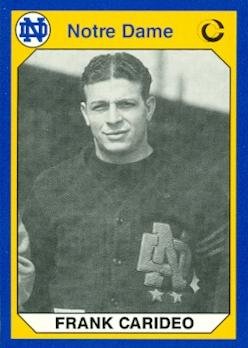 Carideo is 1 one of 4 players in Notre Dame history to be awarded unanimous All-American honors on two separate occasions. For as much attention as he received as a quarterback he was equally impressive elsewhere on the field. His 151 interception return yards in 1929 is the 3rd most in a season while his 947 punt return yards is the most in school history. As a two-year starter the Irish never lost and won National Championships in both 1929 and 1930. The Heisman Trophy wouldn't exist for 5 years after he stopped playing but most agree Carideo would've won the award in 1930. He was inducted into the College Football Hall of Fame in 1954.
9. George Connor, DT, Chicago, Illinois (1946-47)
Connor played at Holy Cross for 2 seasons before enlisting in the World War II fight and was recruited during his service by Frank Leahy to transfer to Notre Dame. Connor would oblige. In his 2 seasons with the Irish he would win consensus All-American honors each year and was the first-ever recipient of the Outland Trophy. A two-time National Champion, Connor was inducted into the College Football Hall of Fame in 1963.
8. Rocket Ismail, WR, Wilkes-Barre, Pennsylvania (1988-90)
I'm making up the 500-600-100-300 club because Rocket is the only player in school history to gain those yardages for rushing-receiving-punt returns-kick returns in a single season. He's 6th all-time in career all-purpose yardage while only playing 3 seasons for the Irish. Rocket's 22.0 yards per reception remains the best mark in Notre Dame history while he averaged 7.7 yards per rush over his career which is the best in school history although he fell just 19 carries short of the 150 mark to qualify for the record books.
Like Tim Brown, he scored 6 special teams touchdowns at Notre Dame tied for most in school history. Rocket was named an unanimous All-American in 1990, finished 10th in 1989 Heisman voting and controversially 2nd in the 1990 Heisman race. He won a National Championship as a freshman, took home the Walter Camp Award after his junior year, and will be a 2019 inductee into the College Football Hall of Fame.
7. Angelo Bertelli, QB, West Springfield, Massachusetts (1941-43)
Bertelli was a running back who threw the ball a lot in 1941 before Frank Leahy changed the offense to put his budding star under center in a traditional quarterback role. He would throw 28 touchdowns over his career a school record that stood for a quarter century. Bertelli has the 7th best winning percentage for a starting Notre Dame quarterback, while also punting and being excellent on defense–intercepting 8 passes in 1942 alone. He would finish 2nd and 6th in the Heisman races his first two years before taking home the award after just 6 games in 1943 as he was sent off to war. Bertelli won a National Championship in his final season and was inducted into the College Football Hall of Fame in 1972.
6. Johnny Lattner, RB, Chicago, Illinois (1951-53)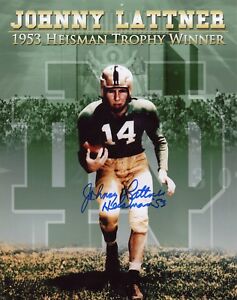 Lattner did a little bit of everything for the Irish. He remains tied for the 3rd most career interceptions at Notre Dame, he punted, and his 41.4 kickoff return average from 1953 remains the 2nd best mark in school history. Lattner totaled 1,726 rushing yards over his career and when he graduated his 613 receiving yards were the most-ever from a running back in Irish history. He was a two-time unanimous All-American in 1952-53, finished 5th in the Heisman as a junior, won the Heisman as a senior, and incredibly won the Maxwell Award twice. Lattner was placed in the College Football Hall of Fame in 1979.
5. Paul Hornung, QB, Louisville, Kentucky (1954-56)
Hornung played all over the field in his career but was most effective and remembered as a quarterback and safety. He still remains the only player to win the Heisman from a losing team. Hornung famously led the Irish for 1956 in passing, rushing, scoring, kickoff returns, punt returns, and punting while finishing second on the team in tackles and interceptions. He was a consensus All-American in 1955 (not in 1956, despite winning the Heisman) and finished 4th in the Heisman race as a junior. Hornung was inducted into the College Football Hall of Fame in 1985.
4. George Gipp, RB, Laurium, Michigan (1917-20)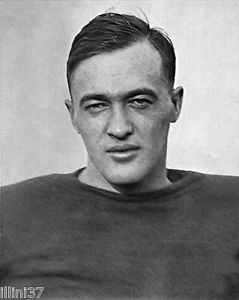 According to Knute Rockne it was Gipp who was the best all-around football player he ever saw, dying tragically just 3 weeks after his final game for the Irish. A four-year player for varsity he led Notre Dame in rushing and passing each of his last 3 seasons. Gipp's 2,341 rushing yards stood as the most in school history for 58 years and still remains 8th all-time at Notre Dame. His 8.1 yards per rush in 1920 is still the best mark in a season by an Irish player. Over his last 2 seasons Notre Dame never lost and he famously never allowed a completion to a receiver he was covering on defense. As a passer, Gipp's 9.2 yards per attempt as a senior is the best ever for a season at Notre Dame. He was named a consensus All-American for 1920 and was inducted into the College Football Hall of Fame in 1951.
3. Ross Browner, DE, Warren, Ohio (1973, 1975-77)
To this day, some of Browner's accomplishments don't even seem real. He totaled 340 tackles over his career which at the time was the 2nd most in school history and remains the most by a defensive lineman by 50 tackles. As a freshman, he made 68 tackles which was a school record, now 2nd all-time. Browner recovered a school-record 12 fumbles and his 28 tackles for loss during the 1976 season is the best mark at Notre Dame by a mile.
Perhaps the best record is Browner's 77 career tackles for loss for an unbelievable 515 yards lost–nearly double second place in Irish history. He was a two-time unanimous All-American, finished 5th in the 1977 Heisman race, and won the Lombardi, Outland, and Maxwell Trophies in addition to a pair of National Championships. Browner was placed into the College Football Hall of Fame in 1999.
2. Johnny Lujack, QB, Connellsville, Pennsylvania (1943, 1946-47)
Lujack took over for the war-departed Angelo Bertelli at quarterback for 1943 and finished the season off with a National Championship even though the Irish lost in the finale to the assembled all-star squad Great Lakes Navy. It would be Lujack's only loss as starting quarterback as he went undefeated over 1946-47 when he returned from his own military service. His .932 winning percentage as a starting quarterback remains the best mark in Notre Dame history.
For his career, Lujack was named an unanimous All-American over his last 2 seasons, finishing 3rd in the Heisman race as a junior then winning it as a senior. A fantastic defensive back, Lujack's touchdown-saving tackle of Army's Doc Blanchard in 1946 is his most famous play that preserved a tie and title for the Irish. Lujack was inducted into the College Football Hall of Fame in 1960 and is currently the oldest living Heisman winner.
1. Leon Hart, DE, Turtle Creek, Pennsylvania (1946-49)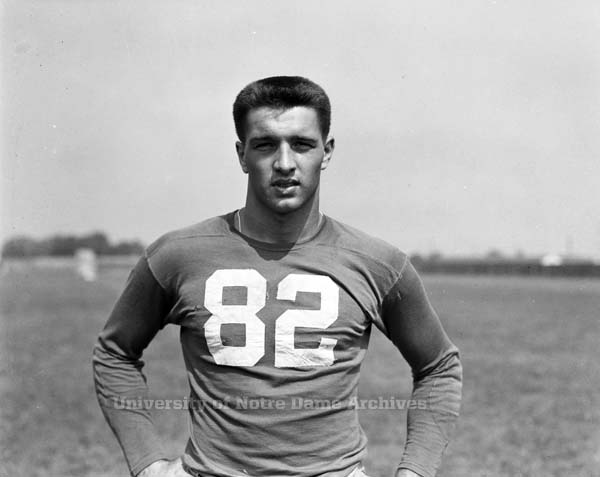 Hart was a hulking 6'4″ 240-pound freshman who was able to achieve the seemingly impossible by seeing significant playing time as a 17-year old on the 1946 team that was littered with war veterans 5 or 6 years older than him. He was the crown jewel of the '46 recruiting class dubbed the greatest in college football history that won 46 of 48 games and never suffered a defeat over their 4 years on campus.
Hart would pick up All-American honors over his last 3 seasons, winning unanimous selection as a junior and senior. On defense, he was a devastating end with power and speed. On offense, Hart was deployed at tight end and occasionally in the backfield at fullback. For his career he totaled 49 receptions for 751 yards and averaged 5.1 yards per rush. He was co-captain of the 1949 team and finished his career with 3 National Championships. Hart was AP Male Athlete of the Year for 1949, won the Maxwell Award, and the Heisman Trophy in a blowout victory to cap off his incredible run at Notre Dame.
If that wasn't enough, Hart was senior class president and majored in mechanical engineering.