Coming out of the Cotton Bowl Classic loss to Clemson many Fighting Irish fans have turned their eyes toward recruiting and the quest for the elusive 5-star talents. Today's post was going to be an off-season project either way but following our meeting with Clemson I figured I'd roll this out now.
I had been looking over the 247 Sports All-Time Composite List in recent weeks and wanted to compile more information on the 5-stars to see if anything worthwhile needs to be talked about for Notre Dame.
Obviously, for anyone who follows recruiting even cursorily most of what follows will not be surprising. The All-Time Composite goes back to the 2000 cycle and includes 702 players, 31 from the 2019 and 2020 classes who are not committed to a school yet.
Yes, the blue-bloods dominate.
The top 6 schools in accumulating 5-stars gobbled up 43.9% of them all. The top 10 schools signed 61.5% and the Top 16 schools signed 78.5% of all the 5-stars. The average Power 5 school signs a 5-star roughly once every 5 years and has 3 to 5 signed over the last 20 cycles. A few of the teams at the top have signed that many in one cycle before.
The sad Power 5 programs who haven't signed a 5-star since 2000 include: Wake Forest, Duke, Iowa State, Kansas State, Texas Tech, Kansas, Indiana, Northwestern, Purdue, Minnesota, Washington State, Utah, Arizona, and Vanderbilt.
Here's the full list for your perusal:
School/Position of 5-Star Recruits (since 2000)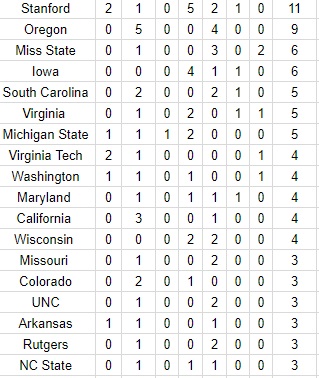 Teams to sign 2: BYU, West Virginia, Nebraska, Kentucky, Illinois, Pittsburgh, Baylor
Teams to sign 1: Houston, Louisville, Arizona State, Southern Miss, Boston College, Georgia Tech, Oregon State, Syracuse, TCU, Oklahoma State
So, let's talk about Notre Dame's place in all of this. Here are all of the Composite 5-stars signed by Notre Dame since 2000 with their all-time national ranking in parentheses:
QB: Jimmy Clausen (t-42), Dayne Crist (t-476), Gunner Kiel (t-509)
ATH/RB/WR: Michael Floyd (t-357), James Aldridge (t-536), Duval Kamara (t-696)
OL: Sam Young (t-138), Mark LeVoir (t-480), Tommy Kraemer (t-689)
DL: Aaron Lynch (t-212), Victor Abriami (t-577)
LB: Jaylon Smith (t-48), Manti Te'o (t-88), Ishaq Williams (t-466)
DB: Max Redfield (596)
Obviously, only 15 players isn't an impressive number and needs work. We should note it's kind of silly to make too many bones out of something going back so far to 2000. Tennessee is a good deal ahead of the Irish on this list but packed the majority of their 5-stars in the first half of this 20-year period. Then again, you look at most of Alabama's 5-stars coming over the past 10 years and it's downright scary the run that they are on since Saban arrived.
One thing that jumps out is that not all 5-stars are created equal–we're talking about hundreds of players–and Notre Dame has really, really struggled getting the top-tier recruits from within the 5-star ranks. The Irish only have 3 among the Top 200, the same as Penn State. In the same northern region, Michigan has signed 5 and Ohio State 11 total. The Buckeyes having just 4 fewer Top 200 all-time guys than Notre Dame has in the Top 702 is a huge discrepancy.
It's often talked about how random 5-star talents can pan out but when you get to the absolute top and look through the Top 100 5-stars there are very few misses. Almost everyone excelled in college. It's no wonder why Notre Dame's trio of Top 100 guys all finished their careers in South Bend as great players–both Teo' and Jaylon were Butkus Award winners and Clausen garnered some All-American love after his excellent 2009 season.
In the comment section of the Cotton Bowl review I made the case that the Power positions, specifically OL and TE, are overrated in today's game. When you look this list of players for Notre Dame it's abundantly clear that speed is sorely lacking.* Only 4 players who were 5-stars at running back, wide receiver, or defensive back is horrid for adding the best of the best at the speed positions. The top 6 added on average just under 22 of these players over the same time period.
*Although, there's plenty of room for growth at offensive line and tight end, as well. Would anyone believe the Irish haven't signed a Composite 5-star tight end? They've come as close as you can–Kyle Rudolph is the highest rated 4-star in the all-time rankings. 
The location of the best recruits is often talked about, as well.
Top 100 All-Time via States
California: 19
Florida: 16
Texas: 13
Georgia: 6
Louisiana: 6
New Jersey: 5
Maryland: 4
Pennsylvania: 4
Alabama: 3
South Carolina: 3
Virginia: 3
Washington: 3
North Carolina: 2
Colorado: 1
Delaware: 1
District of Columbia: 1
Hawaii: 1
Indiana: 1
Kansas: 1
Michigan: 1
Minnesota: 1
Mississippi: 1
Missouri: 1
New York: 1
Ohio: 1
Tennessee: 1
Seeing 60% of the recruits from the top 6 states is hardly surprising. Notre Dame's traditional strong-hold states in the northern region of the country featured 12 players overall with the Irish signing 1 of them, Jaylon Smith from nearby Fort Wayne. Certainly, more work could've been done in the states of New Jersey and Pennsylvania where Notre Dame should always have among the strongest presence.
What about the movement of these all-timers?
Top 100 Recruits Who Left Their Region:
2016 Rashan Gary (NJ) to Michigan
2010 Ronald Powell (CA) to Florida
2000 D.J. Williams (CA) to Miami
2000 Brock Berlin (LA) to Florida
2007 Joe McKnight (LA) to USC
2012 Mario Edwards (TX) to FSU
2011 Cy Kouandjio (MD) to Alabama
2014 Jabrill Peppers (NJ) to Michigan
2009 Bryce Brown (KS) to Tennessee
2019 Kayvon Thibodeaux (CA) to Oregon
2005 Eugene Monroe (NJ) to Virginia
2005 Patrick Turner (TN) to USC
2002 Lorenzo Booker (CA) to FSU
2016 Greg Little (TX) to Ole Miss
2006 Percy Harvin (VA) to Florida
2010 Seantrell Henderson (MN) to Miami
2007 Jimmy Clausen (CA) to Notre Dame
2018 Eyabi Anoma (MD) to Alabama
2017 Najee Harris (CA) to Alabama
2006 Vidal Hazleton (VA) to USC
2003 Kyle Wright (CA) to Miami
2000 Travis Johnson (CA) to FSU
2008 Darrell Scott (CA) to Colorado
2014 Da'Shawn Hand (VA) to Alabama
2008 Will Hill (NJ) to Florida
2010 Dominique Easley (NY) to Florida
2007 Ryan Mallett (TX) to Michigan
2000 Kwame Harris (DE) to Stanford
2006 Myron Rolle (NJ) to FSU
2009 Manti Te'o (HI) to Notre Dame
2016 Jacob Eason (WA) to Georgia
2006 Matthew Stafford (TX) to Georgia
Almost a third went outside of their region although 23 moved to either a SEC school, Miami, Florida State, or USC. Out of the 30 current 2019 5-stars who have committed a total of five have left their region in addition to Thibodeaux listed above:
Daxton Hill (OK) to Michigan
Garrett Wilson (TX) to Ohio State
Antonio Alfano (NJ) to Alabama
Harry Miller (GA) to Ohio State
But wait! Shouldn't we include the high 4-stars too? Here's a list of all of those commits (0.950 Composite minimum) over the last 10 cycles for comparison to Notre Dame:
High 4-Stars Signed Since 2010
Alabama – 69
Ohio State – 55
USC – 51
Notre Dame – 31
Michigan – 24
Clemson – 22
So, it appears Notre Dame closes the talent gap a little bit here compared to 5-stars. Even better, 41.9% of these high 4-stars for the Irish are from the speed athlete/running back/receiver/defensive back positions as compared to just 26.6% of the 5-stars signed.
However, only 3 out of the Top 15 (Greg Bryant, Davonte Neal, Houston Griffith) high 4-stars came from the speed positions while 8 out of the 15 came from either offensive line or tight end.
There's a perception in certain areas that Notre Dame is both killing it on the recruiting trail and doing so because it's building strength on both lines. Even if the latter is true, the Irish are far from killing it at the skill positions and desperately need to bring in substantially more help in those areas to elevate the program for the future.