Let me begin by confessing that I am obsessed with the Olympics. Winter, summer, any of the sports – I love it all. However, I took breaks from my very busy schedule of Olympics-viewing for the two women's games this week, even venturing away from the TV long enough to attend the game at Boston College. The team rewarded my devotion with another pair of comfortable wins in their last two road games of the regular season. To celebrate, after a brief recap of the action I'll combine two of my interests by deciding which ND women's basketball players are best suited to each of the Winter Olympic sports.
Game Reviews
The Irish started the week on Thursday with a visit to Virginia. In a nice, relaxing game for ND fans, the Irish never trailed, jumping out to a 20-2 lead early. Virginia did eventually find their offense, but the Irish lead continued to build. Despite a brief scoring drought late in the second quarter, ND took a 46-27 lead into halftime. Things didn't get much better for the Cavaliers as the third quarter began. The Irish scored the first nine points of the half on three three-pointers. The lead continued to grow as Marina Mabrey scored 8 of the team's first 11 points of the half. The Irish did struggle with giving up offensive rebounds as the quarter wore on, and the teams ended up playing an even quarter. ND led 67-48 heading into the fourth quarter. Despite some foul trouble for Jessica Shepard late in the game, and Virginia chipping into the lead a little, the Irish were able to rely on their early lead to carry them through to the 83-69 win. Both Arike Ogunbowale and Jessica Shepard scored their 1,500th career points in this game, scoring 27 and 15 points respectively. Mabrey added 16 and Jackie Young contributed 11.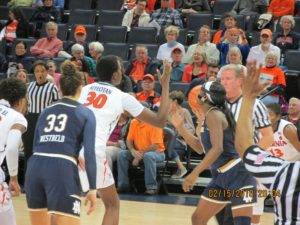 Sunday's game at Boston College followed a familiar pattern. For some reason, the Irish always seem to get off to a slow start when they play at Conte Forum. Despite BC's struggles this year, and ND's comfortable win over them last month, the Irish struggled to get going early and did not start off playing well on defense. The game was fairly close throughout the first half, with the Irish holding a 39-30 lead at halftime. In the second half, the defense tightened up and the Irish were able to take advantage of more scoring opportunities to pull away from the Eagles. Shepard and Young each added 18 points as the Irish defeated BC 89-55. The Eagles couldn't stand up to the Irish near the basket, as ND outscored them 64-14 in the paint. The defense contributed to ND's 26 points off of turnovers, compared to 2 for BC. Both in person and on the stats sheet, Kristina Nelson stood out in this game. She collected a career best 16 points on 7 of 10 shooting and added her career best 7 assists and season-high 8 rebounds.
Fun with the Olympics
Taking into account personality and skill sets, I've assigned ND WBB personnel to each Olympic sport. All are open to discussion!
Alpine Skiing – Marina Mabrey: Picture Marina when she makes a mistake, or there is a call she disagrees with. Now imagine her channeling that frustration into an epic downhill run. Her time at point guard this year has also made her more precise, which might translate nicely to the slalom.
Biathlon – Danielle Patterson: Patterson always looks unfazed, which I feel like would be an asset when you're trying to shoot small targets in the middle of an exhausting race.
Bobsled – Mychal Johnson & Lili Thompson: Maybe not this Olympic cycle, but when they've recovered from their ACL injuries I think their combined speed would give them a pretty great start time. I think either one of them could handle the driver's role, so there's some flexibility there.
Cross Country Skiing – Kristina Nelson: Steady progress over the long haul? Had to go with Koko on this one. She has come a long way in her five years with the program, always kept working hard, and never lost her patience.
Curling – Kaitlin Cole, Maureen Butler, Nicole Benz: Like being a walk-on player, curling doesn't get a lot of attention but takes a lot of skill and dedication. Plus, it can help with the country's medal count!
Figure Skating – Coaching Staff: Style and athleticism – could there be a better fit for ND's fashionable coaches?
Ice Hockey – Kathryn Westbeld: Westbeld is the ultimate team player, and also tough as nails. She played through the ankle injury early in the season and with a grisly black eye against Duke. She'd fit right in on a hockey team.
Luge – Managers: Okay, this one is a bit of a stretch. The managers have to move at high speeds to get everything done?
Nordic Combined – Jessica Shepard: The Nordic Combined requires two very different skill sets, that you wouldn't necessarily expect to find in the same person. Enter Jessica Shepard – the great post player with excellent ball-handling skills.
Short Track Speed Skating – Arike Ogunbowale: Arike's comfort and skill with driving into traffic under the basket might correspond to handling the crowd in a short-track race. On the other hand, she's also used to creating contact to get the foul, and bumping people in short-track doesn't go over as well.
Skeleton – Training Staff: Four ACLs, an ankle injury, a broken nose, a black eye, plus the normal bumps and bruises? There must be times they've felt like they were being thrown headfirst down an icy pipe.
Ski Jumping – Mikayla Vaughn: We didn't get to see enough of Vaughn this year to get a real lock on her style before her injury, but I think she could cover some distance and doesn't seem like she'd panic at the top of the hill when she saw what she was up against.
Snowboard or Freestyle Skiing – Brianna Turner: When she's healthy, Turner has the jumping ability and I'd give her some style points – that could translate into some big air or slopestyle success.
Speed Skating (Long Track) – Jackie Young: If you hadn't noticed, Jackie is fast. Long-track is tough because your competitors aren't always on the ice with you, but I think Jackie is disciplined enough to race against the clock.
Burger Basket Leaderboard (Season 2)
(At Notre Dame home games where the Irish score 88 points or more, the fans in attendance receive coupons for a free burger. I'm tracking which player is responsible for feeding the fans the most often over the course of the season).
With two away games this week, the count is unchanged. Two home games this week will provide a chance for someone to pull ahead!
Marina Mabrey – 2
Kristina Nelson – 2
Arike Ogunbowale – 1
Danielle Patterson – 1
Lili Thompson – 1
Coming Up
Only two games remain in the regular season. On Thursday, the Irish will host Virginia Tech. The Hokies are in the middle of the pack in the ACC, with a 17-10 overall record but a mere 6-8 record in the conference. The Irish will close out the regular season at home on Sunday against North Carolina State. NC State has had a strong season, with a 10-4 ACC record and 21-6 overall. The ACC Tournament will run from Wednesday 2/28 – Sunday 3/4.