Today we travel back in time to 1982 for the first game with yours truly gracing earth's presence. I was a wee little 8 months old and since I wasn't a genius alien baby who can remember this game I wanted to take a look at what was then just the 16th matchup against Michigan but the first night game in Notre Dame Stadium history.
We open with a shot of campus from the northeast and oh my look how much has changed in nearly 40 years. See the Joyce Center only 14 years old back then. The baseball field long gone and since re-located. Look at all of that parking south of the stadium!
At the 0:21 mark that's a cool transition by the ABC telecast. In 1982, that probably cost $400,000 to produce.
The first night game meant temporary lights from Musco Lighting lofted way above the rim of the stadium. I Googled Musco and apparently to this day they're a major lighting company throughout the world, still being used inside Notre Dame Stadium.
We need to find someone with a deep history of the stadium because sometime in the 1990's it stopped being a thing where students and fans were all over the field before, during, and after games. It's probably a combination of NCAA rules and Notre Dame's notorious tightening up on all things rule based during this era.
At 1:13 look at all the people on the field! I can't help but think about how bad this was for the playing surface. Throughout this grainy footage you can see how poor the field looks. Amidst the controversy with the 2014 installation of field turf some would have led you believe the poor grass in the stadium was just a plot hatched by Kelly and Swarbrick. This is the first game of the season on September 11th with an entire summer to be groomed and the field is utter trash.
Our first close shot of the Faust-era Madonna blue jerseys with nameplates comes at 2:10 which is notable but what really cracks me up is the pre-modern celebrating you'll see in this game. At some point I will be collecting a series of video shots and showing how and when football players stopped doing fist pumps and jumping in the air with both arms extended as their only modes of celebrating. It's so cute and naive compared to today.
Blair Kiel punting sighting at 2:50! He actually has a couple nice punts in this video. Rest in peace, Blair.
Not only did Faust get the football uniforms in a brighter shade of blue but the cheerleader uniforms followed suit at 3:08, as well. Fifty seconds later one of the cheerleaders completely eats it which is always funny. Hope she was alright, looked like a possible high ankle sprain.
At 4:20 it's funny how these TV shots make the stadium appear so massive. In today's era the stadium in 1982 would've been the 47th largest in the country and they make it appear like it's full of 120,000 screaming fans in the Gladiator days of Rome.
Sweet and simple shamrock flag at 4:27.
Perhaps my favorite part of this video comes at 5:02 when #50 (research indicates that is senior 3-year starting middle linebacker Paul Girgash) on Michigan is standing near the end zone with his jersey completely un-tucked. I'm not sure a player has looked more ridiculous in the history of organized football. Also, I'm pretty sure you can fit at least 2 basketballs up each of his sleeves.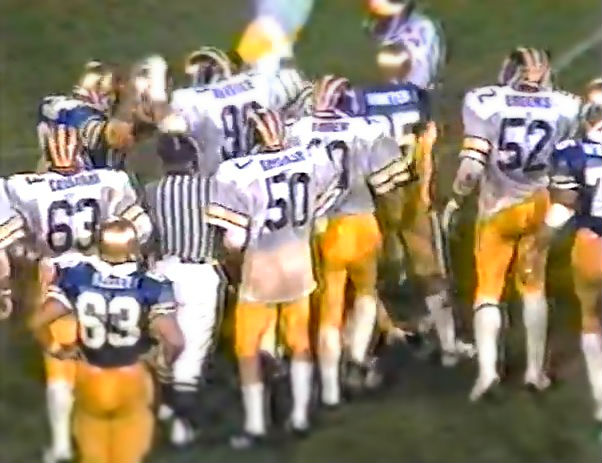 Look at this guy.
Maybe the only thing larger than #50 and his sleeves are Gerry Faust's collar at 5:18 of the video.
This could just be me, I like to imagine the ref in this game at 5:43 and at other times when he's signalling for a good field goal actually blowing an audible fart noise through his whistle. Additionally, it's funny that this was before TV coverage realized it's a lot easier just to do a wider shot and focus on the officials underneath the goalposts.
They said Knute Rockne purposely designed narrow sidelines so that minimal amounts of people could loiter around the football players. At 5:55 you can see almost every inch of the sideline is being used. It's actually super dangerous and basically back-fires Rockne's original intent.
At 6:08 Kiel unloads a really nice punt! However, a couple Irish players apparently didn't feel like tackling? To be fair, they seem acutely aware that if they try to plant too hard they're 100% wiping out on the awful field.
It's funny I was just talking with a co-worker about how wideouts used to be in 3-point stances as seen at 7:02 and this went on for like another decade, too! Rocket Ismail in a 3-point stance, it's hilarious.
Even though I was just 8 months old at the time there's something oddly comforting knowing that stupid, dumb Michigan touchdowns (7:45) have been happening for many generations.